Unless you live in Florida or qualify for exceptions in states like New Hampshire, you must have insurance for your car or motorcycle to drive it legally on public roads. These mandatory laws across the United States aim to protect others from sudden financial harm if an accident occurs.
Accidents can cause property damage and health issues that require medical treatment. Suppose you live in New Jersey or one of another dozen other states. In that case, personal injury protection is available to pay for injuries immediately, but it could be capped to less than what is necessary for treatment.
Didn't You Try Our Quote Comparison Tool Yet? Save BIG by Doing it!
Motorcycle and car insurance provide general liability coverage for the items that PIP and other policies don't cover. You can also add comprehensive and collision options to protect against most issues.
Those are the similarities you'll find when shopping for a motorcycle vs. car insurance. It is also essential to look at their potential differences when shopping for coverage.
Reasons Motorcycle Insurance Can Be Cheaper Than Car Insurance
Motorcycle insurance is typically cheaper than automotive policies for three specific reasons for the average rider.

A base motorcycle model has an MSRP typically lower than you'll find for a base car, truck, van, or SUV.
Motorcycles are often cheaper to repair than other vehicles or cost less to replace when yours is totaled. That tends to lower the reparation costs.
A motorcycle is less likely to cause property damage when an accident occurs.
If you purchase a top-of-the-line motorcycle, comparing its insurance needs to that of a basic trim compact car are similar. Vintage and rare bikes require more challenging parts to locate, which increases the reparation cost.
That means your motorcycle insurance rates rise to limit financial risks to the insurer.
The state where you live can also significantly impact your rates. An average monthly premium in California tops $130 for motorcyclists, but it is under $30 per month in North Dakota.
Sample Motorcycle Insurance Quotes to Review
Motorcycle insurance can be as low as $75 per year if you want a liability-only policy with your state minimums and a lay-up addendum that reduces coverage when storing a bike during the off-season.
There is no maximum coverage amount because rates are based on what you need to cover and how much protection you prefer
Most motorcycle policies (and auto insurance) stops at a $300k or $500k maximum per accident for liability coverage. Additional coverage is available with an excess personal liability or an umbrella policy.
Anyone with significant assets that could be lost if an expensive accident occurs should consider having enough coverage to protect everything they own.
3 Ways That Motorcycle and Car Insurance Are Different
Most bikes are priced significantly less than a car, but each insurance policy has unique stipulations that cause cost fluctuations. Before determining if motorcycle vs. car insurance is worth debating, it is crucial to look at how these policies differ.
Here's a closer look at what you need to know about motorcycle insurance if you're pursuing a quote for the first time.
1. Different Coverage Options
You can customize your motorcycle insurance with unique add-on options that aren't typically available for automotive policies. Riders can get standard upgrades, such as roadside assistance, but most insurers offer a few additional options to consider.
Safety Equipment Coverage. A standard motorcycle insurance policy could cover your helmet, body armor, boots, and other safety equipment for riding. If you want more than the basic amount, which is usually around $3,000, most plans include a way to increase the maximum coverage.
Custom Equipment. Motorcyclists love to trick out their rides with chrome, custom paint, and non-OEM parts. If you've made several aftermarket changes to your bike, consider asking about this option when requesting an insurance quote.
Accessories Coverage. If you've added saddlebags, custom plating, and other accessories to your motorcycle, consider adding this extra insurance to a standard policy.
Although automotive insurance lets you take a customized approach, motorcycle policies allow you to protect your aftermarket efforts. It's a subtle, substantial difference when comparing the two coverage approaches.
2. Seasonal or Laid Up Insurance
If you live in a northern climate, your insurance company might offer continuing coverage while reducing certain limits during the winter. Since riding a motorcycle in the snow is not for everyone, a seasonal policy still provides full protection while limiting the liability portion.
A laid-up insurance policy for motorcycles provides comprehensive coverage to protect against fire, flooding, theft, and other damage threats while it stays in storage.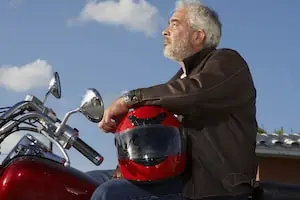 Some insurers provide a "sunny day" exception that lets you take the motorcycle out for a spin on a beautiful day during the winter. Some companies need you to notify them that you're planning on a drive, but others give you enough days where it doesn't matter.
Auto insurance requirements are typically needed throughout the year if you plan on getting behind the wheel since most can make it through the snow.
3. Motorcycle Passenger Coverage
Automotive insurance automatically covers passengers in an accident if you have more than a basic liability on the vehicle. Motorcycle plans are different because the assumption is that riders take their bikes out alone.
If you take passengers on a motorcycle, you must request guest passenger liability insurance when shopping around for quotes.
The issue with passenger liability for motorcycles is that the policy typically applies when you're not liable for any injuries or medical problems.
If you want a no-fault option, you can also request information for medical payment coverage. Often referred to as "MedPay," this insurance covers expenses related to medical bills from hospitals, physicians, and other professionals or facilities. It handles deductibles and copayments while handling emergency fees, such as an ambulance ride after a collision.
Since injuries are more likely to happen on motorcycles than in vehicles when accidents occur, you might consider purchasing the most MedPay coverage you can afford or your state can permit.
Here's a closer look at what to expect from MedPay.
What MedPay Will Cover
You get hit by a motorcycle while crossing the street in a crosswalk, requiring surgery and chiropractic care to resolve.
You're struck by a vehicle while riding your motorcycle, which requires you to receive emergency room services like x-rays and nursing care.
Your passenger experiences neck and back pain after an accident and seeks treatment.
What MedPay Will Not Cover
Any treatment costs that rise above the policy limit.
You don't receive wage reimbursements if an injury forces you to miss work or experience higher childcare costs.
It doesn't pay for therapy or consultations for health problems or injuries unrelated to the motorcycle accident.
MedPay is optional in most areas but is required in Pennsylvania and Maine. In New Hampshire, those who purchase auto insurance must buy it.
For motorcyclists, it's essential to remember that health insurance and MedPay are separate protective investments.
Is Motorcycle Insurance More Affordable Than Car Insurance?
Motorcycle insurance is often cheaper than automobile coverage in the United States. According to data released by JD Power and Associates, the typical basic motorcycle policy is a little over $500 per year, while standard car insurance costs almost $1,700 annually.
Everyone has different circumstances and situations that impact the quote they receive for insurance coverage. For example, an individual seeking motorcycle insurance with a DUI on their driving record might receive a quote that is more than a basic auto policy.
Most experts agree that motorcyclists should invest in the maximum medical payment coverage they can afford.
Other factors can increase the cost of motorcycle insurance, including being a first-time rider. This issue impacts automotive policies for young drivers, but there isn't always a three-year stipulation to meet before that price decreases.
Most auto plans start getting cheaper once drivers reach age 25. There is a minor increase in the rates for motorcycle insurance until you get three years of experience on two wheels.
Trikes and autocycles can also be put into the two-wheel category, although they have their own rates to consider outside of the motorcycle vs. car insurance comparison.
Factors that Insurance Companies Consider
Insurance companies look at many factors when insuring cars and motorcycles. Based on those, they offer a discount to those less prone to accidents and file fewer claims.
They want to know how far you will travel to and from work on your commute.
They want to know how long you've had your driver's license and how long you've had your motorcycle endorsement.
Obviously, the longer you've had a driver's license and a motorcycle endorsement, the better. This tends to show that you know what you're doing, especially if you don't have any speeding tickets, faulty equipment tickets, or other types of tickets on your driving record.
Attending safety courses and training sessions can reduce your motorcycle insurance premium. That, coupled with driving shorter distances and having been licensed for a longer period, can go far in helping reduce your insurance premiums on your motorcycle.
Next, you'll need to consider the type of motorcycle you'll be riding. Is it a fancy sports-type bike? Or is it an average everyday street bike with no special bells or whistles? The second option will be much less expensive to insure than the previous one. Many people fail to factor in that you're not comparing apples to apples when you compare motorcycle insurance to car insurance premiums.
Many people want insurance for repairs should there be a collision. This is comp and collision and will be more expensive than regular liability insurance.
You must do your homework if you want to ride your motorcycle to work to save money. Take safety courses and keep your driving record on your motorcycle and in your car clean.
Avoid potential hazards and practice safe riding tips, such as always wearing your helmet and ensuring your equipment functions correctly and safely.
Lastly, consider where you live. Insurance premiums are calculated based on the zip code (garage location) and the commute length.
Once you've considered all of your options and whether or not you've been riding a motorcycle for a longer period or just recently, you can decide which vehicle you'll be insured to go to and from work.
How to Reduce the Cost of Motorcycle Insurance?
When looking at the motorcycle vs. car insurance debate, you'll discover that insurers offer several ways to reduce policy costs for both options.
One of the easiest ways to lower motorcycle insurance costs is to take a state-certified safety course or training class. Once you pass and receive your certificate, insurers like GEICO and Progressive may offer 10% or more discounts.
You can further reduce your insurance costs by limiting custom add-ons and accessories. It is an excellent idea to protect your expensive safety equipment.
Still, a basic helmet with riding apparel could be cheaper to buy out-of-pocket instead of protecting the cost with your monthly premium.
The recommendation is to purchase at least $100k in liability, but some motorcyclists need help to afford a policy with those limits. You can request quotes at various levels, though any state-required minimums must be met for the insurer to issue a policy.
Remember to ask for seasonal or lay-up coverage during the quote process if you don't plan to ride in the winter to knock those premiums down even more!
The Bottom Line
Clearly, there are pros and cons to both options. Learning to choose your coverage levels and opt for the safest and least costly amounts will go far in helping you to make the best decision on motorcycle and car insurance.
Use This Tool for Free and Save on Quotes!