Welcome, friend! Are you curious about the driving force behind this website and what we have in store for you? Buckle up and join us on this exciting ride. We'll share all the juicy details about who we are and what we bring to the table. Your time is precious, and we appreciate you spending it with us. So sit tight, and let's get started!
The Rates You Want on the Coverage You Need
Welcome to Motorcycle Ride Coverage, one of the fastest-growing sources for inexpensive, reliable motorcycle and ATV coverage. Why spend hours calling all over town or wasting time driving from one insurance company to another only to find that you won't get the best rates after all? With Motorcycle Ride Coverage, you get fast, accurate motorcycle insurance quotes designed to get you and your bike insured and on the open road in no time!
We work with some of the nation's top insurance carriers to give our readers the lowest rates on premium insurance policies. We let you compare the rates of other insurance companies, get instant quotes and get your motorcycle insurance policy all in the comfort of your own home.
Our team of experienced insurance professionals knows the ins and outs of the motorcycle insurance industry. We offer reliable information that you can use to save thousands on your next policy.
This is not always a pleasant experience to search for an affordable premium from a reliable source for someone completely new in this industry. The insurance industry is broad, and you have many options. Although this may seem like a good opportunity, when it comes to selecting the right option becomes more challenging because so many comparisons, research, and analyses need to be done.
In the long run, choosing a reliable insurer (if even it does cost you some extra bucks! Yes, that's right) is a way better decision than selecting a relatively new provider in this field and offering something too good to be true.
You don't need to panic, as we have everything you need to know on our website. Just stay with us.
Meet Our Motorcycle Experts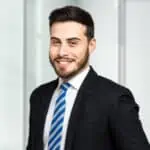 Mike Navarette fell in love with motorcycles at an early age. His father used to take him on rides down rural roads, and the feeling of leaning into a turn became an addiction. When he isn't riding or working on a custom design, Mike enjoys helping fellow enthusiasts understand the industry better by providing relevant information about everything from insurance coverage to industry innovations.
Mike's experience in the auto insurance industry provides first-hand knowledge to first-time riders or veterans who want to get the most out of their motorcycles.
It has been my experience that most motorcyclists don't invest in enough insurance protection for their bikes," Mike says. "Since you never know when an emergency might happen, my goal here is to help everyone find the resources and information they need to make informed and empowered decisions about their riding.
Mike is joined on Motorcycle Ride Coverage by Clark Roberts from Seattle and Freddie Lawson in Miami.
Meet Clark Roberts
Clark loves riding in his free time, although he works full-time as a correctional officer. You can find him in the garage, trying to get a little more horsepower out of his engine when he isn't practicing martial arts. His goal is to visit all 60+ national parks in the United States with his bike. Before getting into criminal justice, he worked as an editor with an independent publisher and agreed to take on that role here.
"Motorcycles are in my blood," says Clark. "Even when I'm on the job, talking about bikes provides a moment of common ground. We're a community that helps strangers become family with a nod or a handshake."
Get to Know Freddie Lawson
Freddie has a passion for exploring. Although the open road is inviting, he takes his motorcycle to small towns across Florida to meet people and experience something new. Whether it's a small diner with an incredible sandwich or a quiet spot along the coast that no one has discovered, he loves to travel as much as possible. His knowledge of customization is an asset to the site, and Freddie also does part-time marketing work to ensure his schedule remains flexible.
"It's not lost on me that my name is a combination of Freddie Spencer and Eddie Lawson, two of the best bikers the world has ever seen," he says. "That's a legacy I hope to continue with my work."
Mike, Clark, and Freddie strive to deliver relevant information to ensure all riders have what they need for a safe experience while protecting their finances. Mike likes to say, "It only takes a moment for everything to change." When you prepare for that scenario, you'll be ready to respond if it happens.
Subscribe to Motorcycle Ride Coverage Today
At Motorcycle Ride Coverage, we provide informational articles, helpful tips, and real-world advice on getting the lowest rate on the best motorcycle or ATV insurance. It's your bike, and you know what coverage you do and don't need. Don't let your local insurance agent push you into an overpriced policy; visit Motorcycle Ride Coverage today.
Mention that experienced people are behind this website to help visitors in the right direction.
We are always there to help your cause, so don't hesitate to contact us.