The weekend is coming. You want to hit the open road, but will your motorcycle insurance cover your activities?
If not, short-term motorcycle insurance can be helpful as an investment. Here are some of the scenarios I've encountered where this coverage has helped me enjoy more moments without worrying about unexpected situations.
Didn't You Try Our Quote Comparison Tool Yet? Save BIG by Doing it!
Top 7 Reasons When Short-Term Motorcycle Insurance Is Needed
Although everyone has unique insurance needs to consider, a short-term policy is often helpful when the following circumstances arise.
The Weekend Joyride
Imagine waking up to a perfect sunny day, and you can't resist the urge to hit the open road. Short-term motorcycle insurance is your ticket to worry-free joyrides, whether a spontaneous trip to the coast or a leisurely ride through scenic routes. It provides coverage for your trip, ensuring you're protected if the unexpected happens.
Test Rides or Rentals
Are you planning to test ride a friend's motorcycle or rent one while traveling? Short-term insurance has got your back. It's essential to have coverage even for a brief ride, as accidents can happen when you least expect them.

Borrowing a Motorcycle
Your buddy offers you their motorcycle for a special occasion or just a quick spin around town. While their generosity is heartwarming, it's essential to consider insurance. Their policy might cover your activities, but having a temporary policy can protect them and your finances if you run into trouble.
Special Events
Short-term insurance is a must for adrenaline seekers who love track days or participate in motorcycle events. Races can deliver thrilling experiences, though they have potential risks. Having temporary coverage ensures you have what is needed while pushing yourself to the limit.
Some event organizers require this type of non-permanent insurance for you to participate. Others have policies you're required to purchase when signing up to compete. It helps to know beforehand what to expect to avoid a double purchase.
Seasonal Riding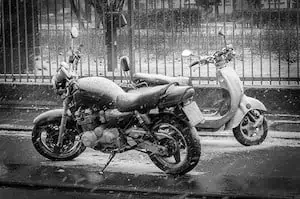 If you're in a region with harsh winters, you might store your motorcycle during the cold months. When the first signs of spring appear, and you're itching to hit the road again, short-term insurance can provide coverage before your designated riding season begins. It's a cost-effective way to stay protected while your bike hibernates for the winter.
Emergencies
Life is full of surprises. You sometimes need to hop on the bike for an unexpected journey under challenging circumstances. Whether it's a family emergency or a last-minute road trip, short-term insurance ensures you're covered for the duration of your ride, no matter how short notice it is.
Selling Your Motorcycle
Before handing over the keys to the bike's new owner, have temporary insurance on the motorcycle. It protects both parties during the transaction to ensure a smooth sales process.
Before engaging the throttle to accelerate to your next adventure, consider whether short-term motorcycle insurance should be your companion. Stay safe out there, enjoy the ride, and make every moment count!
Use This Tool for Free and Save on Quotes!