When you're young and have a motorcycle endorsement on your license, there are things to see and places to go. The sense of adventure you feel is powerful.
That all stops when you try to rent a vehicle. Many agencies refuse to offer a motorcycle rental to someone under age 25, even if that person has a flawless driving record.
Didn't You Try Our Quote Comparison Tool Yet? Save BIG by Doing it!
The good news is that your age is just one of the issues when trying to rent a bike. Here is what you'll need to know to start exploring.
A valid debit or credit card is often required to complete the transaction.
Why Would Short-Term Insurance Be a Better Choice?
Motorcycle owners and riders under age 25 typically pay higher rates than their older counterparts for several reasons.

1. Higher Risks
Younger motorcyclists are more likely to be in an accident than older riders. Insurance companies know this, so they increase policy rates to compensate for the additional risk.
2. Less Experience
Riders under age 25 with three or more years of motorcycle experience can see significant drops in their monthly policies. Running with a higher deductible on collision and comprehensive coverage can create a competitive quote.
A short-term insurance policy might be cheaper than standard coverage for a rider just starting on a motorcycle. You'll get the policy coverage needed to drive legally while gaining time and experience behind the handlebars.
3. Not Riding Full Time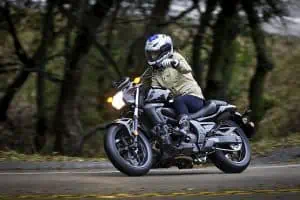 If your bike stays at home while you're away at college, it doesn't make sense to maintain full-time insurance. A temporary policy for when you have time to ride lets you save money even though you'll pay more per riding day with this option.
How Old Must I Be to Rent a Motorcycle?
Each state and rental company has different rules, laws, and policies they follow when renting motorcycles to young adults.
New York and Michigan have a minimum rental age requirement of 18.
Nebraska and Alabama have the age set at 19.
The minimum age to rent a vehicle in Mississippi and Washington State is 21.
Most rental companies have a policy that requires all riders, not just those under age 25, to have a valid driver's license in good standing for at least 12 months.
Motorcycle rental companies can also set a minimum age requirement for transactions. If you work with Hertz, most riders need to be 20 years old to rent at most locations in the United States and Canada.
Use This Tool for Free and Save on Quotes!