Getting your bike license is a great feeling. You now have the freedom to go on long rides, travel when you want to without worrying about transit timetables and costs, and set your own schedule. Bikes are affordable, fun, and liberating.
Keep in mind that.
Didn't You Try Our Quote Comparison Tool Yet? Save BIG by Doing it!
While bikes are cheap to run, some expenses are beyond the bike, maintenance, and petrol. One of the most significant expenses is insurance, and getting comprehensive motorcycle insurance for an 18-year-old will be more expensive than it would be for a slightly more mature driver.
How Much Does Motorcycle Insurance Cost for an 18-Year-Old?
The average price for insurance for an 18-year-old is around $400 per year. Prices tend to be lower for females than for males, with GEICO charging male riders around $440, and females $400.
Progressive offers slightly lower-cost insurance than many of its rivals, with males paying around $305 and females paying $290. The main reason for the price difference is that insurance companies in the United States can take gender into account when calculating risk. This is not legal in some parts of the world, so men and women pay the same price.

How Much Is Motorcycle Insurance?
The average cost of an annual liability-only motorcycle insurance policy in the United States ranges from $175 in North Dakota to $400 in Michigan.
Here is a comprehensive guide on how much annual motorcycle insurance is in the United States.
Several factors affect how much each motorcyclist pays for their coverage, including their driving history and where they live. Generally, a rider with at least three years of experience on the road will pay less than someone who just learned how to ride. Although multiple factors go into an insurance quote, the rider's age is one of the most significant contributors to a motorcycle policy.
Rates for Motorcycle Insurance Based on Rider Age
If you're under 25, you're likely paying more for insurance than someone older.
As you celebrate more birthdays, the annual premiums continue to decline if you have a good driving record, avoid accidents, and don't file claims.
Here's a closer look at what you can expect for a general motorcycle insurance quote based on your age for liability, comprehensive, and collision.
| Rider Age | Minimum Motorcycle Insurance Rate | Maximum Motorcycle Insurance Rate |
| --- | --- | --- |
| Under 18 | $2,500 | $6,000 |
| 18 to 21 | $2,200 | $4,000 |
| 21 to 25 | $1,950 | $3,000 |
| 26 to 35 | $1,750 | $2,850 |
| 36 to 45 | $1,400 | $2,700 |
| 46 to 55 | $1,200 | $2,700 |
| 55 and Above | $1,400 | $3,400 |
If you drive a cruiser, your insurance rates are typically lower than riding a touring motorcycle. The highest rates are often reserved for high-speed sportbikes, especially those under 18.
What Factors Impact My Motorcycle Insurance Quote?
Motorcycle insurance companies use multiple data points to evaluate your risk while riding a bike. This safety information is available to them when requesting a quote.
Most insurers consider the following four points when offering a policy quote for you to review.
Expensive motorcycles cost more to replace or repair, which means your insurance policy charges more to insure them when buying collision or comprehensive coverage.
Bikes with advanced safety features, such as ABS, are typically cheaper to insure because they're less likely to be in an accident.
Some motorcycle models are popular to steal, so the insurance costs are higher for these bikes because they're more likely to be targeted.
Specific styles and models are involved in more accidents, which makes insurers believe owning one makes the rider more likely to file a claim.
Geographic Location Impacts Motorcycle Insurance Rates
The states with the coldest climates tend to have the lowest motorcycle insurance rates. When you live in a warmer area, the costs are typically higher because more riding days are available.
Hawaii is a notable exception, especially if you want a liability-only policy.
The average monthly cost for motorcycle insurance with only liability is between $15 to $30 per month for riders in the following states.
Alabama
Arkansas
Florida
Hawaii
Maine
Massachusetts
Montana
Minnesota
New York
North Dakota
Oklahoma
Pennsylvania
Rhode Island
South Dakota
Vermont
Wisconsin
Wyoming
That rate goes up to $20 to $35 per month in Alaska, Colorado, Georgia, Idaho, Illinois, Indiana, Iowa, Maryland, Mississippi, North Carolina, New Hampshire, Ohio, Oregon, Texas, Utah, Washington, and West Virginia.
High-cost states are Arizona, California, Connecticut, Delaware, Kansas, Kentucky, Louisiana, Michigan, Missouri, Nebraska, Nevada, New Jersey, New Mexico, South Carolina, Tennessee, and Virginia for motorcycle insurance. Riders can pay anywhere between $25 to $50 per month for basic liability coverage.
How to Save on Motorcycle Insurance Costs
When you live in a high-cost state, the goal is to keep your insurance costs as low as possible while maintaining the coverage you require.
Each age group can take specific actions to lower their rates. If you receive a quote that seems high, consider implementing one or more of these ideas to see if your estimate improves.
Under the Age of 18. You can take two steps to lower your insurance costs with most providers at this age. The first option is to achieve good grades, defined as a GPA of 3.0 or higher. The second way to save money is to take a safety class or a defensive driving course focusing on motorcycle use.
Ages 19 to 25. Your best option in this age group is maintaining a clean driving record. Try to get at least three years of riding experience without claims, accidents, or violations to keep rates low.
Ages 26 to 54. Consider purchasing only the coverage you need for your motorcycle. If the bike's purchase wasn't financed, that could mean riding with a liability-only policy. You might look at seasonal options if you don't hit the open road during the winter.
Above the Age of 55. Consider having a higher deductible assigned to your motorcycle insurance. Since you'll take more of the financial risk if something happens, your rates will typically be lower.
Some options apply to all motorcyclists. If your insurer offers policies for multiple items, such as other cars or homes, ask for a quote that bundles everything together. The discounts range from 5% to 15%, but the rates aren't always better.
Motorcyclists who receive certification from an approved course can sometimes receive an insurance discount. A defensive driving course can play a role in reducing your premium.
You can also limit custom add-ons or accessories coverage to keep your costs low. Some standard exclusions to review include trip interruption, total loss, and roadside emergency services. For those with reliable healthcare, it might be worth considering leaving out medical coverage if your state allows its removal.
Motorcycle insurance protects your finances from unexpected events. You'll find that balance between necessity and affordability when you take steps to keep costs low while choosing policies that fit your riding habits.
Reasons Why Insurance Is Expensive:
Insurance is higher for 18-year-olds than for older people because young people are statistically more likely to get into accidents. Insurance is a hedge against risk; companies will base their premiums on how likely they think you will get into an accident.
Factors that the insurers consider are:
They will take into account how old you are, your gender, where you live, where you park your bike (to consider how likely it is to get stolen), whether you are riding to and from college or using the bike for work as a delivery rider, and more. They will consider how long you have had your license and whether you have ever had a traffic violation or been involved in an accident.
A clean driving record will help get you the lowest rates for your insurance, which will increase based on the number of accidents you have had over the time you have been driving.
Generally speaking, male drivers are going to pay more for their coverage. This is because, statistically speaking, men are more likely to get into accidents than women, including vehicle drivers of this age.
It is a fact that the better you do in school, the lower your rates will be. This is because "A" students are less likely to be involved in accidents than "C" students. So, the better your grades, the lower your premiums will be.

Types of Motorcycle Insurance:
There are several different types of insurance, including comprehensive insurance (which covers third-party, fire, and theft, as well as no-fault/accident cover) and limited insurance that is the third party, fire/theft only.
Comprehensive
This type of coverage means you are covered no matter who caused the accident. You require this type of plan if you have taken out a loan to pay for your bike, so you will want to find the right company that offers the best rates for the coverage you need.
Comprehensive insurance is also the most expensive, with premiums of up to $550 for an 18-year-old male, on average, and still in the range of $500 for a female. Dairyland offers a competitive comprehensive policy.
Liability and Uninsured Motorist:
This is the typical minimum coverage for most states, ensuring that the person not at fault is covered. Also, the uninsured motorist provides coverage when the other driver is at fault but does not have insurance for their vehicle.
Liability-only policies are the least expensive but hugely limited in what they cover. You may be able to find a liability-only policy for under $300 in some states.
Collision:
This type of plan covers all costs in case of a crash, which is the most common type of damage done to motorbikes.
Full coverage, theft, roadside assistance, and other forms of specialty insurance are well suited for particular needs. For example, if you only drive your bike during certain times of the year, you can opt for seasonal or temporary insurance that only applies to the moments you drive. Be sure to review your needs with your agent or company to find the right package.
Does your location (ZIP) matter at all?
Where you live greatly impacts what you pay, and premiums can double because of your state. The 'average' mentioned above is the average for the whole country. A rider in Florida may pay $400, but someone in California could pay $900 for a similar level of cover.
Keeping Costs Low at 18
There are ways that you can lower the rates for your motorcycle insurance. By following one or more of these methods, you may be able to pay considerably less premium.
Pro tips: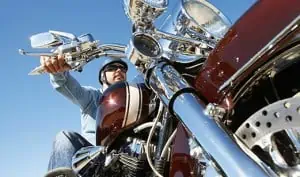 One of the most common ways to lower your rates is by increasing out-of-pocket expenses. Depending on your coverage type, the bigger the deductible, the lower your insurance rates will be.
However, you will need to have enough money saved to cover your deductible so that you will not be caught flat-footed in the case of an accident.
A Scooter or Bike?
To reduce costs, you should think carefully about the bike you ride. A 125cc or a moped will be far less expensive to insure than a sports bike. Here is how much you might need to pay for insurance for a 125cc scooter in the USA.
A bike with custom wheels and farings will cost more to insure than a plain bike because it is a bigger target for theft. If you are getting your first bike, picking something small, practical, and perhaps even second-hand could be a wise option.
Important:
Save the expensive, high-powered Ducati until you have spent some time on the roads on a smaller Honda and you have proven to your insurance company that you are a responsible young adult who won't drink and ride and isn't interested in going street racing.
It's an unfair stereotype, but insurance companies base their assumptions on decades of carefully collected risk statistics for each age group.
Some insurers offer a GPS tracking option to track your driving habits, and if you drive sensibly, they will give you a discount. This is a good idea.
My go-to way to save for teens:
Some insurers will discount you if you attend a Motorcycle Safety Foundation Course. Do this course to save money, learn to ride safely, and follow the advice. The basic course takes two days and could save your life and pocketbook.
Note that if you do commit a traffic violation and get charged, your premium could increase by $500 per year.
If you avoid traffic violations, then simply by getting older, your premiums could come down. That $900 California motorcycle insurance policy you pay for as an 18-year-old could come down to $600 when you turn 20, especially if you don't have to claim.
Best suggestion:
If you want to save money in the short term, you could opt for a liability-only policy and upgrade later when you have a no-claims bonus to help reduce costs.
Get Quotes, Compare, and Save:
It pays to shop around. There are comparison tools that will cover the bigger companies such as GEICO, Rider, Allstate, and other major insurers.
Be truthful about your circumstances when you enter information into these tools. If you are caught misleading an insurance company to get a cheap policy, this will nullify any claims you need to make. In this instance, honesty is the best policy.
You can compare the best rates by requesting free quotes from us.
Keep Your Grades Up
Some insurance companies offer a Good Student discount for people who maintain a high GPA while in college. Not all insurers have this, but it is worth looking for if you are a student and just 18 years old. If you are a responsible student studying hard, you are less likely to be involved in an accident. To qualify for the discount, your GPA must usually be above 3.0.
Keep Your Bike Secure
If you are looking for comprehensive insurance or insurance with a theft element, you will want to ensure that your bike is unlikely to get stolen or vandalized.
Some things are out of your control. Your zip code will have an impact on your premiums, for example. Other things you can manage, however.
Parking off-street in a garage or a locked yard will be safer than parking on the street. Using an immobilizer and an alarm will help as well.
Do not be tempted to lie and say that you live at your parent's house in a lovely, sleepy suburb if you actually live in a multi-family place in the rough part of town with several flatmates. You will get caught out, and the company won't pay if your bike gets stolen.
Added Extras
Another thing to consider is whether you will insure any accessories such as your saddlebags, helmet, gloves, etc. The kit that goes with a bike can be quite expensive. You may not want to pay twice if you already have a policy covering it elsewhere.
If you don't have the option of including your helmet on your home insurance policy, you should cover it as a part of your bike policy instead. It will add some extra cost to the premium, but it is worth it.
This would cover if you ever needed to replace a helmet after an incident or if your gear was stolen.
Here's the good news for you:
It is frustrating to pay more for your insurance just because you are as young as 18; with some savvy shopping and careful choices, you can minimize your premium.
Use This Tool for Free and Save on Quotes!