I love taking a motorcycle through southern Missouri. The Mark Twain National Forest covers a large swath of the area, providing many winding roads, rolling hills, and beautiful green landscapes to enjoy. It's the perfect spot for fishing, hiking, and camping.
There's also the Lake of the Ozarks region to explore with your bike. You'll find several resort towns to explore and beautiful lake views. Several state parks are here, along with the Bagnell Dam Strip.
Didn't You Try Our Quote Comparison Tool Yet? Save BIG by Doing it!
Another adventure I love to take time for is to explore the different vineyards around Ste. Genevieve. Not only is the area beautiful, but you also can find several quiet spaces where you can relax.
As you explore Missouri, it is important to have your insurance current to ensure you're protected if something happens.
Do I Need Motorcycle Insurance in Missouri?
Missouri law mandates that all motorcycle owners must have liability insurance coverage for their bikes. This investment helps protect you financially in case you are involved in an accident where you cause injury or property damage to others.

Some exceptions may apply if you only drive on private property. Transporting a motorcycle between different locations may help to have trailer and transit insurance to protect your assets.
What Are the Liability Minimums in Missouri?
The current liability minimum requirements in MO for motorcycle insurance are 25/50/25. That means you must have $25,000 in bodily injury coverage (BIC), $50,000 in BIC per incident, and $25,000 for property damage.
Missouri requires motorcyclists to carry uninsured motorist coverage as part of their policy protections. This insurance offers protection if you're in a collision with an at-fault driver or rider who doesn't have insurance.
You must cover $25,000 in BIC per person and $50,000 per incident.
How Much is Motorcycle Insurance in Missouri?
The average cost of motorcycle insurance in MO is $1,015.03. Riders in their 30s will see the most affordable rates, while teens and seniors may receive quotes significantly higher than the median.
If you receive a motorcycle insurance quote that seems high, there are some steps to take to lower your premiums.
Consider raising your deductible if you purchase collision and comprehensive bike insurance.
Look at lowering your minimum liability numbers to the state's requirements instead of carrying an extra amount.
Think about the make and model you ride and if some customizations or features drive up your costs.
The best way to keep your motorcycle insurance rates low is to maintain a clean driving record and to have at least three years of riding experience. If these options aren't possible, consider a seasonal policy that takes you off the road during the winter.
Although you won't get to ride (unless sunshine days are in the policy), your costs won't be as high if you store your bike seasonally.
Where to Find the Cheapest Rates in MO?
If you live in Kansas City or Saint Louis, you can expect to pay about 30% more per year for your motorcycle insurance than the state average. This increase applies to all age demographics, including those with clean driving records.
Joplin and Carthage are also considerably more, averaging 15% above the state median for all riders.
For those seeking cheap motorcycle insurance in Missouri, consider Hannibal or Poplar Bluff. These communities average 13% less than the state median policy costs.
Columbia, Jackson, Jefferson City, Saint Joseph, Sedalia, and Sikeston can save you 10% or more on annual expenses.
What Motorcycle Insurance Companies Provide the Cheapest Rates in Missouri?
Nationwide offered me the cheapest policy in Missouri, quoting me $526 if I paid the amount in full. Progressive was a bit more expensive at $629 but still significantly lower than the state average.
GEICO was the only provider offering a rate below the state average. They delivered a quote of $770, including the discounts for which I qualified.
| | |
| --- | --- |
| Motorcycle Insurance Provider | Annual Premium |
| Nationwide | $526 |
| Progressive | $629 |
| GEICO | $770 |
Best Overall: Nationwide
Nationwide's low rates and wide range of discounts make it the best insurer in the state for me. You can find cheaper insurance quotes waiting for you if any of the following apply.
Multipolicy Bundling
Taking a Safety Course
Owning a Home
Belonging to a Riding Association
Having ABS Equipped
You can also lower your rate by paying the policy in full. Although the coverage is modest compared to the other providers in Missouri, you receive OEM parts, roadside assistance, and custom equipment coverage.
Some riders even qualify for a disappearing deductible with their policies.
Best for Customer Service: Allstate
I like Allstate in this category. According to the NAIC index, the company receives some of the most consistent year-of-year ratings in the state. You often work with a local agent, which makes it much easier to ask questions or solve problems that creep up on policies.
Since you have a direct line, most situations get solved relatively quickly.
Although the policy quote exceeded what I received from Nationwide, you receive protections for your trailer and accessories. That includes towing and full replacement cost coverage.
You also get an accident waiver if you don't have an accident with your motorcycle after four years with Allstate.
Best for General Coverage Needs: Progressive
With prices lower than the state average and several coverage endorsements available, Progressive offers a wide range of insurance choices for today's riders. That makes it easy to customize policies to fit specific requirements.
One of the highlights of a Progressive policy is the enhanced injury protection you receive. If you get hurt in an accident, and the injuries keep you from work, you can receive up to $1,000 monthly for two years to help with expenses.
OEM parts are another set of extra coverage options to consider with Progressive. You can also access roadside assistance through your policy anywhere in the United States.
Suppose you switch to Progressive from another company. In that case, there is an initial discount that carries over with renewals (though under a different name), offering an immediate way to save some money.
Let's find out how these providers are ranking for financial strength, customer satisfaction, and complaint index ratings.
| | | | |
| --- | --- | --- | --- |
| Providers | AM Best Rating | J.D. Power Index Ranking | NAIC Complaint Index |
| Nationwide | A+ | 800 | 1.28 |
| Allstate | A+ | 816 | 2.42 |
| Progressive | A+ | 820 | 1.41 |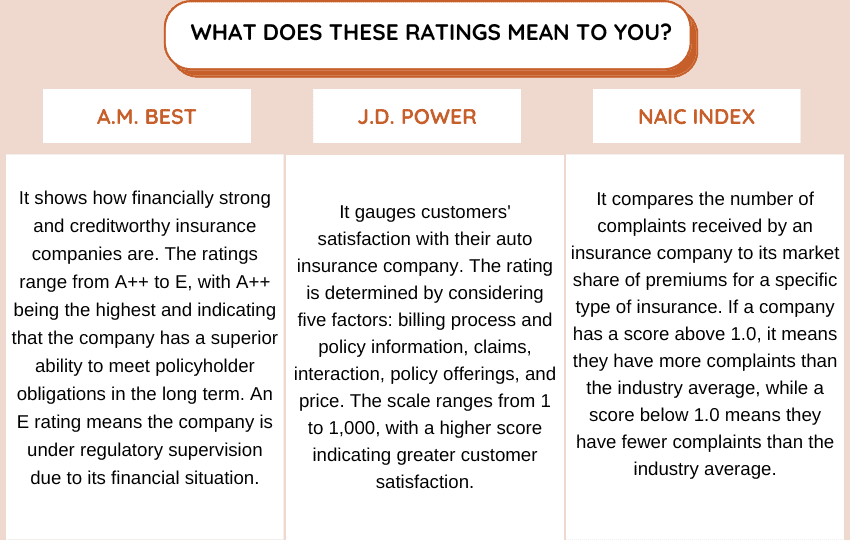 FAQ About Missouri Motorcycle Insurance
Here is a closer look at the common questions that motorcyclists ask when looking for the best insurance rates in Missouri.
Does Missouri Require Motorcycle Helmets?
Missouri used to have a universal helmet law on the books that required all riders, including passengers, to have this protection.
In 2020, the Missouri Helmet Law was passed to offer some leniency. Now, anyone under 26 who operates or rides on any motorcycle or trike must wear a helmet.
Anyone driving with an instruction permit must also have a helmet while operating their motorcycle or trike.
Can I Insure a Motorcycle Without a Motorcycle License in MO?
You need an insurable stake in a motorcycle to secure a policy. If you own a bike that other family members use, it is possible to purchase this protection. In most cases, you'll need to present proof of insurance during registration.
You must have a Class M license or endorsement to operate a motorcycle or have a learning permit legally. An on-cycle skills test is required to ensure you know the state's rules and can ride safely.
What Should I Do in an Accident with an Uninsured Motorist?
You should immediately contact the Drivers License Bureau at (573) 751-7195. They are part of the state's Department of Revenue and are responsible for enforcing the mandatory liability rules.
If necessary, they'll implement the statute. Then report the loss under the mandatory uninsured motorist coverage with your insurer.
Can My Lender Take Out Insurance and Force Me to Pay It?
In Missouri, you often agree to purchase collision and comprehensive insurance for a motorcycle if you need a loan. The lender can obtain a policy to protect its interests if you do not and charge you for that cost.
How to Get Motorcycle Insurance Quotes in Missouri?
Below is the box where you can put your zip code and get FREE quotes from some of the best providers in the country. No obligation. Shop around to compare the price and save.
Use This Tool for Free and Save on Quotes!