Motorcycle roadside assistance covers minor repairs or necessary services if your bike stops operating while using it.
Most insurers provide roadside assistance plans as an add-on or included service, but you can also order it from other agencies as a stand-alone plan.
Didn't You Try Our Quote Comparison Tool Yet? Save BIG by Doing it!
The typical roadside assistance program is 5% to 10% of the overall insurance policy rate for the year. If you pay $350 in coverage costs, adding emergency assistance could be another $35 on top of that figure.
If you work with someone other than your insurance company, the annual rate for motorcycle roadside assistance could be $100 or more.
Do You Really Need Roadside Assistance?
Roadside assistance is one of those things you'd rather have and not need. When your motorcycle breaks down unexpectedly, this service can save the day by providing access to necessary resources.

Bikes ten years or older tend to be on the sidelines more than newer models, but something can happen anytime to anyone.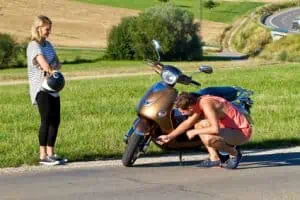 From flat tires to running out of fuel, roadside assistance helps you get back on the road. It might even reimburse you for some expenses that develop when emergencies or mechanical issues stop you from riding.
Before purchasing this coverage, here are four points you need to know.
You can add it to many motorcycle insurance policies, but it may not be available with all providers.
It is purchasable through auto or bike club memberships with this service.
You might have access to a policy that provides pay-per-use services through the motorcycle's manufacturer.
Some employers provide coverage as a company perk.
In addition to providing essential assistance, some roadside assistance plans offer some extra benefits.
Trip Interruption Coverage
If your motorcycle breaks down while traveling, this option provides reimbursement for some lodging or other related expenses up to the policy limit. Read here more about this coverage.
Guaranteed Arrest Bond
Should you be charged with a traffic violation while riding, some roadside assistance policies offer bond coverage that posts up to a certain amount on your behalf.
Legal Defense Reimbursement
If you require an attorney to defend you against traffic violations in court, this coverage with roadside assistance offers reimbursements for your legal expenses up to the published limit.
Does Using Roadside Assistance Raise Motorcycle Insurance Premiums?
Will using emergency roadside assistance for a motorbike or motorcycle needs to cause a rider's insurance premiums to rise? The answer isn't straightforward. It could be yes, no, or maybe.
It depends if you've purchased the coverage from a third-party provider or used something through your primary insurance carrier.
Most companies want riders to use emergency roadside assistance. It's a way to keep costs down while ensuring bikers can stay safe. When this resource is infrequently used or within published limits, it shouldn't cause premiums to become more expensive.
When using a third-party roadside assistance plan, there could be limits to the number of calls or services you receive. These fall outside your regular motorcycle insurance unless you file a separate claim, so it shouldn't hurt your rates.
If someone calls for services multiple times per month or runs out of fuel while riding frequently, some insurance carriers may decide to raise the roadside assistance rate within the policy.
The goal is to have this assistance when it is needed. Some riders have multiple emergencies during coverage, while others have none. Insurers want to balance out those costs between the two. A rate increase might happen if a specific rider reaches a specified level.
Will My Insurance Tow My Motorcycle?
If a motorcycle becomes inoperable and must be moved, the roadside assistance coverage for the bike will cover the towing up to a stated mileage or distance. It's sometimes listed as a separate line item in this category as "motorcycle towing insurance."
Most standard insurance policies do not provide towing coverage or support. Liability, comprehensive, and collision stipulations won't offer assistance if you need someone to take a bike to a qualified mechanic. Roadside assistance is the best option.
The issue that some motorcyclists encounter with this emergency is that a local provider might not be able to tow a bike. Before investing in this insurance coverage, it may be helpful to reach out to local contractors to see if they accept your policy or plan.
List of Top Motorcycle Roadside Assistance Providers
If you're interested in the best roadside assistance for motorcycles, these providers offer efficient and affordable services to get you back on the road immediately.
1. American Automobile Association (AAA)
AAA's motorcycle roadside assistance program is comprehensive and a fraction of the cost that cars, trucks, and SUVs pay for the same services. Riders receive towing, free fuel delivery, theft coverage, winching services, trip continuance, and trailer protections.
This service does have annual limits for some emergency services. Depending on your plan, there could be up to $1,500 for trip interruption.
AAA provides unlimited passport photos, travel accident insurance, and free rentals for motorcyclists who need a tow.
2. Rider Rescue
This motorcycle roadside assistance provider offers access to more than 20,000 tow providers. It includes help with scooters and mopeds available for individual purchase or through the dealership.
The basic plan provides 15 miles of towing coverage, while the regional touring option offers a range of 50 miles.
Each plan offers lost key services, battery assistance, and fuel delivery. Once you join this agency, discounts and perks, such as rental and lodging discounts, become available with the membership.
3. National Motor Club
Founded in 1956, this agency provides services for hundreds of thousands of drivers and motorcyclists across North America. Instead of being charged annually automatically, you pay monthly. There is a one-time enrollment fee on top of that cost.
The plans cover the first $100 costs whenever a bike becomes disabled. If your motorcycle is classified as an off-road vehicle, it will not receive as many services.
4. Best Roadside Service
This provider offers six service calls annually for each covered motorcycle. You'll receive fuel delivery benefits and towing services up to 75 miles. The first three gallons are provided for free if that is what is needed to get you on the road.
This motorcycle roadside assistance coverage also receives battery jumps, tire changes, and lockout services.
5. Motorcycle Towing Services
This agency began offering roadside assistance to bikers in 1998. Their network covers Canada and the United States, providing a response time of 30 minutes or less in most situations.
The plans cover the basics, such as battery assistance or delivering fuel. Motorcyclists have the option of a seasonal coverage plan in some states that runs from April to September to avoid the cold weather.
6. Geico
This national provider allows you to manage your insurance and emergency roadside assistance from one platform. If you don't want to call (or can't find bars), the insurer offers a mobile app where you can request services.
Most calls receive a response within 60 minutes.
If your motorcycle becomes disabled, this plan tows the bike to the nearest qualified repair facility within a 20-mile radius. The agency acts as an intermediary with roadside assistance providers to ensure you receive the support you need when something unexpected happens.
7. Progressive
Agero provides the roadside assistance services that motorcyclists can add to their Progressive policies. With this investment, you can access flat tire support, winching, towing, and fuel delivery.
One of the unique advantages of working with this provider is that you receive up to one hour of labor for free if your bike is disabled. The motorcycle can be towed to the closed repair shop if services require more than this support.
With Agero, any vehicle used to haul or tow a motorcycle is also covered by this policy, even if Progressive isn't the insurance provider.
We've reviewed Progressive. Read here.
Is a Roadside Assistance Membership or Insurance Worth It?
The primary benefit of roadside assistance is that you'll have options for help when you need it the most. These services are available 24 hours per day, all week long. Providers come to you to ensure you can return on the road again.
If this coverage is part of your motorcycle insurance, you're paying for it already. You might as well use it.
Although it may cause rates to rise in rare situations, the goal of this service is to keep costs low by offering assistance when you need it the most. That's why having this coverage is typically a good idea.
Use This Tool for Free and Save on Quotes!