Trip interruption motorcycle coverage is a policy that pays for part or all of a travel experience if it cannot proceed due to a qualifying event. Most insurers require the bike to become unusable before a claim is viable.
Most trip interruption motorcycle coverage options are combined with other insurance choices, such as accessory protection or emergency roadside assistance.
Didn't You Try Our Quote Comparison Tool Yet? Save BIG by Doing it!
Insurance companies often apply specific rules one must meet before considering trip interruption benefits, including the number of miles away from your primary residence. You'll need to provide evidence of lodging and meals as part of the claims process. That information might include bank statements and receipts, or you might be forfeiting some or all the compensation.
Am I Required to Carry Trip Interruption Coverage?
Trip interruption motorcycle insurance is not considered a required coverage option in the United States. It is an optional item that you can include in your riding activities.
It might seem like this coverage is required when an insurance company includes it with other products you want, such as roadside assistance.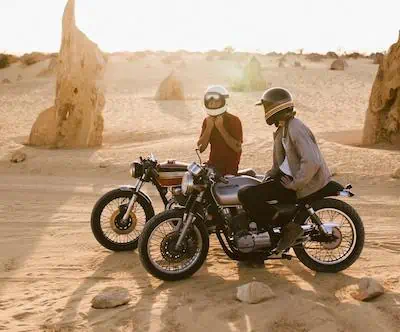 With trip interruption coverage, you'll be reimbursed for the unused portion of a planned event that has already begun, and something unexpected forces you to return home. If you have post-departure benefits included with the policy, it can be helpful since some motorcycle trips can be expensive.
Some policies might cover non-refundable expenses, such as a prepaid hotel or an excursion. Additional costs, such as towing, might be included.
You'll need to review your policy's specific terms and conditions to know what is available and how to claim benefits.
What Isn't Covered by Trip Interruption Insurance?
Although motorcycle trip interruption coverage protects against a comprehensive set of unexpected circumstances, it doesn't catch 100% of everything that could stop your riding activities.
Here are a few examples of circumstances that do not qualify for claims under this motorcycle insurance coverage.
Pre-existing conditions developed within a specific time before starting the trip.
Issues related to childbirth or pregnancy.
High-risk activities, such as mountain climbing or skydiving.
Motorcycle trips taken against the advice of a physician.
Insurers set their own exclusions for trip interruption coverage, so you'll need to review the fine print of your policy to know what to expect if something happens.
You Might Already Have Trip Interruption Insurance
Some motorcyclists could have trip interruption insurance already without realizing this coverage is available. Several premium or executive travel credit cards provide this benefit as one of the perks of being an account holder.
Products like the American Express Business Platinum Card® offer up to $10,000 per incident in trip interruption benefits, with a cap at $20,00 per year. Some credit cards from Chase extend this offer to a rider's immediate family members.
It is still wise to purchase a separate policy or have motorcycle insurance benefits if your trip is more expensive than the limits in your current package. You'll also want to ensure that COVID-related claims are available before proceeding, especially as more people travel and could experience illness-related interruptions.
Compare your trip's needs to what the motorcycle trip interruption coverage provides. If your activities qualify for protection, it often makes sense to take that extra step.
Use This Tool for Free and Save on Quotes!