Motorcyclists have several options to protect themselves from financial harm. That starts with the protective gear they use while riding to the insurance policies purchased to protect their bikes.
Another way to protect yourself while riding a motorcycle is to add medical payments coverage, or MedPay, to your policy. Bikers can also add personal injury protection, or PIP, when available.
Didn't You Try Our Quote Comparison Tool Yet? Save BIG by Doing it!
Who Pays for Medical Bills in Motorcycle Accidents?
When an accident occurs, the driver or rider deemed to be at fault for causing the collision is typically responsible for paying the medical bills of all injured parties.
Since some injuries can be severe, insurance protections are helpful. You'd pay a deductible, and your provider pays the rest up to your policy's limit.
Without insurance, you could be held personally responsible for those costs.

What happens if someone who hits you doesn't have money, assets, or insurance coverage? You might still get stuck with the bill if you don't have MedPay, PIP, or uninsured/underinsured coverage for your policy.
That's why including medical payment coverage is a crucial decision. It covers many expenses with an injury so that you're not stuck trying to recover physically and financially.
What Type of Insurance Covers Medical for a Motorcycle Accident?
When filing a valid claim, motorcycle medical payments coverage typically pays for the following expenses.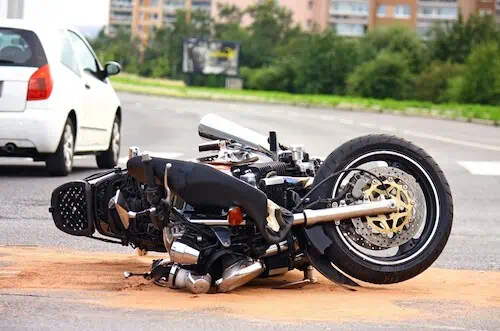 Any required copays that occur at the time treatment is needed.
Health insurance deductibles must be met before coverage is extended
Required prescriptions, including non-medication needs, at the judgment of the doctor.
Dental expenses and oral care requirements.
Home care needs, including rehabilitation.
MedPay doesn't usually cover the expenses others experienced in an accident unless you have a passenger on your motorcycle.
Your liability coverage protects you from the financial costs of medical treatments others require after a collision. If someone hits you while riding, their liability coverage would be the first option to review for covering medical.
What Happens If I Choose No Medical Payments for Motorcycle Insurance?
If you decide not to include medical payments coverage with your motorcycle insurance, you would be responsible for paying your own treatment costs in accidents you cause.
Although some insurance options provide some support if someone hits you, there are no guarantees that the driver or rider has a current policy. You could pursue them for costs in small claims court if they are at fault for the accident, but that doesn't guarantee you'll get the money.
That's why the best way to protect yourself is to add MedPay coverage to your current motorcycle insurance. You will also want to read your policy's specific terms, conditions, and exclusions to ensure you have everything you need if the worst-case scenario occurs.
If you're unsure what bodily injury and medical payment cover, here is a good read.
Does Health Insurance Cover Motorcycle Accident Injuries?
In the past, health insurance used to cover injuries sustained in a motorcycle accident. Every rider needs to read their current policy to ensure this fact remains.
Note that:
It is not unusual for health insurance companies to exclude motorcycle injuries from what they cover. You could be stuck with the bill if you don't have any coverage and are at fault in an accident.
MedPay is optional in most states but covers reasonable medical expenses if an accident occurs. This coverage doesn't care who is at fault, so anyone who wants to protect themselves while riding should consider this option.
Use This Tool for Free and Save on Quotes!