Motorcycle accidents contribute to one of the leading causes of injuries in the United States. Over four million people receive an injury requiring at least some medical attention or care each year.
Although most people recover from their injuries, the costs associated with that care can be expensive.
Didn't You Try Our Quote Comparison Tool Yet? Save BIG by Doing it!
Should you be in a motorcycle accident, it's crucial to ensure sufficient insurance is available to cover the losses from an incident.
It's not just the bike that requires protection. You'll need to think about your medical expenses in multiple categories.
That's why motorcycle medical payments and PIP coverage are important considerations.

What Does Medical Payment on Motorcycle Insurance Mean?
Medical payments coverage is an insurance type that covers the expense of medical bills for you if you're injured while on a motorcycle. It's like health insurance, protecting your needs regardless of who is declared at fault for a collision.
Some states require applying for medical payment coverage after riders have already exhausted their primary health insurance benefits.
MedPay for motorcycle insurance is available in most states. Although the policy may provide limited loss protection, it's an affordable addition to your coverage.
Medical payment coverage is considered an add-on to a traditional motorcycle insurance policy.
Three states require MedPay: Maine, New Hampshire, and Pennsylvania.
What Are the Pros and Cons of Motorcycle Medical Payments Coverage?
No-fault medical coverage is helpful in many situations, but it might not be a suitable investment for every rider. It helps to review the pros and cons of this insurance to see if it makes sense to add this coverage to your motorcycle policy.
| Pros | Cons |
| --- | --- |
| The cost of MedPay is relatively affordable compared to other options to protect yourself while riding. It pays for itself with a single claim for most motorcyclists. | Coverage under MedPay is usually a small amount or limited in scope. Most policies provide $10,000 or less in protection for medical bills. If you or a passenger sustained a severe injury, the bills could exceed that amount. |
| It works to fill coverage gaps that occur, such as when you're injured in an accident that you caused. This option works to ensure money is available to cover expenses that go beyond other limits. | It only protects the rider or a passenger. People who get hurt in an accident that you've injured won't receive MedPay benefits from your coverage. That means liability insurance is still necessary. |
| This insurance option could supplement some health insurance coverages, such as ambulance costs, chiropractic care, and skilled nursing. | Medical payments are an affordable add-on, but it still makes the insurance more expensive. The median increase in the United States is 10% of the total policy amount. |
| Although it's designed to protect riders, it can also provide coverage for a passenger on a motorcycle. | It doesn't provide comprehensive benefits. PIP coverage might be necessary, especially if you want protection for injuries when you're at fault for an accident. |
Who Is Covered Under Medical Payments?
Medical payments coverage typically insures the rider. Some policies allow you to cover a passenger with this insurance.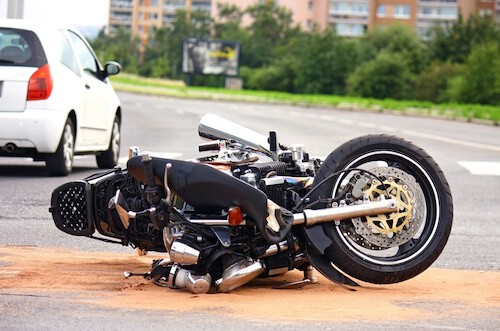 The typical no-fault medical coverage policy covers the following expenses for covered individuals after an accident.
Medical providers charge health insurance deductibles after you seek care.
Copays that your current coverage requires when visiting a doctor, specialist, urgent-care facility, or hospital ER.
Dental expenses resulting from oral injuries while riding a motorcycle.
Prescriptions that your doctor prescribes as part of the treatment plan.
Home care needs, including a caregiver, are necessary for your recovery.
This insurance protection doesn't usually cover the costs related to injuries that others experience during an accident. Suppose you are at fault in a collision that causes damage to another rider. In that case, the liability coverage will pay for those expenses up to the amount listed on the policy.
Florida doesn't require this coverage, but you must prove you can be financially responsible for costs if an injury occurs.
Although purchasing a medical payments policy or rider comes with a higher premium, it reduces the expenses related to care if you or a passenger experiences an injury.
Do You Need MedPay if You Have Health Insurance Already?
Some motorcyclists opt for MedPay even though they have health insurance because of its extra protection.
Some health insurance plans provide excellent protection for injuries that occur during an accident. Others leave gaps that require filling.
If you have health insurance already, consider the deductible cost and how much you have saved for out-of-pocket expenses.
Riders with a high-deductible plan could pay thousands of dollars before tapping into their coverage. Anyone in that situation might consider adding motorcycle medical payments for extra coverage.
You can choose your limit for MedPay. The monthly premium will be higher if you have a lot of coverage. A policy with less protection is cheaper, but it might not provide enough benefits to cover all potential costs.
If you have a $3,000 deductible and MedPay covers $2,500, that will let you pay most of that initial expense if something happens.
Do You Need PIP on a Motorcycle?
Some states allow motorcycle riders to purchase PIP insurance. It's similar to medical payments coverage but provides coverage more for the financial fallout from injuries.
Depending on the PIP coverage selected, it can cover lost wages, child care expenses, or even funeral costs.
When riding in states with no-fault insurance laws, personal injury protection is good for motorcyclists. That means the insurance provider covers the damages without regard for who caused the accident.
The rules governing PIP coverage requirements vary by state.
Note that:
PIP insurance is currently required in 12 states. Another 31 states, including Illinois and California, do not provide this coverage.
When you carry PIP coverage, it won't cover damage to the bike or someone's property. It is not injury protection. If available, this investment is an intelligent way to add more protection if an accident occurs.
Outside of the coverage differences, the primary change to expect with PIP over MedPay is that it typically comes with a deductible.
Here are some numbers:
The average PIP premium depends on where you live and if you decide to purchase a six-month plan. In Florida, the average monthly cost is about $200 per month, while in Massachusetts, it can be as little as $39.
In Michigan, it's about $3,000 to add PIP coverage for motorcyclists. When setting your price, your policy issuer will consider your age, driving record, credit score, and the bike's make and model.
Relevant: Differences between Medical Payments and Bodily Injury coverage.
Does MedPay for Motorcycle Insurance Make Sense?
Every motorcyclist has unique needs to consider. Medical payments and PIP might not be necessary if you have outstanding health insurance coverage and a comprehensive support system.
When you want to ensure you've got every base covered, MedPay and PIP provide meaningful solutions.
These add-ons aren't always included in your motorcycle policy. If you want to know how much it will cost for your situation, contact a trusted agent or company like us to receive a free quote.
Use This Tool for Free and Save on Quotes!