USAA Insurance has provided numerous products for military members and their families since the 1920s. The company was initially started by a group of officers needing help finding policies for their needs because it was challenging to find coverage at that time.
You can join USAA if you serve or have served in the US military, including the National Guard or Reserve. Your family also qualifies for membership.
Didn't You Try Our Quote Comparison Tool Yet? Save BIG by Doing it!
USAA consistently earns an A++ superior rating from A.M. Best for financial stability. In 2021, the company wrote over $25 billion in premiums.
Could it be the best solution for your motorcycle insurance?
Does USAA Have Motorcycle Insurance?
If you own a motorcycle, you can get insurance through USAA to protect your bike and yourself in case of accidents, theft, or other incidents.

As with their other insurance offerings, USAA aims to provide comprehensive coverage and support for their members' needs, including those who ride motorcycles.
Although USAA used to write its own motorcycle insurance policies, they have started outsourcing this member need to Progressive. If you agree to the coverage, you'll receive a one-year term with several options to consider.
Liability. You can request the legal minimum for where you live or go up to virtually any amount to pay for property damage or bodily injury you cause while riding.
Collision. This insurance pays for physical damage to your motorcycle in an at-fault accident.
Comprehensive. You'll protect your bike from damage from non-collision sources, such as weather-related events.
Custom Parts and Equipment. Progressive motorcycle insurance for USAA members provides the option to purchase up to $30,000 of this protection.
Through USAA, you can also consider medical payments, uninsured/underinsured motorist protection, and roadside assistance. Plenty of options exist to create a custom policy without paying a significant cost for your coverage.
Pros and Cons of USAA Motorcycle Insurance
Before choosing USAA for your motorcycle insurance, it is essential to review the advantages and disadvantages of this investment. Each rider has different requirements, but I believe these observations reflect an accurate expectation of the overall experience.
| | |
| --- | --- |
| Pros of Working with USAA | Cons of Working with USAA |
| USAA has a strong reputation in the insurance community. The company is known for its reliable service and commitment to its members, which can translate into a positive experience for motorcycle policyholders. | Membership is required to purchase USAA Insurance, much like you'd need to join the Costco family or a similar setup. Military service is a requirement, either from you or a direct family member. |
| Discount bundling is available, especially if you already have auto or home insurance through USAA. It's an easy, straightforward way to save some money. | While USAA is known for competitive rates, their rates may not always be the absolute lowest. It's wise to compare quotes from multiple providers to ensure you get the best deal. |
| You have access to plenty of coverage choices, many of which can be tailored to meet the specific requirements of your riding habits, equipment, and storage solutions. | Some regional limitations may exist for some riders. If you're not in an area where USAA sells insurance, you'll need to look for another option. |
| USAA creates lots of informative content to help riders understand the insurance industry. Knowing what is available makes it easier to customize a policy to your specific needs. | If you prefer in-person interactions, note that USAA has fewer physical branches compared to some other insurers. |
How USAA Rates in Service Categories?
Here is a closer look at my experiences with USAA so that you can better understand what to expect when interacting with the company.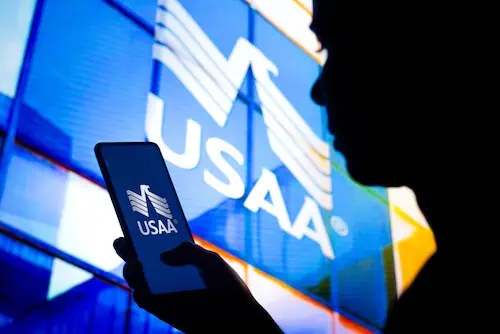 Customer Service: 5/5. The representatives at USAA are knowledgeable, friendly, and responsive. From the initial quote to investigating a claim, you're kept in the communication loop the entire time.
Online Tools and Resources: 4/5. You can find plenty of information online about motorcycle insurance through USAA, but it doesn't apply to everyone. Since it is a member-specific company, you must jump through those initial hoops to explore all the options.
Claims Process: 3.5/5. It is an above-average experience to file a claim with USAA. The time needed to bring a case to a conclusion can be lengthy, even when supplying all the necessary documentation. This issue isn't always due to delays from USAA staff, but there are agencies that figure out fair payouts faster.
Financial Stability: 5/5. USAA has the best rating A.M. Best currently offers.
Additional Features: 4/5. You have plenty of add-on choices to consider when working with USAA due to their partnership with Progressive.
Underwriting Process: 2.5/5. It can take some time to verify your military service if you don't have identification readily available to share. The process can be lengthy if you're trying to qualify through a parent or grandparent.
Pricing: 4/5. Adding a 5% discount on top of Progressive's typically reasonable rates creates an exciting opportunity to save money. This combination makes it one of the most affordable options for military families compared to companies like GEICO, Allstate, and Nationwide. Many members save $150 or more annually.
Reputation: 5/5. USAA has one of the best reputations in the insurance industry today.
FAQ Regarding USAA Motorcycle Insurance
Are you interested in USAA motorcycle insurance? If so, these common questions often come up during the review process. Here are the answers I've discovered during my journey with this agency to help you see if it's the right provider for your needs.
Are Non-Military Individuals Eligible for USAA's Motorcycle Insurance Coverage?
USAA requires someone in your family to be active-duty or a veteran. The membership must start with the person who served in the armed forces, but it can be passed along to other family members. The account must be in good standing.
If you're not a veteran or currently serving, you can still get USAA motorcycle insurance coverage if someone in your direct family holds that status.
How to Add USAA Discount to Progressive Motorcycle Insurance?
You can only add the USAA discount to a Progressive insurance policy by investing in membership because you're on active duty or a veteran. Another family member in your household could apply for it if you never served.
Will USAA Tow My Vehicle?
Absolutely! This insurer offers towing services for its members. If your motorcycle breaks down or you're in an accident, you can contact USAA roadside assistance for help.
Why Choose Progressive Through USAA for Motorcycle Insurance?
USAA subcontracts through Progressive for motorcycle insurance. You get the same great coverage options and low rates with an added 5% discount. That makes it easier to afford your policy while having access to some great add-ons, like up to $30,000 in custom parts and accessories protection.
Use This Tool for Free and Save on Quotes!