Markel motorcycle insurance offers policies for as little as $50 per year. This coverage provider has protected bikes of all shapes, sizes, and vintages for nearly 50 years, delivering specialized options that aren't always available from other companies.
When motorcyclists choose Markel, they can obtain customizable insurance. The policy is built to the specifications you need for the bike and how you ride it.
Didn't You Try Our Quote Comparison Tool Yet? Save BIG by Doing it!
Markel covers almost all bike types, including cruisers, big twins, scooters, mopeds, and trikes. If you switch from a different insurance provider, you'll receive an immediate discount of up to 10%.
What Are the Pros and Cons of Markel Specialty Insurance?
Before settling on an insurance provider, reviewing the different advantages and disadvantages that could develop when investing in a policy is crucial.
Here are the different points to consider when reviewing what Markel provides when you need motorcycle insurance.

List of Pros
Customized motorcycle insurance policies are available to riders in all 50 states.
Virtually any make or model qualifies for coverage.
Rating company A.M. Best places the agency at an "A" rating.
Claims reporting is available at any time of day.
International operations are available for riders who want to take their bikes to London, Dublin, or Bermuda.
The agency has had accreditation from the Better Business Bureau since the 1930s.
Numerous discounts are available to lower the overall rate.
Roadside assistance and trip interruption protection are available for $25 per bike or $50 per year for all policies held with this insurer.
List of Cons
Investment losses in late 2018 have created financial issues that the company has yet to recover.
The company provides extensive commercial and business insurance options instead of only focusing on motorcycle coverage.
If you carry an insurance policy with another provider, Markel has been known to deny coverage.
Some riders might not qualify for all the potential discounts.
What Discounts Are Available Through Markel?
Most insurance companies offer discounts to keep premiums manageable when purchasing motorcycle coverage. Markel is no exception.
This provider offers many of the same savings opportunities and deals as their competitors, including renewal, safety courses, and transfer discounts.
Here are some unique coverage discounts that could help you save more (up to 35%) when choosing Markel over a different insurance company.
Disappearing Deductible. If riders stay accident-free for four years, they can have a $0 deductible for their policy. You receive a 25% discount on this cost for each consecutive year when your account remains in good standing.
Multiple Motorcycles. Markel offers a bundling discount for those motorcycles when you have more than one bike to insure. Add a tracking system or an electronic alarm for even further savings.
ABS Discount. If you install anti-lock brakes or other safety equipment, even as a custom add-on, you can get an insurance discount from this provider.
Since the policies are customizable to each motorcycle, the only way to know how much your annual cost would be is to request a free quote.
Accessories Coverage from Markel Insurance
Markel Specialty provides all riders with $1,000 of accessory coverage within the scope of their comprehensive and collision policies. You won't receive that benefit if you only carry liability and must buy additional coverage.
When working with Markel, you can buy $1,000 increments for your accessories until you reach $30,000.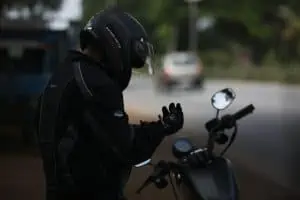 Anything different from the manufacturer's stock unit must be covered by this insurance. Without this protection, claims are typically denied.
The accessories coverage from Markel includes your riding gear, boots, leather products, and helmets. If your glasses or goggles are exclusive to your motorcycle, you can also cover those items.
Collision and Comprehensive Coverage for Motorcycles
Markel provides complete collision and comprehensive coverage, which riders who finance their motorcycles must typically purchase to protect the value until the loan is paid. You have multiple deductible options to keep things affordable, going as high as $2,000 for each policy inclusion.
One of the best coverage options in this category is the add-on mechanical breakdown coverage. It is optional, but it helps to cover the expense of replacing specific parts if they fail while riding.
You can also purchase insurance protection for trailers you tow with a trike or motorcycle.
Passenger liability is not included with these policies unless the individual is insured on your policy. You can cover all passengers separately if you like to ride with others.
Markel Motorcycle Insurance Ratings By Category
Customer Service: 5/5. Markel has consistently provided excellent customer service to me, going the extra mile to ensure my concerns are addressed satisfactorily.
Online Tools and Resources: 3.5/5. You'll have access to plenty of online resources and tools for managing your account, but finding them can be challenging. Markel has multiple divisions, so you must be careful where you log into accounts.
Claims Process: 3.5/5. Markel holds itself to high ethical standards. You'll need all your documentation for a claim before you start the process to ensure everything moves at the right speed. You can report the claim to your agent by completing an online form or calling 1 (800) 362-7535.
Coverage Options: 3/5. Markel is the first company to check for a policy if you have specialty motorcycle insurance needs. When you aim to insure a standard or stock motorcycle, there are fewer choices than the competition.
Financial Stability: 3.5/5. Markel earns an A rating from A.M. Best, which is lower than what most providers receive. That makes a policy closer to AAA Insurance than GEICO or Progressive for claims certainty.
Additional Features: 5/5. This insurer will find a way to create an insurance policy to protect your activities.
Underwriting Process: 4/5. It takes some time to generate a custom quote, so plan to be more involved in the estimation process. Overall, the rate is individualized for your bike and riding habits, so it is worth the investment.
Pricing: 3.5/5. Since Markel is more for custom needs, the prices tend to be higher than other national-level providers. You can find competitive costs in most markets if you have a standard bike that doesn't need add-ons.
Reputation: 5/5. Markel is the go-to insurance provider when you have specialty coverage needs to meet.
FAQ About Markel Motorcycle Insurance
Here is a closer look at some of the questions that come up when requesting a free motorcycle insurance quote from Markel.
Is Markel Motorcycle Insurance Available Everywhere?
Markel motorcycle insurance is available in only nine states: Alaska, California, Florida, Georgia, Michigan, North Dakota, South Dakota, Vermont, and Wyoming.
Nationwide coverage is potentially available through Markel Specialty Insurance.
Does Markel Cover Trailer Mechanical Breakdowns?
Yes. This insurance provider is one of the few that offers coverage choices for bike and trailer mechanical breakdowns. Virtually any type allowed on the road qualifies.
How Long Does It Take to Qualify for Deductible Reductions?
Markel will forgive your first at-fault loss after four years without an accident. Additionally, your deductible will be reduced by 25% for each accident-free year after qualifying for this risk pool.
Is Markel Motorcycle Insurance Worth the Cost?
Markel motorcycle insurance specializes in providing custom policies for riders across the United States. Some of that approach is purely for marketing as each bike has different characteristics and features that all insurers cover.
Markel's willingness to cover custom bikes, aftermarket changes, and unusual categories makes it stand out as a provider. It's one of the few agencies that covers dirt bikes, touring motorcycles, sports bikes, and custom builds using a similar approach.
Instead of making a few changes to an auto policy and saying it's for your motorcycle, you receive a comprehensive and thoroughly reviewed coverage plan that works for your specific needs. That process takes a little extra work for each rider, so the insurance is individually tailored to your current and future needs.
Use This Tool for Free and Save on Quotes!