The rules for registering a motorcycle and insuring it are clear. When you operate a dirt bike, the regulations go from black and white rules to a hundred shades of gray.
Some states don't provide explicit rules when reviewing coverage requirements – or if insurance is even required.
Did You Try Out Our Quote Comparison Tool? Save BIG!
Others have a specific process you must follow to legally operate a dirt bike, even if you're on private property.
Insurance may not be necessary if you only use a dirt bike on your land. For everyone else, this coverage is worth considering.
Different rules apply when insurance for a street-legal dirt bike is needed.
Do Dirt Bikes Need Insurance?
Dirt bikes are not required to have insurance coverage. If you get into an accident, whether on the trail or while racing, not having a policy means that all repairs are paid out-of-pocket.
If you ride a dirt bike and damage another person's property, you would be expected to compensate that individual for their financial losses.
Imagine that you're riding a trail, the bike slips out, falling down a cliff and hitting a Rolls Royce. Although the example is extreme, you'd be paying for everything without insurance. Can you afford to do that?
What Is a Street-Legal Dirt Bike?
A street-legal dirt bike has different insurance requirements. Most models are considered a dual-sport design because they don't require any modifications. You can take them on the road or the trail right away.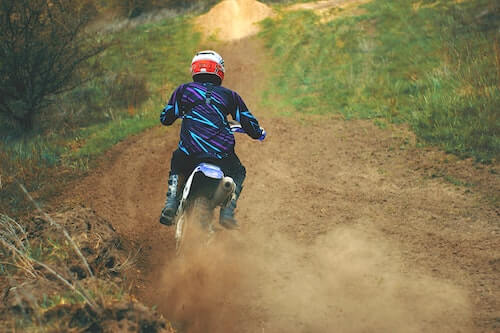 That convenience comes at the cost of following the current motorcycle insurance rules.
Other street-legal dirt bikes include supermotos and Motards, along with the growing Adventure motorcycle design from several brands.
If you need to get license plates for your dirt bike, it will also require the motorcycle insurance minimums for where you live.
When plates aren't required, you have more insurance flexibility to consider.
What States Require Dirt Bike Insurance?
California, Idaho, New Jersey, and Pennsylvania require dirt bike insurance. This coverage is mandatory even when you don't have a dual-sport bike or license plate.
Most trails require dirt bike operators to carry off-highway vehicle (OHV) insurance to operate in the area legally. This issue usually applies in the state or national parks and forests.
Property owners can require OHV operators to carry dirt bike insurance before riding on their land.
When insurance is mandatory, you'll need to meet the minimum liability coverage outlined by state laws, local rules, or private property owner requirements.
Liability typically includes property damage and bodily injury coverage.
These options pay for the damage caused to other property, such as a house, fence, or another bike, and any medical expenses incurred if you cause an accident.
Optional coverage includes collision and comprehensive. Lenders might require this insurance before allowing you to operate a dirt bike you purchased with financing.
FAQ About Dirt Bike Insurance
Since dirt bikes are sometimes both OHVs and street-legal motorcycles, knowing what insurance needs are necessary can be tricky.
These frequently asked questions will help you get some of the necessary answers.
Do I Need Insurance If I Don't Drive My Dirt Bike on the Street?
Dirt bikes aren't meant to be street-legal vehicles. Unless it has a dual-sport classification, you cannot link any trails with paved sections.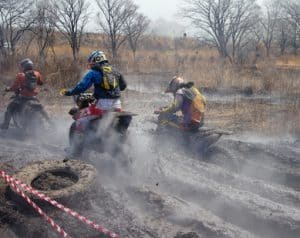 Since there isn't a street-legal designation, the insurance requirements involve your activities while off-roading.
Do you want to pay for potential damages to your dirt bike or another person's property? That's what happens if you don't carry insurance.
It might not be required in most states, but many riders find that having this protection is still a good idea.
Do I Need Insurance If My Kids Drive a Dirt Bike?
Riding a dirt bike on private or public lands doesn't require an operator's license or liability insurance coverage.
California requires operators to register an off-highway vehicle, including dirt bikes, if they operate in publicly accessible recreational areas. You'll also receive a red or green sticker designation based on the current emission standards.
Red sticker bikes no longer need to be registered but can only be driven on private property.
When your kids drive a dirt bike, the rules are the same. About one-third of states require minors to obtain a rider training certificate before they can legally operate, and half have age restrictions involving adult supervision.
The biggest issue for dirt bike operators involves local requirements for sound restrictions and spark arrestors.
Does Renters' Insurance Cover My Dirt Bike?
Renters' insurance policies can cover the entire replacement cost, but only if someone takes it from your home.
If you lose the dirt bike away from your property, the insurance policy covers roughly 10% of the replacement cost.
The amount of reimbursement is dependent on your policy. It might be necessary to purchase an add-on or rider that covers your dirt bike to ensure it is protected at home.
You will need additional coverage for operating your dirt bike.
If I Finance a New Dirt Bike, Does It Need Insurance?
Insurance for a street-legal dirt bike is required in all states that require motorcycle insurance. Florida is the primary exception to this rule, but you still must provide evidence of financial accountability before operating on the road.
Lenders can require you to carry full insurance, including comprehensive and collision, to protect the dirt bike.
When you know the ins and outs of dirt bike insurance, it is easier to understand when carrying a policy makes sense. Although it might not be mandatory in all areas, it is worth considering to protect your investment.