The rules for registering a motorcycle and insuring it are clear. When you operate a dirt bike, the regulations go from black and white rules to a hundred shades of gray.
Some states don't provide explicit rules when reviewing coverage requirements – or if insurance is even required.
Did You Try Our Quote Comparison Tool? Save BIG by Doing it!
Others have a specific process you must follow to legally operate a dirt bike, even if you're on private property.
Insurance may not be necessary if you only use a dirt bike on your land. For everyone else, this coverage is worth considering.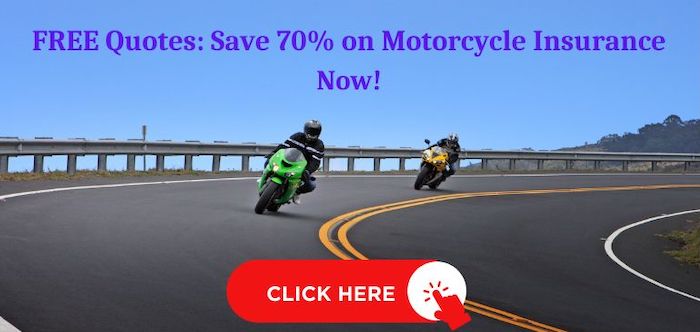 Different rules apply when insurance for a street-legal dirt bike is needed.
Do Dirt Bikes Need Insurance?
Dirt bikes are not required to have insurance coverage. Not having a policy means that all repairs are paid out-of-pocket if you get into an accident, whether on the trail or while racing.
If you ride a dirt bike and damage another person's property, you would be expected to compensate that individual for their financial losses.
Imagine that you're riding a trail, the bike slips out, falling down a cliff and hitting a Rolls Royce. Although the example is extreme, you'd be paying for everything without insurance. Can you afford to do that?
How Common Are Dirt Bike Accidents?
Riding dirt bikes is one of those activities where the chances of an accident or injury seem higher than other options. For most people, a crash is likely to happen at least once during their lifetime.
Whether you ride trails or prefer competing in races or big air, a crash could be one turn or landing away.
Most injuries can be handled with a little Tylenol and rest, but serious incidents happen. Here's a closer look at the statistics involved with dirt bike accidents.
What States Require Dirt Bike Insurance?
California, Idaho, New Jersey, and Pennsylvania require dirt bike insurance. This coverage is mandatory even when you don't have a dual-sport bike or license plate.
Most trails require dirt bike operators to carry off-highway vehicle (OHV) insurance to operate in the area legally. This issue usually applies in the state or national parks and forests.
Property owners can require OHV operators to carry dirt bike insurance before riding on their land.
When insurance is mandatory, you must meet the minimum liability coverage outlined by state laws, local rules, or private property owner requirements.
Liability typically includes property damage and bodily injury coverage.
These options pay for the damage caused to other property, such as a house, fence, or another bike, and any medical expenses incurred if you cause an accident.
Optional coverage includes collision and comprehensive. Lenders might require this insurance before allowing you to operate a dirt bike you purchased with financing.
Only expect to get the lowest rate when shopping around. Get free quotes.
What Does Dirt Bike Insurance Cover?
A standard motorcycle policy typically covers dirt bike insurance. Although several differences exist between dirt bikes and motorcycles, they have enough similarities where coverage options and potential discounts apply to both.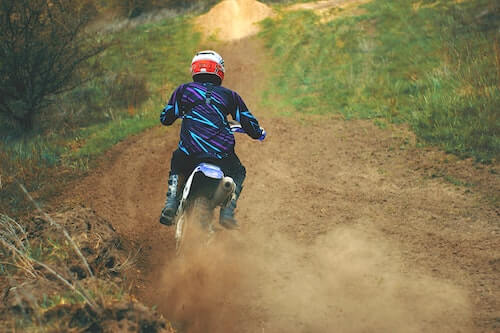 A basic dirt bike policy includes property damage and bodily injury liability. Additional optional coverages are worth considering in addition to the essentials you need.
Medical Payments. This insurance pays the medical bills for riders and passengers if an injury occurs while riding a dirt bike. It applies regardless of fault. There could be time limits involved when an incident occurs for filing a claim, so read the terms of your quote carefully.
Comprehensive and Collision. Colliding with a tree or a vehicle is similar when you have collision coverage. Comprehensive insurance pays for issues related to other perils, such as flood or fire damage. Deductibles typically apply.
Personal Injury Protection. If you ride a street-legal dirt bike, PIP insurance might be required. It does what its name indicates.
If you race dirt bikes or compete with them in other ways, you'll need a separate track day policy for your equipment. Standard motorcycle insurance doesn't offer protections in this space.
What Kind of Insurance Do You Get for Dirt Bikes?
Most insurers treat dirt bikes as a motorcycle. Although there are size and engine differences to consider when comparing the two, a standard policy is your best option.
Each insurance company has specific policies and procedures to consider when requesting a quote for a dirt bike.
If you only use a dirt bike in off-road settings, you could keep insurance costs low by purchasing a liability-only policy. Even if it isn't legally required, the policy will protect your finances if something unexpected occurs and the incident is considered your fault.
You can also purchase comprehensive and collision insurance for dirt bikes. The latter might be available if you have street-legal equipment, but not for those who ride tracks.
How Much Dirt Bike Insurance Should I Carry?
The basic principle for dirt bike insurance is to have as much as you can comfortably afford. Most insurers cap the general liability, collision, and comprehensive amount paid per accident or incident. The maximum is typically around $300,000 to $500,000. Each company can set its preferred limits or underwrite something specifically for individual needs.
You will need your insurance coverage to meet the minimums for your state if you have a street-legal dirt bike. In Florida, a certificate of financial responsibility can be an alternative for some people.
If something should happen and you don't have enough insurance to cover the costs, the courts could seize assets and garnish wages until the debt is repaid. That's why a motorcycle policy focusing on dirt bikes is an essential purchase.
How Much Is Dirt Bike Insurance?
The average cost of motorcycle insurance in the United States is about $700 per year, translating to approximately $60 per month for the average rider.
Rates are pretty variable. Riders in California often pay more than $100 per month for motorcycle insurance, while those in North Dakota often pay less than $30 monthly for similar coverage.
You'll pay more if you carry an insurance policy with higher maximum payments per incident and lower deductibles. When your goal is to ride a dirt bike on public roads, you must consider your total costs in an at-fault accident and have enough insurance to cover that amount.
What Is a Street-Legal Dirt Bike?
A street-legal dirt bike has different insurance requirements. Most models are considered a dual-sport design because they don't require any modifications. You can take them on the road or the trail right away.
That convenience comes at the cost of following the current motorcycle insurance rules.
Other street-legal dirt bikes include supermotos and Motards, along with the growing Adventure motorcycle design from several brands.
If you need to get license plates for your dirt bike, it will also require the motorcycle insurance minimums for where you live.
When plates aren't required, you have more insurance flexibility to consider.
What Are the Insurance Costs for a Street-Legal Dirt Bike?
Insuring a street-legal dirt bike typically costs more than one you ride on private property or use on public off-road trails.
Rates are also dependent on the insurer and your specific needs. The average annual cost can vary by nearly $300 between insurance companies for the same rider and circumstances, so shopping around to see your options is essential.
Additional factors include your age, riding experience, and the assigned value to your dirt bike. Riders under 21 typically pay the highest rates, while those around 35 with at least three years of driving experience pay the lowest.
Young riders could see their insurance rates be triple that of an experienced rider in their 30s or 40s. You can reduce these costs with good grade discounts and other factors. The extra costs will remain until about 25, even with a clean driving record.
How to Save on Dirt Bike Insurance?
The best way to save on dirt bike insurance is to maintain a clean driving record. Individuals without accidents, tickets, or citations receive the lowest quotes, even if they are young riders.
Your driving record includes all vehicles, not just motorcycles. Your insurance costs could rise if you get ticketed while driving a truck.
Once you have three years of motorcycle riding experience, including on dirt bikes, you might see an additional discount on your insurance policy.
Most insurers offer several discounts that can help you save even more when you want to purchase dirt bike insurance. Here are some of the most popular options that could be available when requesting a quote.
Is Purchasing a Dirt Bike Insurance Policy Worth It?
Insurance products are meant to protect riders against the financial risks of their activities. It also provides a safety net for specific incidents, such as theft or storage-related damage, that sometimes occur with ownership.
Motorcycle insurance for dirt bikes isn't a financial investment, but it could be considered one for you and your future. Your expenses could be significant if you had a severe accident and didn't have a policy that helped with your medical bills.
The same principle applies when driving your dirt bike and accidentally hitting a sports car. Instead of paying for everything out of pocket or facing litigation, the policy covers qualifying incidents up to the maximum limit indicated in the terms.
FAQ About Dirt Bike Insurance
Since dirt bikes are sometimes both OHVs and street-legal motorcycles, knowing what insurance needs are necessary can be tricky.
These frequently asked questions will help you get some of the necessary answers.
Do I Need Insurance If I Don't Drive My Dirt Bike on the Street?
Dirt bikes aren't meant to be street-legal vehicles. Unless it has a dual-sport classification, you cannot link any trails with paved sections.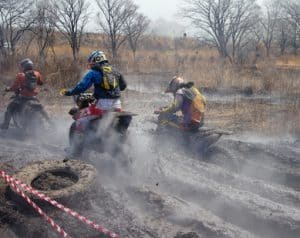 Since there isn't a street-legal designation, the insurance requirements involve your off-roading activities.
Do you want to pay for potential damages to your dirt bike or another person's property? That's what happens if you don't carry insurance.
It might not be required in most states, but many riders find this protection still a good idea.
Do I Need Insurance If My Kids Drive a Dirt Bike?
Riding a dirt bike on private or public lands doesn't require an operator's license or liability insurance coverage.
California requires operators to register an off-highway vehicle, including dirt bikes, if they operate in publicly accessible recreational areas. You'll also receive a red or green sticker designation based on the current emission standards.
Red sticker bikes no longer need to be registered but can only be driven on private property.
When your kids drive a dirt bike, the rules are the same. About one-third of states require minors to obtain a rider training certificate before they can legally operate, and half have age restrictions involving adult supervision.
The biggest issue for dirt bike operators is local sound restrictions and the requirements of spark arrestors.
Does Renters' Insurance Cover My Dirt Bike?
Renters' insurance policies can cover the entire replacement cost, but only if someone takes it from your home.
If you lose the dirt bike away from your property, the insurance policy covers roughly 10% of the replacement cost.
The amount of reimbursement is dependent on your policy. Purchasing an add-on or rider that covers your dirt bike might be necessary to ensure it is protected at home.
You will need additional coverage for operating your dirt bike.
If I Finance a New Dirt Bike, Does It Need Insurance?
Insurance for a street-legal dirt bike is required in all states that require motorcycle insurance. Florida is the primary exception to this rule, but you still must provide evidence of financial accountability before operating on the road.
Lenders can require you to carry full insurance, including comprehensive and collision, to protect the dirt bike.
Knowing the ins and outs of dirt bike insurance makes it easier to understand when carrying a policy makes sense. Although it might not be mandatory in all areas, it is worth considering to protect your investment.
Does Homeowners Insurance Cover Dirt Bike Theft?
A homeowner's policy could cover a stolen dirt bike under the personal property coverage section. This fact also applies to condo and renter's insurance from some providers.
In this situation, your insurer might pay to replace the dirt bike up to the limits purchased, but less any deductible that applies. It is possible that a sub-limit could be in place for your equipment.
The payment is based on the actual cash value of your dirt bike. It might not pay for any losses if that amount exceeds your deductible. That's why it helps to have a separate policy outside your homeowner's insurance.
Do You Need Insurance to Drive an Electric Dirt Bike Legally?
In most situations, you are not legally required to carry a motorcycle insurance policy for an electric dirt bike. Many states mandate liability insurance if you plan to ride the bike on public roads when allowed, but that requires a title, registration, and plates before proceeding.
If you use a dirt bike for off-road activities, an insurance policy can provide some financial protection if something should happen.
Some parks or private landowners who permit dirt bike riding might request to see an insurance policy before allowing you to proceed. Their authority to ask for this information depends on local and state statutes.
Riding an electric dirt bike at a track often requires a track-day insurance policy.
Use This Tool for Free and Save on Quotes!