Dirt bike insurance is usually less expensive than what is necessary for motorcycles, even if both are operated on the road. States like New Jersey require ATVs and dirt bikes to be insured if they are used on public streets.
Some low-speed dirt bikes that aren't street legal still need proof of insurance to operate on some commercial properties. These policies are also cheaper than motorcycle coverage for the average rider.
Did You Try Our Quote Comparison Tool? Save BIG by Doing it!
The issue when comparing motorcycle vs. dirt bike insurance for cost involves liability. Your insurance costs could be higher if you use a dirt bike for high-risk activities.
For everything else, a motorcycle insurance policy will usually cost more.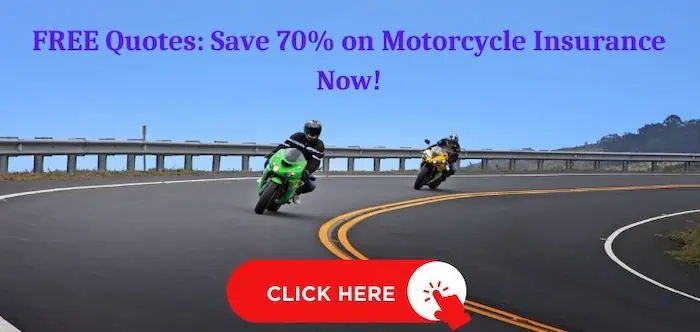 What Kind of Insurance Do I Need for Dirt Bikes?
Motorcycle liability insurance protects your finances against a potential mishap while operating on roads and highways.
Since most dirt bikes aren't considered road-legal vehicles, your insurance must cover the expected riding conditions and situations to protect your finances.
If you're considering requesting a quote for dirt bike insurance, there are three essential elements to review as part of this process.
Since registration requirements don't apply to most dirt bikes, it becomes difficult for law enforcement to track the vehicle if someone steals it. You'll want to request a quote that includes theft from your truck, trailer, or another transportation method.
Fire and flood protection could be needed based on where you live or how you tow your dirt bike to where it gets ridden.
Damage protection is often required when used, with a different policy or rider added to the quote for transportation.
You can add different options to your dirt bike insurance to maximize your protection. If you have many custom accessories, want help with collision coverage, or need roadside assistance, these elements are often available at an added cost.
Even when you have full coverage on a dirt bike (liability, collision, and comprehensive), the insurance premium is typically less than what you'd pay for a motorcycle.
This outcome occurs because the repair or replacement cost for the dirt bike is less than for the average motorcycle, even though the insurance factors are typically similar.
Does My Driving History Impact a Dirt Bike Insurance Quote?
Your driving history can affect your automobile and motorcycle insurance, but it isn't that way with dirt bike policies for most companies.
With dirt bike insurance, your claim history could be evaluated. You will typically see a better rate if you have a good credit score and haven't made any claims within the past five years.
If you primarily race your dirt bike instead of riding it for fun, your risk factors go into a higher liability bracket. It's still typically less than full motorcycle insurance coverage, but the quote will be more even if you're accident-free.
You might see a higher rate if you haven't been riding dirt bikes for over three years. This issue also applies to motorcycle policies. You could potentially see a premium reduction if you take defensive driving or motorcycle safety classes.
How to Reduce My Motorcycle or Dirt Bike Premiums
The easiest way to limit costs for your motorcycle or dirt bike is to request a liability-only policy. Although this insurance won't cover accidents, theft, or environmental damage, it will protect your financial responsibilities in at-fault scenarios.
This option is not usually available if you financed your motorcycle or dirt bike. You must carry comprehensive and collision to protect the value of your purchase.
Another choice is to reduce the policy limits to the state's minimums. You'll pay more for 100/300/100 policies than 25/50/25.
It helps to set the highest limits at the highest you can afford to maximize your protection.
You could take a motorcycle safety class, a defensive driving course or submit your GPA for discounts. Some insurers offer lower costs with autopay, renewals, or bundling with other policies.
If you need to insure a motorcycle and a dirt bike, you might be able to save by bundling those policies. Each company has different rules and procedures, which help get multiple quotes for the best deal.
Use This Tool for Free and Save on Quotes!