A motorcycle defensive driving course teaches you how to react to the world around you while on a bike. It teaches safe strategies that let all riders identify hazards or avoid predictable problems.
When you can make a safe, well-informed decision as a motorcyclist, you have fewer risks to face out there on the highway.
Didn't You Try Our Quote Comparison Tool Yet? Save BIG by Doing it!
Most basic defensive driving courses are six to eight hours long, although some basic ones are about half that time. Some states provide an option to take classes online or by watching DVDs or videos.
A motorcycle safety course often requires 15 to 20 hours to complete, spread across an entire week or a single weekend.
Does a Motorcycle Safety Course Count as a Defensive Driving Course?
A defensive driving course for motorcycles is different than taking safety-related classes. Although some of the information overlaps, the primary purpose of taking a motorcycle safety course is to learn how to operate the bike.

When you take a motorcycle defensive driving course, you'll learn how to recognize dangerous traffic and highway conditions to avoid them.
Motorcyclists typically need to be more observant and defensive to prevent accidents.
Some schools might combine defensive driving and safety into a single course. If you're unsure of what is offered and need a specific one, contact the provider to see if one has a priority over the other in the curriculum.
Who Can Take a Motorcycle Defensive Driving Course?
Anyone can enroll in a motorcycle defensive driving course. Some classes are suitable for beginners, while others provide updates to experienced riders.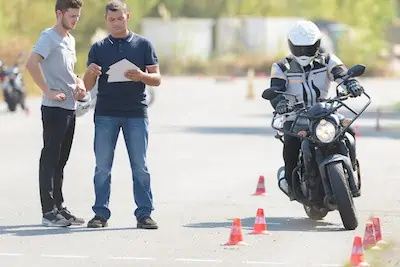 If you see a "refresher course," that class is meant for an experienced motorcyclist.
Most defensive driving courses start with an overview of rider safety. You might go over the bike's controls, review highway laws, or discuss specific scenarios with the class.
Safety courses often test your road skills with hands-on training. Defensive courses provide information for you to review with the premise that you already know how to ride a motorcycle.
Both types of courses can reduce insurance costs, subject to recognition by the insurance company.
Safety Tips to Consider for Motorcyclists
Since a motorcycle is smaller and more vulnerable to impacts than other vehicles, it is up to each biker to make themselves visible to other drivers. That means it helps always to keep your lights on, wear bright colors, and avoid dark clothing at night.
As a defensive driving tip, it helps to assume you are in the blind spot of another driver. Assume that they cannot see you.
Here are some additional ideas for review to help you stay safe out there.
Maintain Your Bike. Even minor oversights can increase your risk of being involved in an accident. Monitor the tire wear, keep your motorcycle fueled, and check all the fluids regularly. It is better to be cautious than exposed and stranded on the roadside.
Be Careful at Intersections. It helps to be in the right lane when driving through an intersection. Maintain your speed unless you see that the other driver hasn't seen you. Be assertive, make eye contact when necessary, and eliminate situations where confusion could develop.
Wear Protective Gear. A helmet, gloves, and boots are essential safety items, but the list doesn't stop there. You need sunglasses or a shield to protect your face, sturdy clothing from head to toe, and possibly body armor.
A safety class might tell you to share the lane with other riders in your group, but a defensive driving course would tell you to stagger your setup so that you have time and room to react if something happens.
It is possible to stay safe and drive defensively on a bike. Enroll in a local class emphasizing this knowledge, even if it isn't required for your license or endorsement, so you have a better chance of coming home safely.
Use This Tool for Free and Save on Quotes!