If you plan to operate your dirt bike on the road, 45 states currently require you to purchase a standard motorcycle insurance policy. The actual coverage depends on your engine strength, maximum speed, and other factors.
When your dirt bike qualifies as a moped or a scooter, you could pursue insurance options in those categories to have a street-legal ride.
Didn't You Try Our Quote Comparison Tool Yet? Save BIG by Doing it!
Those who only use dirt bikes on private property or off-roading may want more basic protections that cover damage or loss.
When you want to know what kind of insurance is needed for a dirt bike, ask yourself how you plan to use it. That will let you see what kind of coverage options are necessary.
Am I Required to Purchase Dirt Bike Insurance?
If you drive a dirt bike on the road, you will need insurance that covers your activities. That means you'll look at the same collision, comprehensive, and liability options that all motorcyclists review.

Florida has different requirements for motorcyclists that don't require formal insurance, but you'll need to provide evidence of financial responsibility.
You might want coverage against theft, loss, and damaging another person's property when you don't drive a dirt bike on the road. Imagine that you drive a mountain trail, the brakes fail, and your ride goes down a cliff. Without insurance, that incident would be a complete loss.
If you have coverage, you could replace the dirt bike (less a deductible) and potentially call roadside assistance for help.
What Are the Different Types of Dirt Bike Coverage?
When you purchase dirt bike insurance, the first issue to decide is whether you'll take it on the road. Outside of Florida, there are minimum liability requirements to carry.
You'll need to have bodily injury per person, bodily injury per accident, and property damage per accident options that meet your state minimums.
These figures are often expressed as a three-part number, such as 15/30/15. Here's what that means.
You would have $15,000 of bodily injury coverage per person.
There would be $30,000 in total bodily injury protection per accident.
Another $15,000 in coverage is for property damage in the accident.
You don't need to stick with the minimums. It is possible to purchase higher limitations for your dirt bike.
Here are some insurance options that go beyond the basics and can help you get the proper coverage for your dirt biking activities.
Added/Optional Equipment
If your dirt bike has undergone modifications, this insurance coverage can protect the aftermarket accessories. Some insurers may limit what they will cover or cap the maximum payout.
Lease/Loan Gap
When you buy a new dirt bike that is stolen or totaled, this insurance pays the difference between what you owe on a lease or loan and what it is worth.
Personal Injury Protection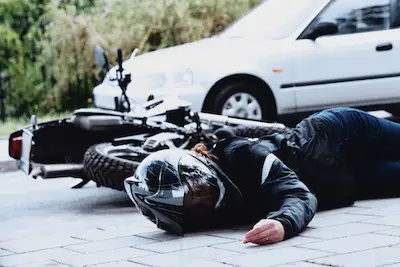 This option reimburses medical expenses and other costs, including out-of-pocket transactions resulting directly from a collision or an accident.
Collision Coverage
With this option, you have coverage for damages to the dirt bike that results from a collision with another object, motorcycle, or vehicle.
Comprehensive Coverage
When damage occurs that isn't the result of a crash, this insurance offers protection. It covers things like tree damage, vandalism, fire, and flooding.
Some insurers provide towing, mechanical breakdown labor reimbursement, and medical payment coverage for dirt bikes in some situations.
What Is the Cost of Dirt Bike Insurance?
The cost of dirt bike insurance depends on several factors, including your personal driving history, the riders you authorize, and even your credit score.
Each insurer offers specific rates based on the different data points they examine.
The good news is that dirt bikes without a street-legal requirement are exceptionally affordable to insure today. Most basic policies are about $100 per year, meaning some are much lower than that amount.
In return, you'll have protection against someone stealing your dirt bike or an accident that causes a total loss.
Depending on your insurance coverage, you may also receive financial help if injuries occur.
Unless you bought a cheap second-hand dirt bike for a few dollars, it often makes sense to protect your investment. A well-designed insurance policy helps to create that outcome.
Use This Tool for Free and Save on Quotes!