Although motorcycles account for just 0.6% of all miles traveled in the United States, the number of injuries, fatalities, and total loss incidents is significantly higher per capita than other motor vehicles.
Whether on an urban road or exploring a rural street at night, it only takes one collision to create the possibility of totaling a motorcycle.
Didn't You Try Our Quote Comparison Tool Yet? Save BIG by Doing it!
When a bike is wrecked, a motorcyclist's options depend on their insurance coverage, if they bought it new, and other factors.
When Is a Motorcycle Considered Totaled?
The regulations determining that a motorcycle has become totaled depend on state laws and insurance company definitions. These differ across the United States, so you'll want to refer to the specifics that apply to where you live.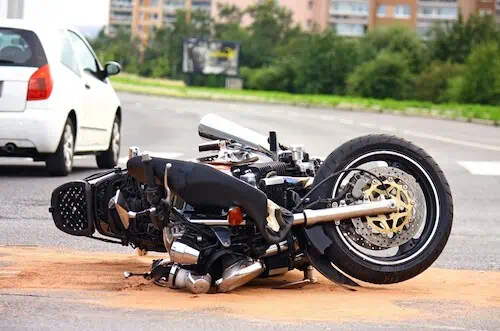 In most circumstances, a motorcycle is considered totaled if one or more conditions exist.
The motorcycle frame must be replaced or extensively repaired to be legally functional for public roads.
Repairs are impossible because of the levels of structural damage in one or more areas of the bike.
The total damages from the repair estimate exceed 50% to 75% of the actual cash value.
If the cost to repair your motorcycle is higher than what it would cost to replace it with a similar make and model, it will likely be considered a total loss.
How Do Insurance Companies Calculate the Value of a Totaled Motorcycle?
In Illinois, a motorcycle is considered a total loss when its repair costs and scrap value equal more than its market value before the accident.
"Fair Market Value" is defined by the National Association of Insurance Commissioners as the "amount at which an asset is sold or bought in a recent transaction" between two parties. Quoted market prices are often used for this purpose.
The value is based on what the motorcycle is worth during the accident. Its price from when it was purchased at the dealership is not accounted for in this calculation.
Suppose a motorcycle exceeds the repair cutoff value because the cost exceeds the fair market value or a total loss formula. In that case, there is no obligation to pay for the restoration.
Riders in this situation may want to consider having a third-party appraiser evaluate the fair market value to ensure a fair settlement is reached.
What Happens If My Totaled Bike Is Financed?
Loans won't disappear because your motorcycle is totaled. It is a financial responsibility you're locked into managing when you buy a bike through this method.
When your bike is totaled, your insurance company might offer the actual cash value of it, less your deductible. You might get the option for a direct replacement with a similar make and model.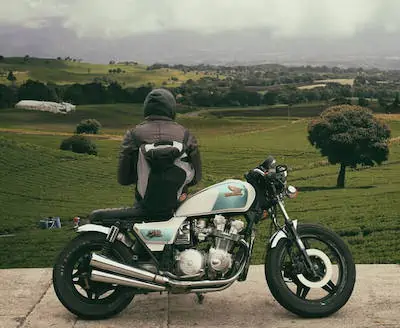 In either circumstance, the loan remains. You'd need to take the money from the insurance company to pay off what you owe.
If you financed $10,000 or more with a minimal down payment, the motorcycle's depreciation since the time it was purchased might be enough to be significantly less than the loan balance. In that circumstance, you'd want gap insurance to cover the difference.
Most policies have time limits for when you can file a claim, which can be 30 days or less from the time of the accident. If your bike is financed and you miss that deadline, you could be responsible for the loan and not receive compensation for the totaled motorcycle.
Why Do Insurance Companies Total Motorcycles with Minor Damage?
Even though you might purchase insurance for custom parts and aftermarket additions, the typical insurer doesn't consider these costs in their value assessment. You might spend $2,500 on chrome and custom paint, but that doesn't mean the motorcycle goes up by that amount.
Depending on the insurer, you can protect these investments with different add-ons and riders.
Unfortunately, the typical motorcycle is worth significantly less than a car. Even when you purchase a new bike, options like the CFMoto 300NK retail for less than $5,000.
When these affordable bikes experience damage, the repair costs include parts and labor. It doesn't take long, especially with depreciation, to reach an estimate that hits 50% or more of its actual cash value.
Can I Keep a Totaled Motorcycle?
A motorcycle would remain your property, even if you financed it. You can keep it if the bike is declared a total loss. You won't receive the title if there's a loan until you pay off that obligation.
You might be offered the total value of your motorcycle plus tax costs. In this circumstance, you may need to repurchase it from the lender or insurance company for its scrap value. Otherwise, the insurer becomes the owner.
You'll receive a salvage title for the motorcycle in return for buying back the bike at the salvage rate.
Until you repair the bike, have it inspected, and convert the salvage title to a rebuilt status, you won't be able to drive it on public roads legally.
If you plan to keep the motorcycle, tell the insurance company this during the claims process. You'll likely have the salvage value removed from the settlement so that you can keep it.
What to Do with a Totaled Motorcycle?
Some people buy motorcycles in any condition because they plan to repair them and obtain a rebuilt title. You can get cash in your pocket by making this sale.
You can take the parts off the bike to sell after it's totaled. This option is your best choice if there is no way to restore the motorcycle to working condition.
You can also repair the motorcycle yourself. Once it is fixed, you'll need to tow or transport it to an inspector. If it passes, you can change the salvage status to a rebuilt title, allowing the bike to operate on public roads.
Before taking these steps, please file a total loss claim with your insurance provider. If that deadline passes, your financial responsibilities in this situation could be significantly higher than needed.
Use This Tool for Free and Save on Quotes!