Custom motorcycles often need more insurance coverage than standard bikes because of the value of their modifications. A policy must cover the upgrades, parts, and labor hours required to reach its current status.
When you purchase custom motorcycle insurance coverage, you'll receive the standard policy required for riding on the road while protecting the items added to the bike.
Didn't You Try Our Quote Comparison Tool Yet? Save BIG by Doing it!
That means you'll have liability for property damage and bodily injury, collision, and comprehensive coverage available to access should circumstances arise where a claim is necessary – or you've caused an accident, and your policy covers their damages.
What Motorcycles Qualify as a Custom Bike?
Any motorcycle with custom work could qualify for this upgraded insurance coverage. If you've only made a few minor modifications, having a standard policy with a higher limit with some providers might be cheaper.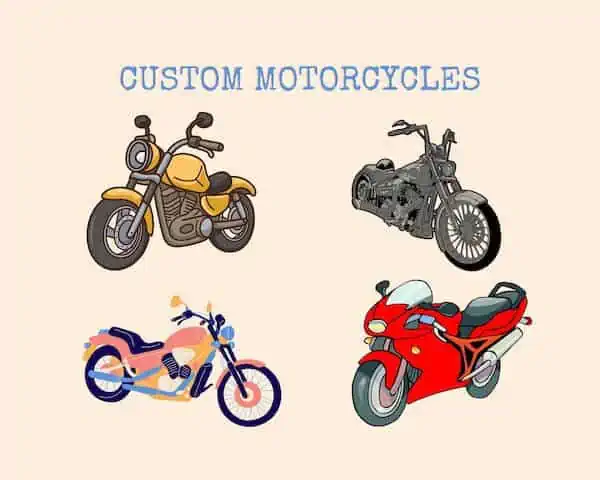 Some motorcycles are already categorized as custom bikes. Although each insurance agency uses its own definitions for this coverage, the following options are often treated this way.

Bobbers and Choppers
Scramblers and Trackers
Café Racers
Non-Factory Bikes and Trikes
Triton, Vincati, and other Hybrids
If you built a motorcycle from scratch (which means it doesn't have a VIN), it automatically qualifies as a custom bike.
Autocycles like the Slingshot might qualify for custom motorcycle insurance coverage in some states. These vehicles could also be placed in their own category by some companies. You'll need to check local rules and regulations to determine what classification your ride falls under to ensure you have an appropriate level of protection if required.
How Are Custom Motorcycles Valued for Insurance?
When factory bikes are considered for insurance coverage, a value is already assigned to the motorcycle. It's worth a specific amount based on the stock parts, which means the insurer knows what to expect if you get into a wreck with it.
Custom motorcycles are a different story. Since their value is highly variable, insurance companies use one or more of the following methods to establish worth.
This amount is a figure that riders and insurance companies agree is the cost of replacing a motorcycle if a total loss occurs. Most insurers require you to indicate or submit evidence of value when applying for a quote. Once the information is received, an underwriter will confirm the amount or request a revision.
You might receive receipt requests for parts and labor for certain modifications. It is typically required to submit motorcycle photographs to prove the mods exist.
2. Custom Motorcycle Appraisals
Some insurance companies may require a direct appraisal to determine the value of a custom bike. This figure is considered the ACV (actual cash value), which is what you'd receive for the motorcycle if you sold it at a fair price.
This valuation method typically applies to scratch-built motorcycles and those built with custom kits.
It helps to check if your motorcycle frame has a Manufacturer Statement of Origin (MSO) instead of a VIN. Some insurance companies can look up this information to determine an agreed value instead of using the appraisal process, which could save you some money.
3. CPE – Custom Parts and Equipment
An agreed value policy is typically for a bike that is 25 years old or more. Insurance companies use several tools and guidelines to provide the coverage you need if you have a newer custom ride. They all fall under the umbrella of custom or additional parts and equipment.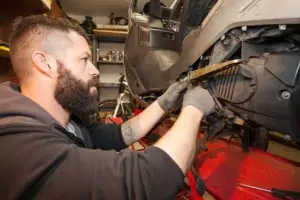 A CPE or ACPE policy is separate from collision and comprehensive protections, but it might have the same deductible to pay.
ACPE usually assists if you have custom parts with a predetermined value on the motorcycle. The coverage usually begins at $1,000, but each insurer can take a different approach. It could even be a subset of a CPE policy.
Do I Need Custom Motorcycle Insurance?
If you have a custom ride, you'll want to consider having coverage for the expensive parts and equipment you've added to your motorcycle. Although it is technically optional, your liability, collision, and comprehensive policies won't usually cover the extra costs if something happens.
When applying for insurance, mark the custom boxes on the paperwork. That will help everyone know that you're interested in more coverage.
Use This Tool for Free and Save on Quotes!