It can be an exciting thing to see a motocross bike fly through the air in a race. Whether you prefer an off-road style or something more recreational, this equipment is designed to handle significant impacts and rough tracks.
I know owning a motocross bike can be lots of fun, but finding an insurance policy that covers those activities can be challenging. Trying to get coverage through most standard insurers is an effort in futility.
Didn't You Try Our Quote Comparison Tool Yet? Save BIG by Doing it!
Thankfully, I found specialized coverage for motocross bikes did exist when I needed insurance for mine. You don't have to rely on what is available through event organizers and even get protection for your practice sessions.
Specific Insurance Policies Have Variable Coverage Options to Consider
The benefit you'll find with motocross bike insurance is the ability to customize the policy to fit specific needs. You can cover international events, daily practices, and injuries while riding with medical assistance.
Here are some of the best options to consider if you're looking to insure a motocross bike today.

Motorcycle Damage Insurance
This insurance option covers damage to your bike in the event of an accident, theft, fire, or other covered perils. It helps cover the cost of repairing or replacing your equipment, ensuring you can get back on track as soon as possible.
Many policies in this category come with a deductible. You can save money on your monthly or annual premiums by paying higher out-of-pocket costs, which means getting back to racing and competing will be more expensive.
Liability insurance is essential for riders since it provides coverage in case you cause injury or property damage to someone else while riding. It helps protect you financially by covering legal fees, court costs, and any settlement or judgment resulting from a valid claim.
Personal Accident Insurance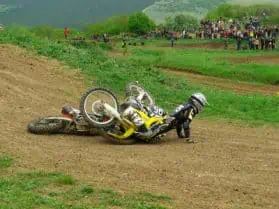 With this insurance option, you have coverage for medical expenses, disability benefits, and accidental death benefits in the event of an injury or accident while participating in motocross. It helps cover the costs of medical treatment, hospitalization, rehabilitation, and other related expenses.
Equipment and Accessories Insurance
Motocross equipment, including helmets, protective gear, boots, goggles, and other accessories, can be expensive. This option covers theft, loss, or damage to these assets, ensuring you can replace them if necessary.
If you earn money from motocross events and your bike is a business asset, you might receive better rates by pursuing commercial insurance options.
Event Liability Insurance
This insurance option is crucial for those who organize or host motocross events. It provides specialized coverage for property damage and bodily injury claims that arise. If your equipment malfunctions or you leave the track and injure a spectator, you can have potential protection from financial losses from lawsuits or litigation.
Transport and Trailer Insurance
If you frequently transport your motocross bike to different locations, trailer and transport insurance can cover damage or theft that may occur during transit. This option can be set up to protect your trailer and the bike being transported, although this coverage may not cover track-related incidents.
Motocross is a fun way to spend a day on a bike with the availability of all the different events. When you structure an insurance policy to protect your preferred activities, you'll carry fewer risks with you to each track or location.
Use This Tool for Free and Save on Quotes!