Unless you live in Florida, there is an excellent chance that you'll need liability motorcycle insurance to drive your bike on public roads.
If you take your bike to a track or run it on private property, consider carrying this insurance coverage to protect your financial interests.
Didn't You Try Our Quote Comparison Tool Yet? Save BIG by Doing it!
Young riders typically see higher coverage premiums, especially those 21 or younger with less than three years of motorcycle riding experience. It might be tempting to skip this expense on a used bike, but this insurance helps to cover damages if you're found to be at fault for an accident.
How to Save Money for Young Riders
Obtaining motorcycle insurance for young riders can be expensive due to their lack of experience. A separate policy isn't always the best option, especially if you're under 21 and still living at home.
Adding a permitted or licensed young rider to an existing motorcycle insurance policy is often more affordable. The limits and coverages extend to each listed operator.

Many insurers, including GEICO and Progressive, offer discounts to help offset the expense of adding new riders to the existing policy.
Young riders can obtain a standalone policy, but this coverage can be expensive due to the higher risk of an accident and overall inexperience.
When Would a Separate Liability Policy Make Sense for Young Riders?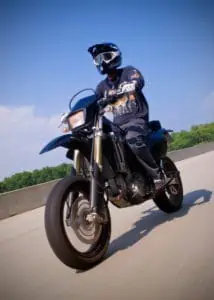 Although it is typically less expensive to insure a young rider on an existing policy, there are a few exceptions to consider.
Suppose your household has an expensive high-performance motorcycle, a rare vintage model, or extensive customization that a young rider rarely uses. In that case, it could be cheaper to pursue temporary motorcycle insurance for those times when they do get in the saddle.
Teens should still get added to a parent's policy since they live at home. They could be excluded from some or all the coverage requirements if they have separate insurance and won't drive any motorcycles or vehicles on the policy.
How Much Is Motorcycle Insurance for Young Riders?
Several factors go into a motorcycle insurance quote for young riders that go beyond that person's age. Here are the elements that get reviewed.
The number of accidents and citations on the rider's driving record.
How long the motorcyclist has had their license or endorsement to ride two- or three-wheeled vehicles.
If enrolled in college or high school classes, the student's GPA can trigger discount offers.
The average 21-year-old rider in the United States pays about $900 per year for full coverage or around $250 for a liability-only policy. Please remember that a lender might require collision and comprehensive coverage with required liability insurance as part of a financing agreement.
It can be expensive to insure young riders, but age and experience will reduce those costs quickly. Until then, ask about what discounts are available when requesting a quote.
Use This Tool for Free and Save on Quotes!