The fact is that you never know what might happen to you when riding a scooter. When I was 16, I didn't want to work at a fast-food place or be a housekeeper at a local hotel. I liked the freedom to set my hours to some extent, be outside, and work at a pace I enjoyed.
I decided to deliver newspapers. My hometown has about 3,000 people, so I invested in a scooter and drove around each afternoon to provide the news. It took less than two months for me to get all the routes in town, so I delivered about 500 papers daily, six days per week.
Didn't You Try Our Quote Comparison Tool Yet? Save BIG by Doing it!
One afternoon, I got hit from behind while pulling up to a house. All I can remember from the incident is flying through the air and getting ready to smash into a parked car. Then there was a flash of someone coming to help, the ambulance arriving, and then waking up in the hospital three days later.
Without having full (liability, comprehensive, and collision) insurance on the scooter, I would have been responsible for those costs. Instead, my insurance company immediately paid them while working with local police to track down the person who hit me. Once that happened, they pursued recovery from him.
Until then, I'd always argued with my parents that maintaining scooter insurance didn't make sense. Now I advocate for it every time.

Am I Required to Have Scooter Insurance?
If you're a young rider between the ages of 16 to 19, it is important to understand why scooter insurance is necessary in many areas.
It might seem like a significant and unnecessary expense, but having scooter insurance can protect your finances if an accident, equipment theft, or non-collision damage occurs.
Consider coverage limits, deductibles, and premiums when choosing an insurance plan. It's also worth checking if your state requires minimum liability insurance for scooter riders. Investing in a policy today lets you ride with peace of mind knowing you're protected.
Scooter insurance requirements vary depending on your location and the laws in your area. For many young riders, the fastest way to verify what policies are necessary is by checking with their local Department of Motor Vehicles (DMV) or regulatory authority.
Some states separate mopeds and scooters from motorcycles, while others lump all two-wheeled vehicles into one category. An insurance company familiar with the regulations where you live can help to design a policy that meets the legal standards while protecting your financial interests.
Even if you're not required to have scooter insurance where you live, it's a good idea to have a policy anyway. Investing a little today to protect yourself from unforeseen circumstances protects your future health and finances.
How Much Insurance Should Young Riders Carry?
Young motorcyclists and scooter enthusiasts between the ages of 16 to 19 should carry enough coverage to protect themselves financially if an accident happens. The amount you purchase depends on several factors, including the vehicle's value, your assets, and how much risk you're willing to take.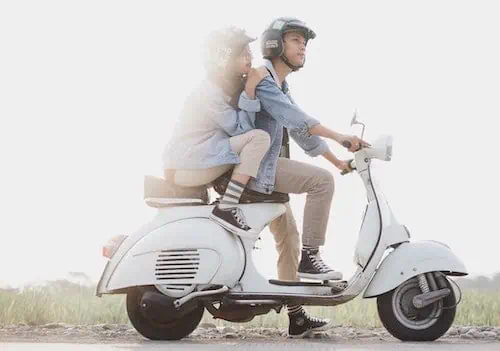 Most states require liability insurance. This policy covers damage or injury costs you might cause to others in an accident. These protections will not cover your health needs or damage to your equipment.
Although prices are higher for young riders, carrying additional insurance beyond the minimum requirements is often helpful. Consider adding personal injury protection, roadside assistance, and rental reimbursement to your policy when requesting a quote.
Many riders find that having collision and comprehensive scooter insurance is helpful.
Costs of Scooter Insurance for Teens
If you're between the ages of 16-19, the cost of scooter insurance is relatively high compared to the national average.
Even with a 250cc engine, most adults pay $800 or less annually for an insurance policy. If you're 19 or younger, you can expect to pay about $1,300 annually for the same privilege.
Expect to pay about 40% more at each engine displacement level than adults.
Although the costs are high, you can lower some with good student discounts and other savings opportunities. In return, you can enjoy the freedom of the open road.
Use This Tool for Free and Save on Quotes!