What is the definition of a scooter?
Although the answer varies based on who you ask, the legal definition is important to know when wondering if you need insurance for a scooter.
Didn't You Try Our Quote Comparison Tool Yet? Save BIG by Doing it!
Most states define a moped as a two-wheel vehicle equipped with an engine of up to 50cc. With a scooter, you'd have an engine between 50cc to 250cc.
The difference between a 50cc moped and a 50cc scooter involves the maximum speed it can travel. The vehicle is likely classified as a moped if you cannot reach 40 miles per hour.
Lower speeds mean the moped isn't suited for traveling on a highway. Nebraska defines pedals with a motor as a defining aspect of a moped, meaning scooter insurance might be necessary.

States have different definitions of scooters to review, which can change with the updated legislation. It helps to check local expectations before purchasing one.
How to Get Cheap Insurance for Mopeds and Scooters?
The first item to consider is whether you live in a state with a 50cc and Over or a 50cc and Under law.
California offers an excellent 50cc and Over law to use as an example. It states that a motorcycle is defined as a two- or three-wheel vehicle with an engine greater than 150cc. That means a 50cc scooter wouldn't qualify, but you'd still need to register it with the DMV and have the appropriate endorsement on your driver's license.
Texas provides an example of a 50cc and Under law. The state has a published list of certified mopeds, which means your vehicle must be on the list to qualify for not having insurance or a motorcycle endorsement to ride it.
If your moped isn't on the list, ask yourself three questions.
Is the engine smaller than 50cc?
Does it have a top speed of less than 30 mph?
Did it come equipped with an automatic transmission?
The vehicle is likely considered a moped when the answer is "yes" to each question.
How to Find Cheap Insurance Quickly
It's important to remember that one insurance brand is not always the most affordable option for all riders. Many insurers invest resources in advertising to claim they offer the cheapest quotes, but no single brand is the most affordable option for everyone.
It is not unusual to see one company be the cheapest option in one state but the most expensive in another. That's why comparing rates is crucial to keeping costs low.
Are you trying to keep costs insurance costs low? If so, here are a few ideas to consider regarding 50cc scooter policies.
Look at the rates for regional and local insurers. Although four companies control 50% of the insurance business, that doesn't mean their prices are better.
Ask your agent, broker, or representative about potential discounts. When you can pay your premium all at once, go paperless, or bundle policies can often save money.
Work on improving your credit score.
Consider raising the deductible if full coverage is necessary. That amount becomes what you'd pay when filing a claim.
If you skip collision and comprehensive coverage for a 50cc scooter you own, your insurance costs can be cheaper. That saving comes at the expense of not protecting against potential damage-causing issues.
Do You Need Insurance for a 50cc Scooter?
Most states require liability insurance to ride a scooter or a moped on public roads. If the vehicle cannot reach 30 miles per hour or is under 50cc, it most likely does not require insurance.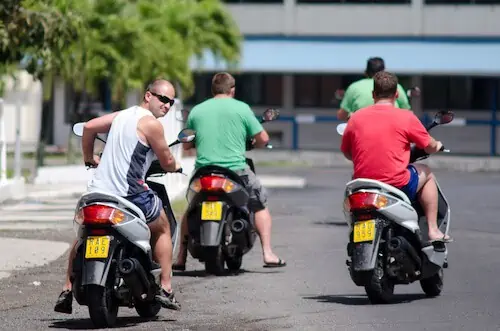 Some insurance companies cover scooters and mopeds under motorcycle policies. Regarding electric scooters, the rules and regulations for insurance coverage vary from state to state.
Get Insurance Based on Your Classification
Most insurance companies provide insurance quotes based on your specific scooter or moped. After giving them information about the vehicle, you'll receive a quote based on your driving history, the make and model, and other individualized factors.
A car insurance policy isn't the right choice for scooters or mopeds, although you can sometimes bundle coverage for them with other vehicles.
Other insurers offer classification-based policies. That's why shopping around for the best rate is essential.
How Much Is Insurance for a 50cc Scooter?
If you decide not to ride your 50cc scooter on public streets, it might not be necessary to have insurance coverage. When you take it out for a ride off your property, liability coverage is required almost everywhere.
With liability insurance, you help cover the cost of property damage and injury to others if you're responsible for an accident.
You can add collision coverage to help pay for damage to the scooter if you hit something with it. Comprehensive is available for fire, hail, vandalism, theft, and non-collision events.
If you take out a loan to pay for your 50cc scooter, the lender can require full coverage until you repay the financed amount.
On average, the cost of insurance for a 50cc scooter can range from $100 to $300 annually. Again, this cost will largely depend on your age, location, driving history, type of coverage, engine size, and the insurance company you choose, as mentioned earlier.
| | | |
| --- | --- | --- |
| 50cc | 125cc | 250cc |
| $100-$300 | $200-$500 | $300-$800 |
The cost goes up to $200 to $500 per year for 125cc and $300 to $800 for 250cc scooters.
So, DON'T forget to shop around and compare quotes before buying one.
Each situation is different. When you want the most protection for your scooter, it makes sense to insure it against potential problems where financial loss could occur. This coverage might be unnecessary if you don't use the scooter on public roads.
Use This Tool for Free and Save on Quotes!