Electric scooters fall into the same category as bicycles, motorized bicycles, and power-assist vehicles that offer to pedal. Most states do not require coverage for you to operate them legally on roads or sidewalks.
If you operate an e-scooter without insurance, you are responsible for paying for any damages in an at-fault situation.
Didn't You Try Our Quote Comparison Tool Yet? Save BIG by Doing it!
Two states do have electric scooter insurance requirements. You must carry a policy in Texas if the motor is over 750 watts. It is a different requirement than insurance for a 50cc scooter, as you'll find with mopeds and other two-wheeled vehicles.
Illinois requires e-scooter riders to carry $25,000 per person and $50,000 per accident for bodily injury liability. Residents must also have $20,000 per accident in property damage liability.
Do I Need Insurance for My E-Scooter?
Imagine that you are riding your e-scooter and hit a pedestrian. The bodily injury coverage from your insurance policy would cover that person's medical expenses. If you decide to insure it with comprehensive and collision, you could also have the damages to your equipment covered.

The same rules apply to the situation if you cause an automotive accident while riding your electric scooter.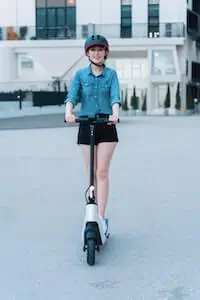 Some people might not need separate coverage while riding an e-scooter because of the coverage provided by a homeowners or renters policy. Your liability insurance could be extended to any injuries that pedestrians or drivers suffer because of your actions.
Riders with homeowners or renters policies can have their medical expenses covered by a standard health insurance policy from their employer, an exchange, or purchased independently.
Do Homeowners or Auto Insurance Cover Electric Scooters?
Except for Texas and Illinois residents, electric scooters are covered by the personal property coverage in a typical homeowners or renters insurance policy.
Some companies place a sub-limit on e-scooters, which means there is a maximum amount they'll pay for a claim with their insurance for electric scooter options, even though other outcomes might receive more compensation. It might be necessary to schedule an endorsement to have enough coverage for your specific situation.
Auto insurance policies will cover your scooter activities if an at-fault driver hits you because that person's insurance pays for the damages. Pedestrian collisions that occur because of the actions of another party can also be covered by that individual's coverage or through small claims court.
If you are at fault for the accident, auto insurance policies don't typically cover that kind of claim. Your homeowners, renters insurance, or finances would handle it.
E-scooter rentals follow a similar process. Your homeowners or renters insurance may cover your activities, but it might be necessary to purchase a policy from the provider or as a non-owner.
How to Get Insurance for an Electric Scooter?
Electric scooter insurance can offer liability, comprehensive, and collision coverage. It depends on the policies selected by each person. Although coverage requirements are only found in Texas and Illinois, these new vehicles could face new regulations in the coming months and years that may require some insurance changes.
In 2022, the National Highway Traffic Safety Administration did not classify an e-scooter without a seat as a regulated motor vehicle. That means it is up to each state, county, or city to establish laws or guidelines for e-scooter insurance requirements.
The rules can be different with electric bikes, though.
Some insurance companies may not offer policies for electric scooters with motors under 750 Watts. Taking coverage options for two or more providers might be necessary to receive the protection you want for your riding activities.
How Much Is Insurance for an Electric Scooter?
The cost to insure an electric scooter in the United States is comparable to what riders pay for bicycles. That means policies from some providers start for as little as $100 per year.
Since e-scooters are portable, the best policies will provide coverage anywhere in the United States and Canada. That includes electric scooter theft insurance.
You should receive coverage against theft, damage, or loss when transporting the equipment and all forms of accidental damage.
Even electric mobility scooter insurance for medical needs fits into these coverage categories.
Some companies provide global coverage for their motorized scooter insurance, while others offer an optional extension that lets you ride in Europe, Asia, and Africa for a one-time charge.
What States Allow Electric Scooters on Public Roads?
E-scooters typically fall under the laws that govern bicycles on public roads. You must stay close to the curb or ride in an established lane, maintain speeds under 25 miles per hour, and follow all traffic laws.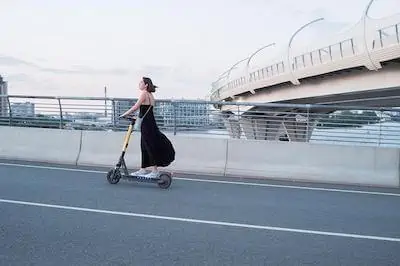 Some cities do not permit bicycles on sidewalks, which means those rules would apply to electric scooters.
Since an electric scooter comes equipped with a motor, it is not typically permitted on trails where motorized vehicles are banned. Some exceptions may apply if you manually operate the equipment instead of allowing it to work for you.
If you operate an e-scooter on public roads and fail to abide by the established rules and laws, a police officer can pull you over and issue citations or tickets. That's why observing all traffic signals and yielding to pedestrians is always good.
Eleven states currently do not allow electric scooters on public roads and streets. They are Delaware, Florida, Idaho, Kentucky, Michigan, New Hampshire, New Jersey, Oregon, Pennsylvania, Washington, and Wisconsin.
Even when e-scooters are permitted on the road, they are usually not allowed to be on streets with higher speed limits.
Can I Ride an Electric Scooter on a Sidewalk?
Most states consider the speed of an electric scooter to be more than what is safe for pedestrians, which means its use might not be allowed. In 2022, 26 states did not permit e-scooters to be on sidewalks.
Five states explicitly allow the operation of electric scooters on sidewalks: Arizona, Iowa, Louisiana, Rhode Island, and Virginia. Another 19 states have no rules to govern this activity.
Do I Need a License to Drive an E-Scooter?
Electric scooters must be registered in North Carolina to operate legally, while nine states require riders to have a driver's license for any type of kick scooter.
Michigan and Minnesota allow anyone 12 years old or above to operate electric scooters. The age limit is 14 in Virginia and 15 in Utah. Most states have a minimum age of 16 to ride.
Although no mandatory electric scooter laws apply to all 50 states simultaneously, rules and insurance considerations apply to all riders. Always follow the local rules and regulations while staying aware of your surroundings to enjoy the riding experience.
Use This Tool for Free and Save on Quotes!