One of the most interesting vehicle hybrids on the market is the electronic bicycle or bike. A standard bicycle in all the essential ways, the electronic bike can best be described as a bicycle that has a motorized assist usually from a very small engine or battery power that turns the rear wheel. However, the main power of the electronic bike does come from the person riding it and the pedaling action they take. This article tells you how to protect your ebike by purchasing a decent electric bike insurance without any hassle.
Don't Pay More for Motorcycle Insurance!
The electric bike or ebike actually goes back more than a century with the first patents being issued in 1895. However, the ebike that we know today that includes power controls and torque sensors was first developed in the 1990s. By the turn of the 21st century, the term ebike was first used to describe a new class of power-assisted bicycles with some reaching speeds of up to 50 mph.
Because of the increased speed, the need for electric bike insurance became apparent as these vehicles were more likely to become involved in serious accidents. While there is no state that requires ebike insurance, they are considered a good investment considering the cost of potential repairs and medical bills an accident might generate.
Insurance for Electric Bikes: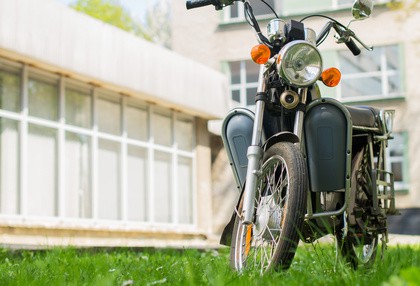 When it comes to getting e-bike insurance, you start with the overall value of your electronic bike and then looking for the type of coverage that best suits your needs. The good news is that most forms of insurance for electronic bicycles is relatively inexpensive and often costs on average $200 or less per year depending on a number of factors. Spending this amount for electric bike insurance is worth it, especially in long run if unluckily there is an accident takes place.
Liability: This is coverage in case the policy holder is the responsible party in an accident that causes damage to other property or injury to another person. Because liability insurance for ebikes is so low, it is possible to get ample coverage for less than $200 per year which may act as financial protection against being sued.
Medical Payments: If you are injured as a result of an accident, you may be covered for medical payments. Such payments may include the direct treatment of the injuries and even a stay in the hospital. Such insurance is generally quite cheap because of the very low risk of being involved in a serious accident. Most accidents involving ebikes result in very minor to no injuries that occur.
Coverage against Damage or Theft: This is arguably the most common type of insurance for this type of vehicle because damage may become expensive and it is relatively easy to steal. As with all insurance, there is a deductable present which will need to be kept in mind when having this type of coverage.
In addition, there are also riders that cover total loss, crash or accident failure, roadside assistance and rental bike situations. In these cases, you'll want to go over the necessary coverage to see if it works for your particular needs. The best ebike insurance is one that provides the coverage you want at low, affordable premiums.
The premiums themselves will depend on a number of factors which start with the type of insurance you want to get for your electronic bike. It should be the type that offers the best benefits for your particular needs. For most people, liability and uninsured or underinsured motorist provides solid protection at a very low cost. However, theft insurance can be quite important as well, so go over all the options before making your decision.
Filing a claim for your ebike insurance starts with the agent who sold you the insurance policy. Obviously, you'll want to go over your policy and see if there is a special claims agent to call. However, your insurance agent can provide you with the proper information to ensure that you make the right call. As with most claims, you may need to provide additional information such as bills, photos of the accident and so forth. However, most minor claims get processed within a couple of weeks so that you can be reimbursed for what you spent. Claims may be processed faster if you have all the information needed and if you follow up with the claims representative at regular times to ensure that the process is going along smoothly.
How to Get Affordable Electric Bike Insurance?
Getting affordable e-bike insurance starts when you look over the companies that offer this particular type of policy. You can perform an online search or work with an independent agent who represents many different insurance companies. There are websites that will include free quotes for this type of insurance for electric bikes, but remember that most types of this insurance will be relatively inexpensive.
Some of the factors that are taken into account when getting a premium include your age, driving record and the overall power of the engine. All three factors play a strong role in the risk factors that insurance companies must consider when offering this type of policy. The type of electric bike may be another consideration. For instance, coverage cost and benefits for folding electric bike might be slightly different from standard one.
Basically, a person over the age of 26 with a good driving record and a low-powered ebike will get the most affordable type of insurance. Anyone outside that range will face higher premiums, particularly if they have a poor driving record. The new young drivers are supposed to pay higher premiums due to lack of experience.
Here are a few tips to help you save money on your purchase of electric motorcycle insurance. Each one you can add will reduce your rate even more.
Higher Deductable: This is a classic means of lowering your monthly premium is by raising your deductable. However, you'll need to have that amount in your savings account if you want to cover the deduction that you have chosen.
Bundling: If you choose to have your electric bicycle policy with the same company that has your auto or home insurance, you might be able to get a discount and bundle them all together.
Liability & Uninsured Motorist: This is the most economical of all the electric bike policies on the market today. It will cover those who you injure and property that gets damaged while protecting you from an uninsured motorist at a very low rate.
Taking part in motorcycle safety course is a great way to get discounts upto 10%-15%.
In the end, electric bike insurance will provide you with a little peace of mind in case you get into an accident.