When it comes to the many different type of coverage that can be purchased, roadside assistance motorcycle insurance is certainly one to consider. It is the type of insurance that can be used to cover payments for non-accident events.
Who Should Get Roadside Assistance Plan?
It is safe to say that all motorcycle owners should consider getting motorcycle roadside assistance insurance. However, this type of insurance is particularly for those who travel a great deal which increases their likelihood of accidents and breakdowns that require assistance. In addition, those who may have physical limitations that might hinder their ability to repair their motorcycle would also benefit from such insurance coverage.
However, it is fair to say that this type of coverage is really suitable for everyone as it can take away many of the annoyances that being stuck along the roadside can bring. While roadside coverage cannot prevent flat tires, mechanical breakdowns or running out of gas, it can provide coverage that otherwise would have to be covered out of pocket.
In fact, the benefits of having this type of insurance will help narrow the list of services to call which will help make your current situation a little easier. While most businesses will accept this type of insurance, others may not which means that you will want to call your insurance company first so that they can lead you in the right direction.
How Does the Roadside Assistance Policy Work?
There are a number of facets to this type of insurance that work in a number of different ways to address certain situations that you may encounter on the road.
Did You Try Out Our Quote Comparison Tool? Save BIG!
Breakdowns: Whatever has you stuck alongside the road is where this insurance comes into play. This will help you get your motorcycle going again whether it is bringing the fuel to you or perhaps towing it to the nearest repair shop.
Accidents: If you are in an accident that requires your vehicle to be towed, then this type of insurance coverage will be most beneficial. You will want to check with your insurance company to see about the limitations of the policy coverage.
File Claim for Coverage: Here, you will receive assistance on how to file claims for the roadside coverage which should start the moment you need the services. You may find that the cost is covered up front or perhaps there will be reimbursement. However it works for your needs, filing the claim needs to be done as soon as possible so that you can be properly covered for the services in which you are insured.
You'll need to remember that roadside assistance coverage costs will vary depending on the amount of services that you receive and the limitations that may apply.
For example, many insurance companies have defined limits on how frequently the insurance can be used in order to prevent abuse such as towing services that cannot be used within 7 days of the previous incident. The same applies to other types of services as well that cannot be used within a certain time period of each other.
Roadside Assistance Services and Features:
There are a number emergency roadside assistance service features that come with having this type of policy. Most insurance companies that carry roadside assistance will include most, if not all of the following;
Towing: Here, your towing charges are covered when your motorcycle is broken down along the road. Depending on the policy, there may be certain towing companies who either accept payment from your insurance or you may have to file for reimbursement. In addition, there may be limitations on how far your motorcycle can be towed under the insurance provided.
Be sure to check with your insurance company about their procedures. Plus, before getting your motorcycle towed ask the towing company their policy on accepting insurance coverage as payment up front or as to how far they will tow.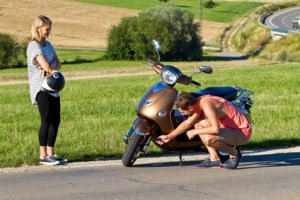 Flat Tire Change: Many motorcycle riders do not carry spare tires with them or may not have the equipment to do a proper change when a flat occurs. This is the type of coverage that allows for you to change out your flat tire at a greatly reduced out of pocket cost.
Emergency Fuel & Fluid Delivery: Running out of gas while far away from a station can be problematic to say the least. Here, you can get fuel and fluid delivery which is covered by your roadside insurance policy which may otherwise be quite expensive depending on your location. Most insurance coverage of this type will not pay for the actual fuel or fluids that are needed, but instead will help cover the cost of delivery to your area.
Locksmith Services: While you cannot lock yourself out of the motorcycle, you can break the ignition system that turns your cycle on and off. Having locksmith services as part of your coverage provides a way to cover services that may become expensive if the locksmith has to travel a great distance or faces unusually difficult repairs.
Engine Breakdown: Having your engine break down while on a lonely stretch of highway can be quite unsettling if you are in need of towing or repair services. In most cases, your motorcycle will need to be towed to the nearest repair shop. However, if you can get your motorcycle there by other means, then the insurance may cover certain types of breakdowns.
Again, you should always check first with your insurance company to see how your coverage works under the circumstances that you face. You do not want to make assumptions about what the insurance covers, only to find out that it does not.
Final words
Roadside assistance motorcycle insurance is designed to help you during those annoying times when you are stuck along the road because of mechanical breakdown, running out of fuel, flat tire, ignition issues and other similar types of problems. It can be very helpful if your motorcycle should breakdown along the highway and provide you with the necessary services to ensure that you will get back on the road again with most of the expenses covered.