Insurance coverage does not have to be continuous in nature or even last for months at a time. With temporary motorcycle insurance, you can choose the length of your coverage, even if it is only for a few days.
What is Temporary Motorcycle Insurance?
Short-term motorcycle insurance, or "pay as you go insurance" as it is sometimes called, is designed to cover a very short time frame which may be as little as one day up to three months, depending on the length you choose. You only pay for the days you need the insurance to cover your motorcycle.
Did You Try Out Our Quote Comparison Tool? Save BIG!
How Does This Policy Work?
A short period of motorcycle insurance works similarly to permanent versions. The only difference is that this form of insurance runs out either at a pre-designated time or when you stop paying. As with standard insurance, you'll get a notification for renewal to continue the policy, or you may have it automatically renewed. However, in most cases, you can end the insurance whenever you desire by stopping the payments.
The length of the policy can be set in advance if you know just how long it will be needed or it can be set up in increments that will provide longer coverage periods.
For example, if you are spending the weekend at a location where you are going to rent a motorcycle, you can obtain short-term bike insurance for as little as one day if you so desire. However, depending on your needs, many policies will last three days to a week.
Is Your Bike Eligible for this Type of Coverage?
Although all motorcycles are eligible for this type of insurance, the most common types are touring bikes used for traveling around the city or countryside. This is because this type of insurance is most common for travelers who want extra coverage while on their trip. If an accident occurs while vacationing, it can make a real dent in your pocketbook. So, having this type of insurance provides the coverage you need without having to dip into your vacation money.
This is important…
For the most part, drivers who are 21 years old or older qualify for this type of insurance to cover all types of motorcycles. Those 19 years old may qualify for this insurance covering up to a medium-size motorcycle. You will need to check with the insurance company to see their age requirements and the types of bikes that may not be included in their coverage.
Who Should Get Short-Term Bike Insurance?
You should consider short-term motorcycle insurance for several reasons, especially if you plan to own or rent a motorcycle for a brief time.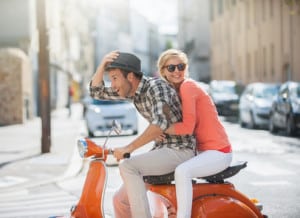 Vacations: This is arguably the most common reason, as tourists have temporary motorcycle insurance. You can usually purchase this on the spot when you rent a motorcycle or plan for coverage if you know the required details so that the insurance is ready to go when you arrive.
If you are visiting the USA and looking for one-day or monthly motorcycle insurance coverage, you will want to check out the available coverage levels.
Going with liability only, for example, may save you a considerable amount of money, but it will be less effective than comprehensive.
Also, remember that you can save money if you choose a higher deductible for your policy. Read the determining factors for motorcycle insurance premiums to learn how to lower the rate.
Plus, you can have coverage for accessories such as your baggage or needed items and roadside assistance, which can greatly help if your motorcycle breaks down.
New Purchase: You have just purchased a motorcycle and are unsure which company you want permanent coverage from. Purchasing a temporary policy means having more time to research the right company for you while having the appropriate coverage.
Lending: Whether someone is lending you their motorcycle or you are lending someone your motorcycle, purchasing temporary coverage can ensure that if something happens to the bike, it is properly covered. This will help alleviate some concerns about lending or driving someone else's motorcycle.
Requirements, Costs, and Types of Coverage:
You will need the appropriate documents demonstrating your age plus your driver's license to qualify for the types of temporary insurance available. Each insurance company does have its own set of requirements, so be sure to check with them so that you have everything in order.
You will need to choose the right type of coverage to get the best suitable rate according to your demand.
Comprehensive: This is total insurance that provides the maximum amount of coverage. This means that even if you cause the accident, the insurance will pay for the damage to the bike. You can expect the premium rates to be the highest for this form of insurance, but you can lower it somewhat by taking a higher deductible.
Liability and Uninsured: This is the lowest form of required insurance for vehicles. This will cover the other vehicle if you should be the cause of the accident, and if the other driver has no insurance, you are also covered. The premium for this type of insurance policy is considerably lower than comprehensive, but it does not offer the complete type of coverage.
Theft, Fire, and Vandalism: An often overlooked form of insurance, this can be helpful if you keep the motorcycle for more than a day. The good news is that adding this to your insurance coverage is usually minimal in terms of premiums because of the chances that one of these events will occur. However, some requirements, such as a safe storage site for the bike, will need to be considered, so check with your insurance company.
Free Quotes:
If you are looking for temporary motorcycle insurance, for example, for six months or even a day, then check out the free quotes that you can find on this website. We offer the best terms for limited-period bike insurance that can get you on the road quickly.
This Tool is FREE to Use!