Non-owner motorcycle insurance is a topic that many parents consider when their adult children ride bikes.
A motorcycle is an economical form of transportation. Most bikes cost significantly less than a used car, get better gas mileage, and are cheaper to store.
Didn't You Try Our Quote Comparison Tool Yet? Save BIG by Doing it!
Other living situations might also explore non-owner motorcycle insurance. It might be for a bike in a partner or spouse's name, an agreement with a friend, or another unique situation.
Motorcycle Ownership Plays a Role
Insurance companies require an individual to have some insurable interest in a motorcycle before issuing a policy. That means you'd suffer a financial loss if the rider was hurt and required medical treatment or the bike received damage.
Since you don't own the motorcycle in this scenario, the insurer's perspective is that there isn't an incentive to protect the bike. You could conceivably cause damage on purpose as an incentive to collect on the policy to get back at the actual owner.

That's why non-owner motorcycle insurance is usually not permitted.
There are special situations where a policy is possible. If you are a sibling or a parent, you can typically add yourself to the insurance to ensure it has enough coverage.
If your child is away at college and rides a motorcycle, some insurance companies offer a policy based on owned by endorsement principles.
A common tactic is to put your motorcycle policy under the parent's coverage to receive a decent rate.
What Does It Mean to Have a Motorcycle Owned by Endorsement?
This clause allows a motorcycle to be added to an insurance policy that you already control. The most common situation where it applies is when you have family coverage for a vehicle and want to add a motorcycle to it.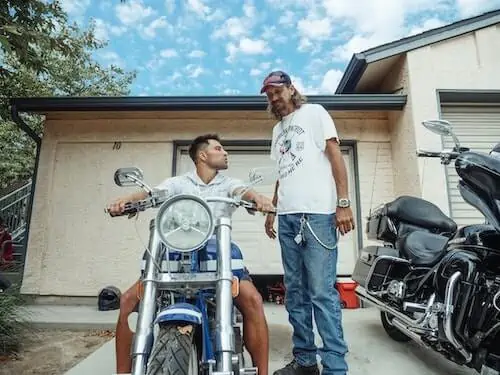 The titled owner gets added to your insurance policy as an authorized driver while you're listed as the owner.
If something happens to the motorcycle, the titled owner receives the claim proceeds. This option isn't possible if the rider isn't considered insurable.
A motorcyclist who cannot obtain insurance because of their driving record typically cannot be added through the owned by endorsement process.
What About Insurance for Professional Events?
Non-owned motorcycle insurance for liability is available through some insurers or private event organizers. You can find it at tracks, races, and other limited-time arrangements.
In this situation, you're taking out a liability insurance policy that covers damage to the motorcycle and bodily injury.
Insurers typically limit the coverage to a specific number of consecutive days. If you ride or race in separate events, having different policies for each one might be necessary.
The motorcycle must still have primary insurance coverage from the owner before this coverage applies during an accident. Insurers may have the right to restrict the rider's age or request a copy of their driving record before issuing this kind of policy.
Most insurance companies will not let you insure a motorcycle that isn't yours unless a specific situation exists. The exceptions vary based on the company's policies and regulations, so it helps to shop around for coverage options to see what could be available.
Use This Tool for Free and Save on Quotes!