One of the best ways to experience everything the United States offers is to take a cross-country motorcycle trip. When the open spaces meet with winding roads and changing landscapes, it's truly a one-of-a-kind experience.
Even if your travel plans only give you a few days to enjoy, renting a motorcycle during your stay in the US can let you see a city, state, or region through a different lens.
Didn't You Try Our Quote Comparison Tool Yet? Save BIG by Doing it!
The required insurance is usually part of the arrangement when you rent a motorcycle. If you bring your own or buy one while visiting, you'll need international motorcycle insurance that covers your activities.
What Type of Motorcycle Insurance Is Suitable for Visitors to the US?
Since motorcycles come in different sizes and classifications, you'll discover that the insurance requirements are highly variable.
Motorcycle insurance for foreigners could be very affordable if you decide to buy or rent a low-capacity bike, such as a scooter with a 50cc engine.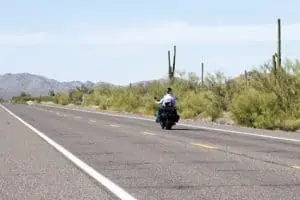 When you choose to ride a sports bike with a 700cc displacement or greater, the insurance costs can rise exponentially.
Some states, like Washington, require all motorcyclists to carry liability coverage and have proof of it while riding. If you're visiting the United States, it's expected that you meet those mandates.
What Does Motorcycle Insurance for Foreigners Cost?
If your visit to the United States is for a few weeks or a couple of months, a temporary or short-term policy is the best choice to consider. Most insurers offer this coverage for your riding needs.
The costs are variable for temporary insurance, especially if you look at the different types and minimums available to protect you.
When your visit to the US takes five months or more, the cost of motorcycle insurance for the average rider ranges from about $1,000 to $1,500. It will cost more if you add travel medical coverage or roadside assistance to the policy.
Some riders have more risk factors than others, so the only way to receive a specific quote is to speak with an experienced issuer about your situation.
Companies that Offer Motorcycle Insurance for Visitors
Companies that carry motorcycle insurance for travelers in the USA include The Sunrise Group, Thum Insurance, and more. In fact, many companies will have this type of motorcycle insurance, but you will have to search around for a good deal. We are providing quotes from some of the most reliable motorcycle insurance companies in the USA.
Documents to Submit
The requirements are basically the same as US citizens in that you need a valid driver's license and proof of vehicle ownership. Suppose you do not have a valid driver's license. In that case, you will need to visit your state's Department of Motor Vehicles (DMV) and follow their instructions to get a valid, temporary driver's license or obtain one from your home country.
File a Claim
As with US citizens, you will need to follow the same procedures in getting benefits or filing claims on the insurance policy in case of an accident. Basically, you will need to follow the procedures as spelled out in your insurance policy to receive benefits or properly file a claim. There are several common reasons why the provider can deny your motorcycle insurance claim; read about those.
Does Existing Motorcycle Insurance from My Home Country Cover Me?
Existing motorcycle insurance from a different country doesn't usually provide coverage when visiting the United States. Exceptions may apply to riders from Mexico or Canada.
If you are a tourist, you'll need temporary motorcycle insurance to ride in the US legally. The coverage you purchase must meet the statutory requirements of the state or states you intend to visit.
You'll need coverage with liability at a minimum. Comprehensive policies include damage that occurs because of vandalism, theft, or fire. Depending on your circumstances, collision insurance coverage for the time you're traveling could be mandatory.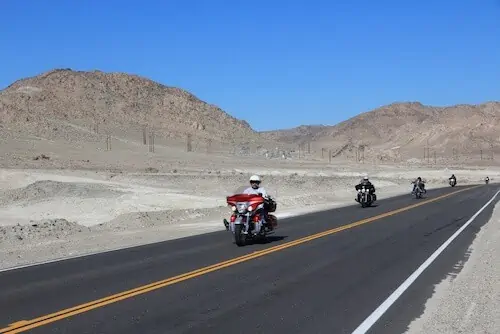 Liability coverage minimums for international visitors range from $50,000 to $500,000 per accident. Several factors, including your driving record and credit score, influence what is needed and how much you'll pay.
Optional coverages for uninsured or underinsured motorists, guest passengers, and medical payments ensure your finances won't take a hit if your motorcycle is in a wreck.
What Does Motorcycle Rental Insurance Cover?
You'll find three basic options when renting a motorcycle in the United States while visiting.
1. Bodily Injury or Property Damage
This option is typically included under one "liability" section but could be broken into two separate categories. The required minimums depend on where you visit and intend to travel. If you plan to see multiple states, you'll need insurance at the minimum standards for the state with the highest expectations.
2. Collision Coverage
Although this coverage isn't required in each state, it does assist if the motorcycle requires repairs because of an accident. When it isn't needed, you typically have the option to waive this policy.
3. Comprehensive Insurance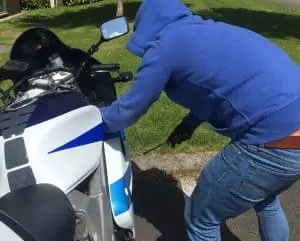 This insurance policy pays for any damages that happen to events unrelated to an accident.
If the bike receives hail damage, gets struck by lightning, is stolen, or gets smashed by a huge tree branch in a storm, your finances receive protection.
Once you've obtained sufficient motorcycle insurance for foreigners with your expected trip, you'll want to complete a few extra tasks to ensure your trip meets or exceeds expectations.
That process starts by reviewing your current license. Some states have specific motorcycle endorsements that don't always recognize what other countries offer. In California, two motorcycle licenses apply, so verify you can legally drive.
Note that:
Some rental companies charge by the mile, while others use daily rates. That expense adds up quickly, so don't underestimate how much to budget for your trip. It might be cheaper to buy a used bike and pay for qualifying international motorcycle insurance.
Don't forget to ask questions if you're uncertain of anything while renting a motorcycle. There could be restrictions, including where you're allowed to ride. If you plan to cross state lines, you'll need to ensure the business enables that.
Use This Tool for Free and Save on Quotes!