If you are planning on visiting the United States and touring on a bike, then you will have need of motorcycle insurance for visitors in the USA. If you are renting a motorcycle, then insurance will usually be a part of the overall package. If you are purchasing a bike in the US or bringing your own, but are only planning on staying a few months, then you will need bike insurance for visitors in the USA.
Insurance Requirements: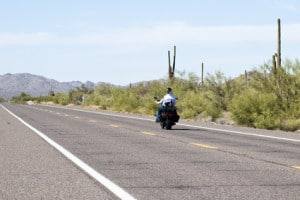 Motorcycle insurance for foreigners in the USA is a requirement because 48 out of the 50 states require having some form of bike insurance for those who operate cycles. So, whether you are planning on driving a little or a lot, you will need to obtain the proper temporary insurance for your motorbike.
Virtually all insurance companies that have auto and motorcycle insurance will have policies suitable for foreign nationals. The type of package that is best suited for your needs is fashioned based on the insurance policies that are legal in that particular state and how long you plan to stay.
For the most part, almost all states require liability and uninsured motorists which will provide basic protection if you should be the cause of an accident or if the other driver does not have insurance.
Which Coverage is the Right Fit for Me?
The requirements of coverage will include choices such as uninsured motorist and liability, plus the addition of coverage for theft, vandalism, fire and collision for the amount of time that will be spent in the US. In addition, there will be liability coverage for at least $50,000 per accident that includes injury to both the body and property and medical payment coverage as well. Depending on how long you'll stay in the USA and expected mileage for bike, you should choose your desired coverage.
Did You Try Out Our Quote Comparison Tool? Save BIG!
Cost of Insurance:
In addition, the cost of bike insurance for visitors in America will depend in large part on the purchase and value of the bike itself. However, a ballpark figure for motorcycle insurance for tourists who stay five months in the USA will be from $1,000 to $1,200. That figure does not take into account any roadside assistance or travel medical insurance that you may want to acquire as well, although they are not required by law.
Companies that Offer Motorcycle Insurance for Visitors in the USA:
Companies that carry motorcycle insurance for visitors in USA include The Sunrise Group, Thum Insurance and more. In fact, many insurance companies will have this type of motorcycle insurance, but you will have to search around for a good deal. We are providing quotes from some of the most reliable motorcycle insurance companies in the USA; check them now for the best rate.
Documents to Submit:
The requirements are basically the same as US citizens in that you need a valid driver's license and proof of ownership of the vehicle. If you do not have a valid driver's license, then you will need to visit your state's Department of Motor Vehicles (DMV) and follow their instructions for getting a valid, temporary driver's license or obtain one from your home country.
File a Claim:
As with US citizens, you will need to follow the same procedures in getting benefits or filing claims on the insurance policy in case an accident has occurred. Basically, you will need to follow the procedures as spelled out in your insurance policy in order to receive benefits or properly file a claim. There are several common reasons why your motorcycle insurance claim can be denied by the provider, read about those.
How to Find the Suitable Policy?
You can find insurance for bike first by scanning the websites of insurance companies that offer such programs and then choose the one that best fits your needs.
We are here to help you in this regard. Do check the market rate of today from us and pick your preferable coverage.