It is fun to take a passenger with you on a long ride, but what would happen if your motorcycle hits a bump and you both fly out of the saddle?
What would happen if someone pulled out in front of you with a passenger and you could not stop?
Didn't You Try Our Quote Comparison Tool Yet? Save BIG by Doing it!
Without the proper insurance, you could be liable for the medical bills and other expenses your passenger faces while recovering.
That's why requesting a quote for motorcycle passenger insurance is important if you have or plan to share time on your bike with someone while exploring the open road.
What Is Guest Passenger Liability Coverage?
Guest passenger liability coverage protects other people on your motorcycle when you cause an accident. You're considered legally responsible for their medical expenses in that situation, so this policy helps to protect your finances while their care resolves.

This liability coverage is often part of your state's required bodily injury policy, but it might be an additional policy in others.
Note that…
It doesn't pay for any injuries you sustain. This insurance only applies to a passenger if you're considered at fault for the incident.
If another rider causes the collision and injuries, their coverage would be the one to pursue for the necessary financial relief.
What Insurance Policy Covers a Motorcycle Passenger?
A few types of motorcycle insurance can protect passengers when they ride with you. A general passenger liability policy is one of those options, so here are the others to review. Each has different advantages to consider.
Personal Injury Protection Coverage. This option covers medical bills and injury-related causes for motorcycle passengers. It includes childcare expenses, lost wages, and other permissible charges depending on local and state laws, regardless of who was at fault in the accident. This policy also covers the operator.
Medical Payments Coverage. Insurers pay for injuries that you or your passenger sustain with this policy. When reviewing the claim, it does not consider who is at fault for an accident. Some areas may exempt motorcyclists from coverage or have you pay higher rates than what other vehicles are charged.
Uninsured/Underinsured Motorist Coverage. This option protects you and your passengers when another driver is responsible for injuries. It provides resources when someone lacks coverage to pay for all the related costs. You can also benefit if the bike gets damaged, depending on the situation.
Do I Need Motorcycle Passenger Insurance?
You won't need motorcycle passenger insurance if you don't take passengers (ride pillion) on your motorcycle. Anyone who does ride with you can then hold you legally responsible for any medical bills from an accident you cause.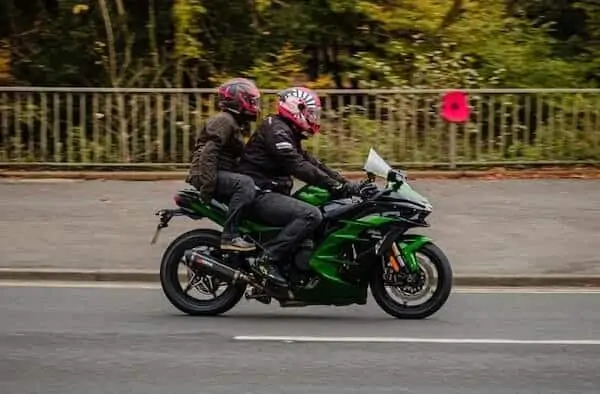 Some states require passenger liability insurance as part of the liability policy. You'll need to ask your insurer or agent when requesting a quote to see what is legally necessary to be issued coverage.
If you live in a state where motorcycle passenger coverage is mandatory, it is always included in the policy. Some companies do not itemize it on their quote sheet, but it will be there when it is legally required.
When the liability coverage doesn't require passenger protections, you can opt for any of the four choices that deliver this insurance. It often helps to request individualized quotes to see what provides the best rates and solutions.
How Do I Know What Coverage to Acquire?
Motorcycle passenger coverage considerations must begin by looking at what your state requires. Any mandatory requirements, including guest liability, are part of any policy sold where you live.
If you must carry motorcycle passenger coverage, your decision involves the limits to have instead of buying it.
After you know the requirements, you can decide if other options, such as medical payments or personal injury coverage, are appropriate for your circumstances.
Since injuries from motorcycle accidents tend to be more severe, it is essential to consider what you can afford to pay if someone gets hurt while riding with you. By balancing the monthly premiums with the risks you're willing to manage, you'll find options that make sense for your situation.
Use This Tool for Free and Save on Quotes!