The American Automobile Association (AAA) is a familiar name in many households. This company provides comprehensive emergency roadside services, including long-distance towing and lockout assistance, for an affordable price.
You can receive discounts and deals at many locations in return for your investment in AAA. It's not unusual to save 15% or more when booking hotels, airline tickets, and other travel-related activities.
Did You Try Our Quote Comparison Tool? Save BIG by Doing it!
AAA motorcycle insurance is available to riders in a few states. It depends on what your local club provides; this coverage is subject to change. If you are looking for a new policy, here is what you can expect when working with this company.
What to Expect with AAA Motorcycle Coverage
Motorcyclists can expect to receive options for full coverage or liability-only policies when working with AAA. Coverage varies by state and club, with some offering protection for permanent accessories and safety equipment.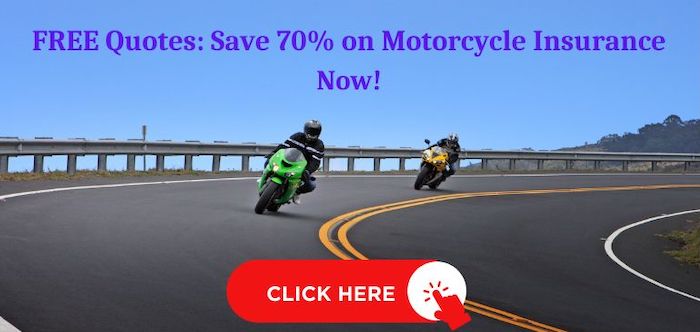 Some AAA clubs provide passenger insurance. You'll need to contact a local agent to discuss what is available for your motorcycle.
All clubs provide these five standard insurance types in some shape or form.
Liability Insurance. This coverage protects you financially from injuries or property damage in an accident. All states except Florida require a minimum amount.
Collision Insurance. Your bike receives coverage after an accident without determining who caused the issue. It also covers damage when colliding with other items.
Comprehensive Insurance. It would help if you had this option with your policy for seasonal motorcycle insurance, environmental events, theft, vandalism, and anything unrelated to a collision.
Underinsured and Uninsured Coverage. Your damages and medical bills are covered if you're hit by someone without enough insurance (or no insurance) while riding your motorcycle.
MedPay. This option covers your medical bills to a capped limit regardless of who was found to be at fault for an accident. Some healthcare plans exclude benefits for motorcycle injuries, so this option is worth considering when available through the local AAA chapter.
What Are the Costs of AAA Insurance?
Several factors influence the individualized quote that a rider receives from AAA. Your driving record, the motorcycle make and model, and the various add-ons and accessories play a role in your monthly premium.
A low-risk rider with a 600cc or smaller engine typically pays between $100 to $200 annually for minimum liability coverage. If you need total protection, a conservative policy typically costs less than $1,000 per year.
Factors that can cause those rates to be significantly higher include riding sport and touring bikes, being a high-risk rider, or requesting insurance while under 25.
Does AAA Offer Any Motorcycle Insurance Discounts?
The best part of having a AAA motorcycle insurance policy is the option to include the club's comprehensive roadside assistance in your coverage. You'll receive everything from fuel delivery to trailer assistance while receiving up to four tow service calls per year.
Your AAA membership includes several online benefits through the provider's app. You can find several data points with a few taps or clicks without added costs.
You can check on traffic conditions or plan a trip.
The app lets you find the lowest fuel prices in your area.
It can help with flight and hotel booking.
AAA insurance provides a few discounts with its coverage that could be helpful for some riders. You receive discounts on parts at NAPA stores or online, with multiple vehicles on the same policy, and by having an excellent driving record.
You must be a club member to purchase motorcycle insurance through AAA, so there is an added cost to the policy.
Is AAA Motorcycle Insurance Worth Considering?
It is worth checking with your local AAA club to see if motorcycle insurance is available. Some states and chapters offer protection for OEM and custom parts, while others provide the required minimum and nothing more.
If AAA insurance isn't available in your state, consider working with another nationwide provider to get a quote. Companies like GEICO and Progressive have a reputation for delivering high-quality coverage options while keeping prices competitive.
Here's GEICO vs. Progressive – a comparison.
Anyone who has ever had to request roadside assistance from AAA will be familiar with the customer assistance process. This workflow is like what you'll experience when filing a claim if something happens to your motorcycle. You can expect straightforward services that focus on getting the job done quickly.
Use This Tool for Free and Save on Quotes!