Motorcycles are available to rent at hundreds of locations across the United States. You can work with traditional rental companies or bike manufacturers. Harley-Davidson provides several locations across the country where you can rent a bike for fun.
Some companies rent gear to go with the motorcycle, while others expect riders to bring what they need.
Didn't You Try Our Quote Comparison Tool Yet? Save BIG by Doing it!
Before you rent a motorcycle in the USA, it helps to check the weather. Riding in the rain or snow is not as much fun, and wind protection might be necessary for some locations.
How Much Does It Cost to Rent a Motorcycle?
The average cost of renting a motorcycle in the United States is between $75 to $250 per day. If you plan on keeping the bike for an entire week, you can expect to pay somewhere between $500 to $2,000 for the experience.
Rental prices for motorcycles are highly variable. They depend on several factors, including the make and model of the bike, where you live or plan to travel, and the accessories you want for the journey.
If you want to save money with a motorcycle rental, it can help to bundle other travel costs. When you book a hotel with your bike, you can take care of all your needs while receiving a small discount on both.
The costs can also be influenced by your driving record, when you decide to travel, and your willingness to be flexible with the bike you receive. It often costs more when you want a specific motorcycle to ride.
How Old Do You Have to Be to Rent a Bike?
Most rental companies require riders to be at least 21 years old before allowing them to rent a motorcycle. The minimum age to rent in New York and Michigan is 18.
Anyone who works as a US government employee can rent at 18 from most agencies, but they'll need to show their orders before the transaction is authorized.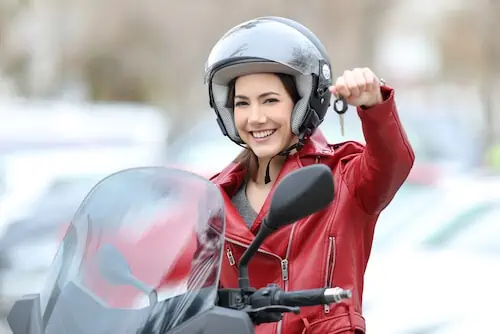 Younger riders pay more to rent motorcycles because they're more likely to be involved in accidents. Any rider in New York pays almost $70 more daily when they're between 18 and 20. That cost drops for those in the 21-24 age category.
Can You Rent a Motorcycle with a Permit?
You cannot rent a motorcycle with only a learner's permit. Although that option lets you train on a bike to earn your endorsement eventually, it isn't enough for renting a bike.
You must show a motorcycle or M1 endorsement to rent a bike in most states. If you prefer to rent a moped or a scooter, California may allow it with an M2 endorsement since the vehicle doesn't reach the same speeds.
Do You Need a License to Rent a Motorcycle or Scooter?
All 50 states require a motorcycle endorsement on a driver's license to rent a bike. A three-wheel endorsement could be necessary if you want to rent a trike.
South Carolina, Nevada, and California do not require a three-wheel motorcycle license, which means a standard driver's license is sufficient to rent this option.
Most states require a license to rent a scooter or a moped. If one isn't needed, the rental agency can still ask that you have a driver's license before agreeing to a rental contract.
How Much Insurance Do You Need?
The minimum insurance coverage required for renting a motorcycle in the USA is a liability policy. Each state has different requirements, and most personal policies won't cover the amount a rental requires.
Your rental contract typically covers basic liability insurance with the daily charges to operate the motorcycle. This policy covers you if you're in an accident you caused that results in property damage or injuries to pedestrians or other drivers.
You'll have the option to add supplemental insurance to increase the coverage amount for your ride. Comprehensive policies are another add-on that covers damage or theft. It's important to pay attention to the deductible amount to know your financial responsibilities should a claim need to be processed.
Does My Motorcycle Policy Cover Me When Renting a Bike?
Most states require a motorcyclist to carry insurance. What happens when you rent one while traveling and crossing a border?
Riders can rent motorcycles in different states with an appropriate license, but the insurance on your bike might not cover a rental. That's because you must carry the stipulated coverage amount by that state's rules and not what your home state requires.
You could be fine with your existing coverage if the limits are the same or less. It helps to discuss the particulars of your circumstances with your broker or agent to know what to expect.
Use This Tool for Free and Save on Quotes!