Before legally riding a motorcycle, you must obtain a license or endorsement showing you know how to operate the vehicle. That process starts with getting a learner's permit.
Once someone reaches their 18th birthday, they can obtain a motorcycle license or endorsement in most states. Some exceptions apply, such as needing a driver's license first in some jurisdictions. Teens as young as 16 might qualify for permits in some areas.
Didn't You Try Our Quote Comparison Tool Yet? Save BIG by Doing it!
A learner's permit is necessary to take motorcycle riding lessons. You'll need to pass the knowledge test and prove you have an appropriate vision for riding a bike, which might come with a nominal fee. You'll pass the road test after you've had time with an instructor.
The permit comes with a deadline, typically a few weeks after it is granted. They are renewable if extra time is needed for instruction in most states. The cap is typically three years but can be as little as 12 months.
What Are the Documents I Need for a Learner's Permit?
When you apply for a motorcycle learner's permit in the United States, you must provide documentation proving your citizenship or legal immigration status in all but 17 states and the District of Columbia.

Suppose you live in California, New York, Illinois, Colorado, Connecticut, Washington, Virginia, or others listed by the NCSL. In that case, you won't need to prove your citizenship or legal status to obtain a learner's permit.
For states like Texas and Florida, you'll need to visit your DMV or DPS office to start the application, although it might be available online. Proof of residency, identification, and legal presence are necessary to continue the process.
Specific documents must be available for review to establish residency. The most widely accepted examples include a recent utility bill, a lease agreement or mortgage documentation, and a residential property deed.
Some states accept an authorized change of address form, car insurance policy, or notarized proof of residency letter.
Government-issued documents that show your current residence are typically easier to obtain. These are often available at your local offices for a small fee.
Do I Need Insurance When Learning How to Ride a Motorcycle?
Motorcycle insurance is required when operating the bike on public roads. If you have a private instructor working with you on the equipment you own, an insurance policy is necessary for all states but Florida.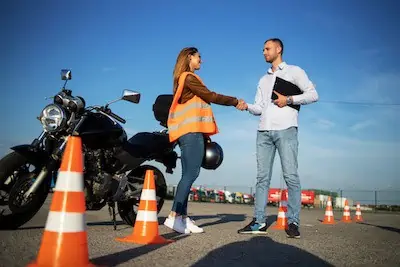 In Florida, you must prove that you have financial responsibility if an accident or incident occurs. The easiest way to do that is by having an insurance policy, but you can also file a certificate with the state that shows you have cash in reserve.
When you work with an institute-employed instructor who teaches you how to ride a motorcycle in an educational setting, obtaining an insurance policy might not be necessary. Your tuition fees typically cover this expense.
After obtaining your motorcycle learner's permit, you'd want to review the terms and conditions of any agreements you sign with the instructor or their employer.
More details here about the requirement of insurance with a learner's permit.
Why Can't I Obtain a Motorcycle Permit?
If you are ineligible for a driver's license for any reason, it is unlikely that you'll qualify to receive a motorcycle learner's permit.
The reasons in this category include age, suspension, or restriction due to previous driving-related convictions.
Note that:
Some riders might not qualify for a motorcycle learner's permit because they fail the vision test. The minimum requirements include 20/40 or better in each eye and a field of vision of at least 70 degrees.
States like Maryland also require you to distinguish between amber, green, and red colors.
Obtaining a learner's permit is your first step toward becoming a legal motorcycle operator. Without it, you cannot legally complete the required classes to earn your license or endorsement.
Use This Tool for Free and Save on Quotes!