Trikes have unique licensing requirements throughout the United States. You might need to get an endorsement from a training facility, apply for a standard motorcycle endorsement for a driver's license, or obtain a 3W permit or endorsement.
Three states allow anyone with a regular driver's license to ride a trike: California, Nevada, and South Carolina. Riders must follow the permit and testing requirements for driving a passenger vehicle to use a three-wheeled vehicle in these locations.
Didn't You Try Our Quote Comparison Tool Yet? Save BIG by Doing it!
Nineteen states and the District of Columbia require you to obtain a motorcycle endorsement or a separate license. Rhode Island and Alaska also make prospective trikers take their tests on a two-wheeled vehicle.
Twenty-seven states have a three-wheel motorcycle license to obtain for trikers. You typically need a valid driver's license to receive this endorsement, although some exceptions may apply for those applying for instruction permits.
How Does the 3W Endorsement Show on My Driver's License?
Each state has different requirements and endorsement designations for obtaining the right to operate a trike legally on roads and highways.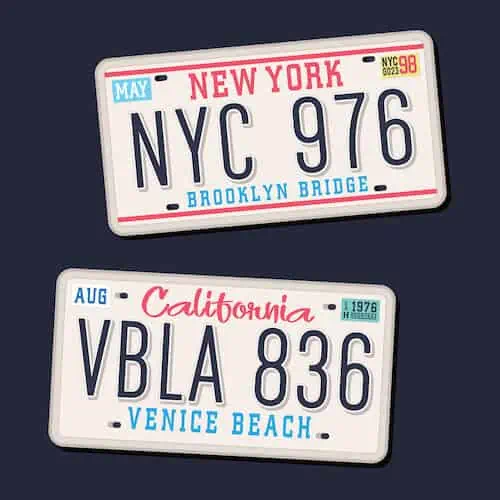 The process that residents in Washington state must follow is similar to those with a 3W endorsement requirement. These are the stipulations to meet when initially applying for a permit.
You must be at least 16 years old in WA.
A valid driver's license from the state is mandatory.
Riders must pass a 3W operation knowledge test, and the permit application must happen within 180 days of a passing grade.
The test must be taken at a state-approved motorcycle training school.
Parents or guardians must sign a consent form for riders under 18.
It typically takes three business days for schools to enter the test results into the state's system that tracks 3W operating knowledge. A riding skills test is necessary to receive your 3W endorsement.
You can take the knowledge and riding skills tests as part of an approved course instead of working with the Department of Motor Vehicles. In Washington, your driver's license will have an endorsement with a J restriction once you pass the exams.
Can I Drive a Polaris Slingshot Without a 3W Endorsement?
Many states are passing specific laws, rules, or regulations that govern how autocycles like the Polaris Slingshot are classified compared to motorcycles and three-wheelers.
In Washington, you don't need the 3W endorsement to operate a three-wheeled vehicle if it meets all the following requirements.
There are safety belts equipped with seats.
Each seat is in a completely or partially enclosed area.
It is possible to steer the vehicle with a steering wheel.
Some autocycles might not meet all these requirements. You'll need to speak with your dealer and check local laws to ensure you comply with the current expectations.
Trikes are typically treated as their own vehicle type, but some motorcycle laws in the US still apply. Even if you're legally allowed to operate one in your state with no restrictions, those rules could differ when traveling.
Most states allow a standard motorcycle endorsement to serve as permission to ride a trike.
Use This Tool for Free and Save on Quotes!