Most states require drivers and passengers under 18 to wear helmets when operating a Polaris Slingshot. That requirement extends to age 25 in some areas and might apply only to passengers, and adults typically aren't required to have this safety equipment available.
In Colorado, drivers and passengers over 18 are not required to wear helmets in a Slingshot.
Did You Try Out Our Quote Comparison Tool? Save BIG!
Since this vehicle's classification depends on each state, the license requirements are slightly different. You might need a standard driver's license, a motorcycle endorsement, or a 3W endorsement to operate a Slingshot on public roads.
Massachusetts explicitly requires a motorcycle endorsement to operate a Slingshot. Most other states allow a standard driver's license because of the vehicle's design, but three-wheeled rules may apply based on how each state defines an autocycle.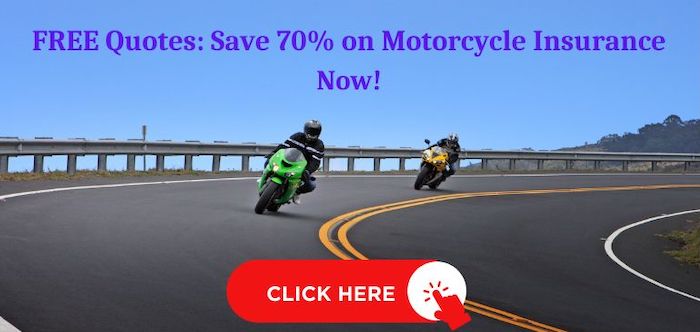 Is a Slingshot Considered a Car or a Motorcycle?
A Slingshot is not considered a car. The two classifications it typically meets in the United States are a three-wheeled vehicle or trike and an autocycle.
It falls into the motorcycle classification in Massachusetts.
If a state doesn't have autocycle definitions, the default classification for a Polaris Slingshot is a trike. That means a 3W designation might be needed for some drivers to operate it legally.
It is also possible for some with a standard driver's license to operate a Slingshot without needing an extra endorsement. This option depends on how three-wheeled vehicles are classified where you live and if autocycle exclusions exist.
Do You Need a Motorcycle License to Drive a Slingshot?
Unless you live or travel with a Polaris Slingshot in Massachusetts, it is not required for drivers to have a motorcycle endorsement to operate a three-wheeled vehicle.
There is the possibility that a 3W endorsement for trikes is necessary. The rules are changing quickly to adapt to vehicles like the Slingshot on the road, so always check the local regulations before proceeding.
Don't forget to buy appropriate insurance for your Slingshot.
What Are the Helmet Requirements for the Polaris Slingshot?
Helmet requirements vary across the United States when operating a Polaris Slingshot or any other autocycle.
Polaris specifically recommends that all operators and passengers wear a full-face helmet approved by the Department of Transportation when driving the Slingshot.
The existing laws regarding helmet use are variable. Illinois, Iowa, and New Hampshire have no helmet rules, which means it is up to your and your passenger's discretion when driving a Slingshot.
All other states require young riders to have a helmet in a Slingshot operated on public roads. The age requirements vary, although most jurisdictions place the upper age limit at 17. Missouri currently requires anyone who is 25 and younger to use this safety equipment.
South Carolina specifically exempts autocycles from the motorcycle helmet rules currently in place in that state.
The following states require each rider to wear a helmet when operating a Slingshot or any other three-wheeled vehicle.
Alabama
California
Connecticut
Georgia
Louisiana
Maryland
Massachusetts
Mississippi
Nebraska
Nevada
New Jersey
New York
North Carolina
Oregon
Tennessee
Vermont
Virginia
Washington
West Virginia
Best Type of Helmet to Wear When Driving a Slingshot
The best helmets to wear when driving a Slingshot to provide complete facial protection while delivering shielding for the operator's vision.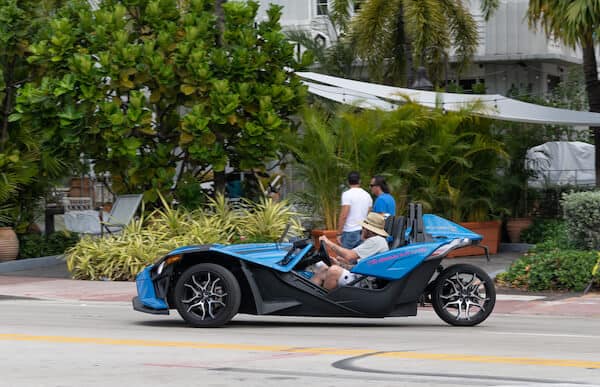 A few designs offer a lift point from the chin while maintaining a visor, while others create a solid structure that protects this area while letting the visor lift. Both options work well for the Slingshot, so it is more of the driver's personal preferences in this area.
Some helmets can feel heavy when worn, so it is crucial to find an option that feels light on the head without compromising its overall protective shell.
A helmet should fit snugly without being uncomfortable. If it is loose, it will not provide the same levels of protection if a collision occurs.
The helmet laws in the United States don't offer advice on the type or design used, so the old-fashioned "brain buckets" that offer no facial protection are a legal option. Since the goal is to protect if an accident occurs, it is typically better to wear something that safeguards all parts of this vulnerable area.
The Polaris Slingshot is a fast and fun three-wheeler that delivers the convenience of an autocycle with the adventure of a motorcycle. Its insurance and retail costs are similar to other vehicles in these categories, making it a great addition to any collection, daily commuting, or comparable transportation needs.
This Tool is FREE to Use!