A loud roar passed our Nissan truck while driving through Wyoming. My family was taking a road trip to Oregon for a family reunion, and I was about six or seven years old.
I looked up to see a group of motorcycles passing our truck. At the front were three trikes, and I remember telling my mother that those vehicles looked a lot like my Big Wheel at home.
Didn't You Try Our Quote Comparison Tool Yet? Save BIG by Doing it!
She laughed at the comparison, then told me it was a fair observation. "Maybe one day, you'll get to own one of those," she told me.
That idea stuck with me all through high school. When I moved away to college, the first thing I bought was a trike to travel between my off-campus home and classes during the day.
Insuring a three-wheel (3W) vehicle is a uniquely challenging process, mixed with changing definitions – or what feels like no rules at all. Here's a closer look at what I've learned over the years.

What Are the Different Three-Wheel Motorcycles to Insure?
The process of insuring a three-wheeled motorcycle begins when you select a company that underwrites policies for the type you own. Since each state classifies some models differently than others, it helps to know the root definitions before beginning.
Additionally, some insurance companies might place three-wheeled vehicles in the same category as two-wheeled motorcycles. It helps to shop around for this category's best rates and definitions.
Here is a closer look at the three-wheel motorcycle classifications available today.
Trikes. This option is built from the ground up to be a 3W vehicle. They often resemble motorcycles with two wheels in the front and one in the back, but there are also reverse models with one front wheel.
Tuk-Tuks. Sometimes called a rickshaw, this vehicle has seen a popularity surge in the United States since 2020. It has a passenger cabin and a small engine mounted in the rear.
Polaris Slingshot. The Slingshot is a three-wheeled vehicle produced by Polaris Industries. It has two wheels in the front and one in the back, and it is often classified as an autocycle. This 3W is designed to provide the driving experience of a sports car but with the added stability of a trike-style platform. Read here for more about how to insure such a vehicle.
Can-Am Spyder. Produced by Bombardier, this Canadian 3W vehicle is designed to provide the open-air experience of a motorcycle while offering more stability than a traditional bike.
Piaggio Ape. This light commercial vehicle comes from an Italian manufacturer. It's often used in dense urban areas where other cars or trucks would be impractical.
Vanderhall Venice. This roadster-style 3W vehicle delivers a unique driving experience. With two front wheels and one in the back, it is powered by a turbocharged engine.
You can also modify a standard motorcycle to be a three-wheel vehicle. Your insurance needs can change when adding a sidecar or placing a kit assembly on the back with extra tires.
How Does Insurance for a Three-Wheel Trike Work?
Insurance for a three-wheeled trike works similarly to a classic car or motorcycle insurance.
Since trikes are classified as a "3W motorcycle," they may be subject to different regulations and insurance requirements than a traditional motorcycle or car.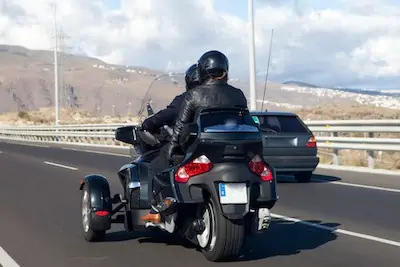 Insurers consider several factors when presenting a quote to review, including the make and model of the trike, the rider's driving record and age, the intended use, and the amount of coverage desired.
Some insurance companies may require that trike owners have a motorcycle license or take a particular safety course before they provide coverage. You might be required to carry liability insurance minimums.
The 3W insurance needs you have could fit into a specialized coverage category that would be more expensive than a standard policy. I highly recommend researching different options and comparing choices before finalizing your selection.
What If I Own an Autocycle?
Autocycle insurance is different from 3W vehicle coverage in most states. This separation is due to the design that makes the Slingshot, Venice, and similar choices drive more like a car than a motorcycle.
Some states require liability insurance for three-wheeled vehicles, while others don't have specific regulations. Autocycles fall into a standard motorcycle category, which means minimum coverage amounts are mandatory when operating the vehicle on public roads or areas.
What If I Convert a Motorcycle to a Trike?
Your insurance needs will change if you convert a motorcycle into a trike with a sidecar or a custom kit.
With this update, the insurer might want you to use a custom motorcycle insurance policy. You could also be directed to 3W coverage.
When you convert a motorcycle to a trike, it helps to consider adding custom parts and accessories coverage. This investment helps ensure your equipment is covered if any custom work is stolen or damaged.
The cost of insuring a three-wheel vehicle is based on several factors, including the value of what you own and the coverage levels you prefer. It's fun to get out there and ride with me, but do your research and shop around to find suitable coverage at an affordable price.
Use This Tool for Free and Save on Quotes!