What happens when you want to turn your two-wheeled bike into a three-wheeled touring trike?
Although you could purchase a trike from a dealer or on the second-hand market, converting an existing motorcycle into a trike is a lot of fun.
Didn't You Try Our Quote Comparison Tool Yet? Save BIG by Doing it!
When you take this step, don't forget to speak with your motorcycle insurance company about the update. Although bikes and trikes have similar coverage needs, the quotes you receive could be significantly different.
Your policy might not cover the three-wheel conversion once it's complete, meaning you'd be driving without the coverage required to operate legally.
Can You Convert a Bike to a Trike?
Is it possible to convert a motorcycle to a three-wheeler? Absolutely!

The easiest way is to invest in a prefabricated kit for your make and model, but there are options for a DIY approach.
The average cost for this conversion in the United States is about $10,000. It is slightly higher in Europe, although individual factors significantly affect the eventual price.
Most motorcycles are designed with a shaft that rotates opposite to what automobiles use. That means you can replace the bike's rear tire and axle with one from a car, but you'll need to flip the housing to accommodate the new setup.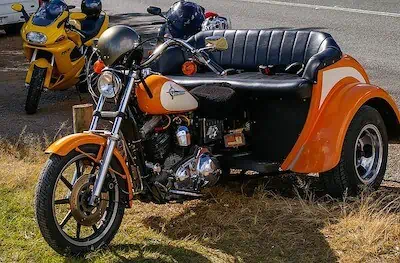 The benefit of choosing a prefab kit for your motorcycle conversion to a trike is that you get everything to finish the conversion with one order. That includes the suspension, fenders, seats, and lights.
How Much Does a Trike Conversion Cost?
Although the median cost for a trike conversion in the US is approximately $10,000, some motorcycles have custom requirements that can double that expense. On the other hand, if you purchase the cheapest prefab kits, the price gets as low as $5,000 for some makes and models.
The kits don't include the cost of any accessories or custom paint that your motorcycle requires after the work is completed. Custom paint for bikes and trikes can be as much as $2,200.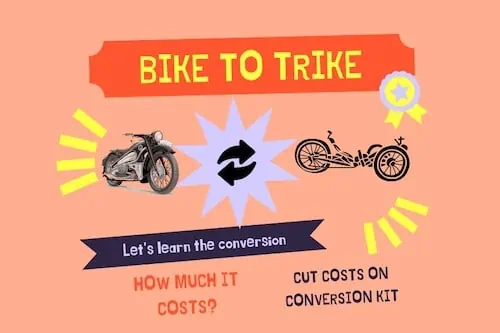 Once the conversion is complete, you must speak with your insurance company about the modification work. Your agent or broker can take you through the necessary steps to update your policy.
You also have the option to request trike insurance quotes from other providers in your area.
Generally, motorcycles are more expensive to insure than trikes because they are less stable and potentially riskier to operate. These attributes can make them more prone to accidents and injuries, which can increase the cost of insurance.
Some insurance companies might still consider trikes to be more expensive to insure because they could be more expensive to repair or replace in the event of an accident.
Ultimately, the best way to determine whether a bike or a trike is cheaper to insure is to compare insurance quotes from different companies for both types of vehicles. That way, you'll know how much extra you'll need to have your motorcycle conversion costs match your budget.
How to Cut Costs on a Motorcycle Conversion Kit
Converting a motorcycle into a trike can be expensive, even if you purchase a kit. Here are some tips to help you cut costs.
Research Different Options. Before making a purchase, do your research to compare different conversion kits. Look for options known for their quality and durability, but also consider the price tag and whether it offers the features and benefits you need.
Shop Around. Look for discounts on motorcycle conversion kits from different retailers or manufacturers. You can find coupons or promo codes that can help you save money on your desired update.
Buy Used. If you're on a tight budget, you may be able to save money by purchasing a used conversion kit instead of a new one. Check online marketplaces or local classified ads to see if any choices are available in your area.
Consider Financing. It might help to use a credit card or a loan to finance your purchase. Remember to compare interest rates and repayment terms to get the best deal.
If you do all the work yourself, you'll need to source a new metal frame, rear wheels, a braking system, and suspension. The DIY process can produce significant savings because you're eliminating the labor costs, but it helps to be handy with tools and have some mechanical experience.
Is It Safer to Ride a Trike Than a Motorcycle?
Trikes provide a safer ride when compared to motorcycles in these potential areas for the average rider.
1. Stability
A trike is wider and heavier than a motorcycle. That design element keeps the center of gravity lower and more grounded, making driving easier. Even if you carry luggage or an extra passenger, the steering and movement feel the same. It's even easier to travel on dirt or gravel roads.
2. Visibility
Trikes are easier to see in traffic compared to motorcycles. Although you can't go between vehicles in a traffic jam with them, the overall driving experience tends to be safer because it is easier to spot them on the road.
3. Comfort
Trikes provide more space and comfortable seating for riders and passengers. Maintaining physical control usually takes less effort, allowing you to cover a longer distance before becoming tired. That means you face fewer issues with distractions.
4. Transition
Trikes ride a lot like an ATV. That makes it easier to transition to the riding experience for those who have only driven cars or other vehicles before. You don't need to lean into a curve or figure out counter-steering.
How to Update a Motorcycle Insurance Policy After a Trike Conversion
If you have converted your motorcycle into a trike, it's essential to update your insurance policy to ensure that you are adequately covered in the event of an accident or another incident.
Here are the steps to update your motorcycle insurance after a trike conversion.
Contact Your Insurer. Contact your insurance company to inform them about the trike conversion. You may need to provide them with details about the transformation, such as the type of kit used and any modifications made to the bike.
Get New Quotes. Your insurer will likely need to provide you with a new insurance quote for your trike. The price could be significantly different from your previous motorcycle insurance premium, depending on the specifics of your trike and your driving record.
Update the Policy. Once you have received your new insurance quote, you can update your policy to reflect the changes. This step may include changing your coverage limits, adding new types of coverage, such as liability for the trike's third wheel, or making other adjustments as needed.
Get Proof of Insurance. It might be necessary to provide proof of your updated insurance to local or state authorities to continue riding after completing the conversion kit work.
If you turn your motorcycle into a trike, don't forget to find the appropriate insurance coverage for your driving needs. This final step ensures that your policy suits your riding activities, so you don't face unnecessary unexpected expenses.
Use This Tool for Free and Save on Quotes!