Although motorcycles and sidecars are a trike combination seen as early as the 1940s, the modern trike didn't reach the roads until the 1980s. John Lehman, who would eventually build Lehman Trikes, outfitted a Honda CB900 into a three-wheeled machine because his wife wanted something safer for their kids to ride.
Champion started its trike division in the 1990s. The first options were sidecars, but they developed accessories like rigging kits until they jumped full-time into the market in the early 2000s.
Didn't You Try Our Quote Comparison Tool Yet? Save BIG by Doing it!
Trikes follow the same essential rules as motorcycles and vehicles for insurance coverage.
Are Three-Wheeled Cars Considered Motorcycles?
Three-wheeled vehicles are considered to be motorcycles in most states. That classification means drivers could be required to wear helmets when operating them, even if there is an enclosed cabin. Alaska, Arkansas, Maine, Montana, and West Virginia require occupants to wear safety protection similar to motorcyclists.
Depending on where you live, the insurance requirements for this vehicle type could fall into an autocycle category.

An autocycle has different definitions, but it is typically a design that uses a sit-in cockpit with a steering wheel for controls. It can also refer to a motorized bicycle or a bike with a motor moped.
If you own a Vanderwall, get more insurance information here.
A motorcycle trike typically places one wheel in the front and two in the back, but you'll see the reverse with an autocycle.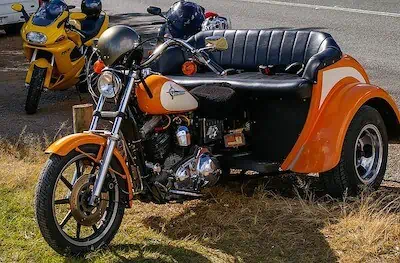 When a motorcycle places both wheels in front, it's called a "reverse trike." They come in lean and rigid designs.
Even though an autocycle typically has a steering wheel, it still receives federal classification as a motorcycle.
How Much Do You Pay for Your Trike Insurance?
Most riders pay between $39 to $79 per month for their needed coverage.
The cost of trike insurance depends on several factors, including if local rules classify the vehicle as an autocycle. Your age, where you live, and how many years of experience riding motorcycles and trikes factor into your eventual quote.
A DUI conviction could triple or quadruple those rates, while a history of accidents or violations could double them.
Insurance companies also look at the make and model to determine a policy's cost. If you need complete coverage because the trike was purchased through financing, the insurance cost will be higher than if a liability-only approach was used.
What About Sidecars and Outriggers?
A sidecar motorcycle can have three wheels, making it a trike by definition. The device connects to the motorcycle's side to hold a passenger or additional gear. These vehicles are rarely seen on the road in the United States because the cost of that setup became equal to a car, which is much safer to operate. Harley-Davidson halted production in 2011, although the Secret Service still uses them.
An outrigger is considered a trike, but it comes with four wheels. They're converted from a bike without removing the rear wheel.
That means the two-wheel assembly surrounds the original tire, providing extra stability while operating.
The insurance coverage for these trikes follows the same guidelines as other designs. If extensive modification is present, additional coverage might be needed for the customization work to ensure complete protection is available.
What About Tuk-Tuks?
Tuk-Tuk North America received approval in 2009 from the Environmental Protection Agency and the Department of Transportation to approve this unique three-wheeler for US roads. Several styles are available, ranging from models that carry three people to those that haul 12.
These vehicles pair the front of a scooter with the rear of a passenger car to create a unique three-wheeled experience.
The Tuk-Tuk is unique because even the 12-passenger model is licensed as a motorcycle in states like Minnesota.
Is Trike Insurance More Expensive Than Motorcycle Insurance?
Trike insurance is typically more expensive than motorcycle insurance because of the potential for extra riders. Some models only carry one or two people, but with Tuk-Tuk models holding up to 12, there are more liability issues to manage.
The collision and comprehensive coverage premiums for trikes are similar to motorcycles. Since most three-wheeled bikes cost more than their two-wheeled counterparts, you'll see slight increases in comparison.
Something to remember:
The easiest way to reduce costs is to limit the number of riders. There could be additional savings opportunities by keeping your annual mileage low. Each insurance company has different rating factors to consider, so it helps to discuss your needs to find the best way forward.
You can also get discounts for anti-theft devices, a clean driving record, and wearing specific safety apparel.
What Trike Insurance Do I Need?
Trikes, three-wheel motorcycles, and open-air autocycles fall into the same insurance category. Currently, 15 states require autocycles to be enclosed to receive a different insurance classification.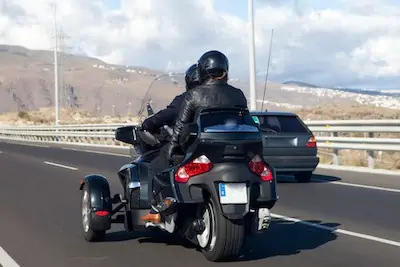 Colorado requires autocycles to have a hardtop enclosure, while Vermont defines this vehicle as one with entire side and top sections. Vehicles like the Polaris Slingshot fit into a unique category that could be registered as autocycles or motorcycles in 31 states.
That definition dictates the trike insurance type you need.
Unless the trike is purchased outright, it will need liability, collision, and comprehensive insurance unless the lender states otherwise. Riders can save a little by opting for liability only, but damage from non-collision events would come out-of-pocket.
Aftermarket modifications or accessories would require the same custom insurance add-ons that motorcycles need for complete protection. This policy should include custom parts coverage, 24/7 roadside assistance, and trailering protections.
Where to Find the Best Insurance for Trikes?
If you're a first-time rider, finding trike insurance can feel challenging. Since it is closer to a specialty product, it helps to work with a company familiar with this vehicle to get the best deal.
Here are your options:

Allstate provides three-wheeled vehicle insurance with the same limits, coverage options (including uninsured and underinsured coverage), and deductibles as a standard motorcycle. You also have autocycle support.
GEICO is another provider with experience delivering trike insurance. Several add-ons and policy options include conversion kits, custom paint, and general operations.
USAA provides comprehensive trike insurance with several discount options if you are or were in the US military. You can receive custom parts coverage up to $30,000 with some options.
Trike insurance lets you stay on the road, even if you only need seasonal protection. Since it is classified as a motorcycle, you might need an appropriate endorsement on your driver's license to operate the vehicle legally after insuring it.
Use This Tool for Free and Save on Quotes!