If you purchase a motorcycle for the first time, getting the best motorcycle insurance will require following a different path than vehicle insurance. Although the two are quite similar in many ways, there are some important differences to know if you have never purchased motorcycle insurance.
The first place to check is with the insurance laws governing your state. Except for New Hampshire and Florida, you must have motorcycle insurance or financial proof of responsibility. Plus, some states require personal injury protection while others do not. Be sure to check out the laws and requirements of your state before purchasing a motorcycle.
Didn't You Try Our Quote Comparison Tool Yet? Save BIG by Doing it!
Do You Buy Insurance Before or After Purchasing the Motorcycle?
Before you can purchase insurance, you will need to get a motorcycle. An insurance company provides coverage for the motorcycle you own, not the one you have not purchased yet. This is because all motorcycles differ; at least part of the premiums will depend on your buying type.
The same is valid for vehicles, as sports cars are more expensive to insure than pickup trucks. While the differences between motorcycles may be less dramatic than vehicles, a high-powered motorcycle designed for speed is generally more expensive to cover than a standard motorcycle.
Which Comes First, Registration or Insurance?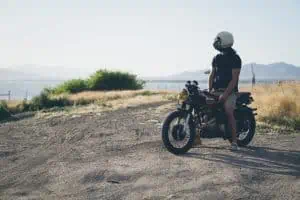 To have insurance, you must own a motorcycle. And to own the motorcycle, it must be registered. The registration process is associated with the bike purchase as the title is transferred to you. You have a limited time to purchase insurance for your motorcycle once it is in your possession. In most states, you can drive it for a short time, but you must get insurance to keep driving your motorcycle legally.

Important Factors for Buying Cheaper Motorcycle Insurance
Just like buying insurance for a car or truck, some factors will affect the type and price of your motorcycle insurance. What follows is a general guideline of what to expect.
Age
If you are under 25, you will pay considerably more than someone who has reached 25. This is because, statistically, you are more likely to be involved in an accident.
Driving Record
The cleaner your driving record, the lower your premiums will be. And accidents and incidents on your driving record will be removed over time. Here is an excellent guide to keeping your driving record in good shape.
Type of Motorcycle
Just as certain vehicles are more expensive to cover with insurance, so are certain motorcycles. For example, a motorcycle considered a sports bike would be considerably more costly to cover. This is true even if the motorcycle you purchase has the size and power of a sports bike but is not considered in that category.
Loan
The type of insurance required will depend on whether you own the motorcycle outright or use a loan. If you received a loan, then full coverage is required. However, if you own the motorcycle outright, you can choose a lower insurance coverage.
Arguably the most popular question about motorcycle insurance is the cost. How much it costs will depend on the factors already listed, but you can get a general idea of what it will cost you.
Average Motorcycle Insurance Rates
The general average for motorcycle insurance rates across the US is $702 annually. Of course, the rates vary from state to state, with California being the most expensive at $113 per month. In contrast, North Dakota comes in last at $32 per month.
Of course, the average rate is based on many different factors, but in general, the rates are affected by age, statistics, and the laws or requirements in each state. This means that in a state like North Dakota, the rules and regulations have fewer requirements than in a state such as California.
How to Lower the Rates?
There are ways to keep the rates you pay for motorcycle insurance down, even if you are under 25.
Take a Safety Course: Taking a recognized motorcycle safety course may lower the rates you pay from 5% to 10%. You will need to check with the insurance company first to find the courses which will result in a lower rate.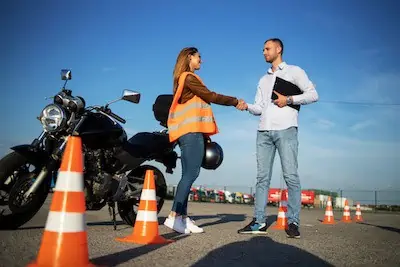 Seasonal Driving: If you put your motorcycle away for the winter, you can get a reduced coverage rate. This means not driving your motorbike for a pre-set period, such as the winter months. You may save 25% or more, depending on the coverage.
Mileage: The less you drive your motorcycle, the less you may pay. You may pay less for your insurance if you drive under a pre-set amount. This may save you 10% or more.
Bundle: Another way to pay less is to bundle your motorcycle insurance with other coverage, such as other vehicles and your home. This may save you up to 25% depending on the insurance company.
Remember to compare insurance rates between different companies. This will help you find the right one for your needs and budget. You may find that bundling does not save as much as getting motorcycle insurance from another company, so check out all options first.
Top Motorcycle Insurance Companies for New Riders
Unless you live in Florida, motorcycle insurance is required to hop on your bike and enjoy the open road. When starting this journey, you should know that most new riders pay a higher monthly premium than those with at least three years of riding experience.
That doesn't mean you can't obtain an affordable rate at one of today's top insurance providers for new riders. With some research and due diligence, you can find a policy that meets your needs while protecting your health and equipment.
Although each situation is different, most new riders find these motorcycle insurers to offer the best combination of value, coverage, and price.
What Are the Best Motorcycle Insurance Companies for New Riders?
Each insurer has specific pros and cons to consider as a new motorcyclist. Here are the key points to consider when requesting quotes from the following agencies.
Convenience is the primary benefit you receive with this insurer. You can shop for a motorcycle, obtain financing, and get an extended service plan while managing your insurance with one visit.
PROS
An extensive list of covered motorcycles is available with this insurer.
Optional equipment replacement cost policies are available if a total loss occurs.
Discounts are available for experienced riders, law enforcement, and the military.
Multiple services and financing plans are available.
CONS
Coverage isn't available in every state.
The average premium is up to $40 more per month compared to other providers for the average rider.
Some deals require you to use Harley-Davidson items to qualify, including safety courses.
This insurance company is your best option if you're a new rider and want to take your motorcycle to the track. It's one of a few that provide track-day coverage.
PROS
CONS
Insurance policies aren't sold online.
Customer service hours are somewhat limited compared to other insurers.
You must pay for a higher tier to get track-day coverage.
If you claim less than $500 as a new rider, your motorcycle insurance policy rates won't increase. Several other benefits are worth evaluating if you need coverage for a new bike.
PROS
Riders have the option to receive a diminishing deductible with full coverage.
Add-ons are available for OEM parts and accessories.
You can cover the total replacement cost of the bike and your carry-ons.
Free quotes are available in minutes with the company's online wizard.
CONS
Fewer discounts are available with this insurer than with others.
Enhanced injury protection only provides $250 per week if you're injured and can't return to work.
A head-to-head feature comparison between GEICO and Progressive is here.
4. USAA
This insurance company provides motorcycle coverage services to members of the U.S. armed forces and their families.
PROS
CONS
It isn't available to people without a military connection.
The average premium is up to $40 more per month compared to other providers for the average rider
With nationwide coverage and a strong reputation for supporting motorcyclist claims, new riders could find several benefits waiting for them when choosing a policy from this provider.
PROS
Emergency roadside assistance is included without an extra fee on many policies.
Discounts are available for certain motorcycle instructors, multiple policy owners, and other unique circumstances.
Helmets and accessories are covered under comprehensive and collision.
CONS
The accessories coverage caps at $20,000, which is less than what most other providers offer.
Fewer add-ons are available.
Out of 18 major insurance carriers surveyed for claims satisfaction, GEICO ranks eighth.
The best motorcycle insurance for new riders should meet your needs while protecting your finances from harm. Since each company offers several pros and cons to consider, it helps to carefully evaluate quotes from each one to ensure your needs are met.
Do You Need Full Coverage on a Motorcycle for New Riders?
The necessity of full coverage is based on how you obtained the motorcycle. Full coverage is required if you have purchased the motorbike using a loan. This protects the lender in case the bike is damaged or stolen.
However, if you purchased or obtained the motorcycle without a loan, you can buy insurance with less than full coverage. This type of insurance is more affordable and better suited for purchased motorcycles that are used or have a relatively low value. If you own a used motorcycle, you should begin with the minimum insurance required by your state.
For first-time riders, getting the best motorcycle insurance starts before you buy the motorcycle. Follow the proper steps and get the best insurance for your needs.
Use This Tool for Free and Save on Quotes!