Most states need motorcycle owners to have proof of insurance before allowing the bike registration process to proceed.
If you have never owned a motorcycle, you must create a new policy with your preferred insurer.
Didn't You Try Our Quote Comparison Tool Yet? Save BIG by Doing it!
A motorcycle insurance and registration holder are helpful while riding, although they are not necessarily mandatory. If a police officer pulls you over, you can hand them this information directly without digging around for it.
Some states allow for digital proof of insurance when police request this information.
How to Register Your Motorcycle
If you need to register your motorcycle for road use, the following steps help accomplish that goal.

Get a Motorcycle Safety Inspection. Although this step isn't always required, you might need to let a required state agency approve the roadworthiness of your bike. It often happens when registering a salvage title or your state requires an emissions inspection.
Insure the Bike. Each state has different motorcycle insurance requirements. You must verify the differences between bikes, mopeds, and other vehicles for where you live to ensure your policy covers everything you need.
Visit a Registration Office. You can register motorcycles at the county tag office, the Department of Motor Vehicles, or a similar agency. Some states have height limits for handlebars and other equipment checks that your bike must pass before a successful registration occurs.
Pay the Fees. Each state has different fees and registration costs to navigate. Your motorcycle will not be successfully registered until you pay those costs.
Display Your Plate and Tags. You will receive a license plate and current tags after completing your registration. These must be on display to legally operate the motorcycle on the road.
Although the specific requirements vary by state, you'll typically need to prove you're the motorcycle owner and have established a residence in that jurisdiction. Most states have minimum insurance requirements before issuing a plate and tags.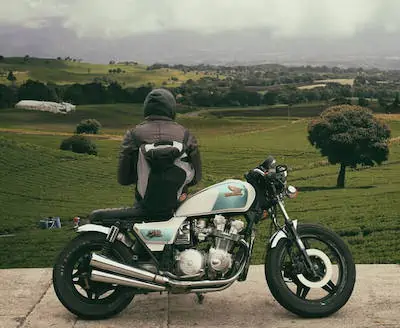 Virginia, Arizona, and New Hampshire do not require a motorcycle insurance policy. Those states will hold you responsible for damages caused if you are in an accident, so you'll need to show proof of financial responsibility before the registration proceeding.
Arizona requires you to deposit a check with the DMV or state treasury to register a motorcycle without insurance. You'll be charged an annual fine for riding without insurance in Virginia.
Do You Need Proof of Insurance to Register a Motorcycle?
If you purchase a motorcycle with a loan, you will likely need full insurance coverage for your bike. The most common limits in the United States are 25/50/25.
That means you'd have $25k of bodily injury coverage per person, $50k of total bodily injury coverage, and $25k to cover damaged property.
Some bigger states, such as California, require less than the national average. CA motorcycle owners have a 15/30/5 minimum policy to carry.
In Florida, the recommended coverage is 10/20/10, although only $10,000 in medical coverage is required. If you're in New York, it's 25/50/10.
Texas requires bikers to carry more insurance than the national average. The current minimum is 30/60/25.
These insurance coverage rules apply whether you buy the motorcycle at a dealership, online, or through a private sale.
How Long Does It Take to Get License Plates and Tags?
After registering a motorcycle successfully, you will be given a temporary tag to display. This information shows that you took steps to insure your bike or prove financial responsibility.
States like Washington require an odometer disclosure statement if the motorcycle is from model 2011 or newer.
These rules apply even if you move to a different state. You must obtain a new license and tags for where you live within 30 days in most states, including CA, TX, FL, and NY.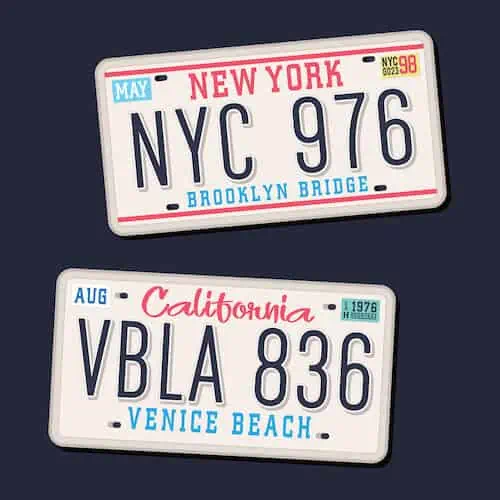 The temporary tag must remain on display until you receive your license plate and tags. You typically have 15 days from a private sale to complete this process. Most dealerships will do the work for you.
Want to get insurance without a license? Here's a good read.
Exact wait times vary by state, but receiving your motorcycle license plate and tags can take up to 30 days. If you haven't received one by then, requesting an extension of your temporary one might be necessary to stay in legal compliance.
Custom license plates can take up to 12 weeks to arrive.
Although proof of insurance isn't necessary to purchase a motorcycle, it is usually required when registering it. The policy should cover your worst-case scenario if something happens while riding your bike, whether it's the minimum or something more.
Can you register your motorcycle without having the insurance first? The requirement might vary from state to state. Here's all you need to know about it.
Use This Tool for Free and Save on Quotes!