I love the scenic routes you can explore with a motorcycle in New Hampshire. It is one of my favorite all-year destinations in the Northeast when I've got the itch to explore some open roads.
My go-to spot is the Kanc. The Kancamagus Highway might only be 34 miles long, but the forest views with the White Mountains standing tall is always a wonderful time. Sometimes, I head over to Franconia Notch State Park because of the winding road you'll find there.
Didn't You Try Our Quote Comparison Tool Yet? Save BIG by Doing it!
When I want a good challenge with my bike, I pick Mt. Washington Auto Road. It takes you to the highest peak in the region while delivering breathtaking vistas of the Presidential Range.
Before you start exploring the wonders of your state, you'll want to see what the motorcycle insurance requirements in New Hampshire are to reduce the financial risks associated with your riding activities.
Do I Need Motorcycle Insurance in New Hampshire?
New Hampshire is one of a few states in the US that does not require motorcycle riders to have insurance in all circumstances. You aren't obligated to show any proof of financial responsibility when riding if you qualify to opt out of having coverage.

Even though it is not mandatory, getting insurance for your motorcycle is highly recommended.
The state might require some riders to acquire an SR-22 motorcycle insurance policy for liability coverage. This order happens when one or more of the following situations occur.
You were involved in an accident.
The courts convicted you of driving under the influence of drugs or alcohol.
A traffic violation conviction triggered a review of your record.
You have received multiple convictions for reckless driving.
If you are a party in an accident with another uninsured or underinsured driver, you could be left with significant financial losses if you do not have insurance yourself. The state can suspend your license if you're at fault for an accident and cannot pay for the injured party's medical bills or property damage.
Minimum SR-22 Motorcycle Insurance Requirements in NH
When the state requires you to carry an SR-22 motorcycle insurance policy, it must meet these minimum standards to qualify.
$25,000 for covering the injuries or death of one person in a qualifying incident.
$50,000 of coverage for injuries or medical needs for two or more people.
$25,000 in property damage coverage.
New Hampshire also requires you to purchase $1,000 in medical payments (MedPay) coverage per accident if you choose motorcycle insurance or have an SR-22 requirement.
These requirements are often stated as 25/50/25. Your insurer will file the SR-22 certificate with the state to comply with the order. You must continue making monthly premium payments or pay the policy fully to ensure compliance.
An SR-22 motorcycle insurance policy is typically required for three years before you can revert to the previous standard.
How Affordable is New Hampshire Motorcycle Insurance?
After contacting numerous motorcycle insurance providers offering state policies, I found that the average for a full protection policy (liability, collision, and comprehensive) was $368.17.
This amount rises by 30% or more if you're ordered to have an SR-22 motorcycle insurance policy.
If you have a clean driving record and at least three years of riding experience between the ages of 35 to 59, you can typically secure a policy for under $300 per year. Young riders pay about five times that amount, while seniors above 60 can expect a quote of about $400 annually.
Harleys and Supersports tend to be the most expensive to insure in NH, with rates sometimes doubling. If you own a Ducati or a Can-An Spyder, you'll want to shop around to ensure you receive a competitive rate.
A standard motorcycle or a dual sports bike is typically the least expensive, with rates about 10% to 25% lower than the state average. A cruiser or a tourer is typically right on the quote medians.
Does Where I Live in NH Affect My Motorcycle Insurance Rates?
Your motorcycle insurance rates can vary significantly based on where you live in New Hampshire.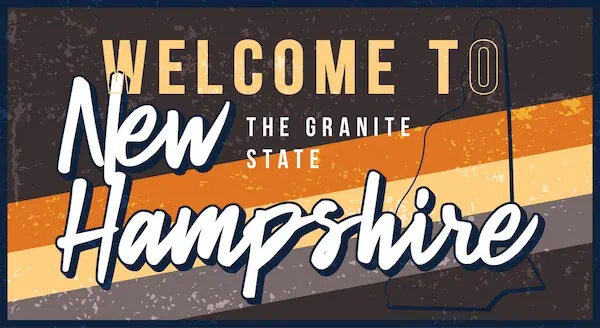 Those residing in Berlin typically receive the cheapest quotes, averaging nearly 11% less than the state's average.
If you live in Manchester, you can expect to pay nearly 30% more than the state median for annual motorcycle insurance costs.
Amherst, Bedford, Goffstown, Hudson, Merrimack, and Nashua all have rates that average 10% or more than the median insurance cost for motorcycles in NH.
If you live in Hanover, Keene, Laconia, or Lebanon, you'll typically pay approximately 10% less than average for your preferred insurance coverage.
NH Motorcycle Insurance Providers with the Best Rates
GEICO offered me the best quote for motorcycle insurance in New Hampshire with a pay-in-full policy of $176.83. Progressive provided similar coverage options, but they offered me a rate that was nearly $100 more.
Your circumstances will produce individualized quotes, so shopping around for the best rate based on your specific needs is essential. Here's a look at three common situations and what to expect for coverage costs.
| | |
| --- | --- |
| Motorcycle Insurance Provider | Annual Premium |
| GEICO | $176 |
| Progressive | $275 |
| Nationwide | $375 |
Best Overall: Nationwide
Although the quote I received from Nationwide is $100 more than Progressive's rate, they're the best option for the total value. Several discounts are available to lower your costs, and you have access to custom equipment add-ons, roadside assistance, and OEM parts coverage.
Nationwide is a mutual company, which means that it is owned by its policyholders rather than shareholders. It has an A+ rating from A.M. Best, an AA- rating from Standard & Poor's, and an A1 rating from Moody's.
Best for Seasonal Riders: GEICO
GEICO is an excellent choice for anyone who likes to ride their motorcycle in New Hampshire during the summer and fall but stores the bike in winter. Their customer service ratings are just below Nationwide's while keeping costs low.
You won't have as many add-on options with GEICO, but most riders aren't looking for features like trip interruptions with their seasonal motorcycle insurance.
This choice is also a favorite for those requiring SR-22 documentation, especially if they're also unlikely to take a bike out in the winter.
GEICO has received high ratings from various rating agencies, including an A++ rating from A.M. Best, an AA+ rating from Standard & Poor's, and an Aa1 rating from Moody's.
Best for Daily Riders: Progressive and Allstate
It's a tie between Progressive and Allstate. You'll find cheaper rates when you choose Progressive, but Allstate offers rental reimbursement coverage.
You'll pay about 30% more for your motorcycle insurance in New Hampshire if you choose Allstate.
Both insurers have a strong reputation for providing motorcyclists with the support they need when an incident occurs. You can also work with each company to have seasonal policies if you're not a year-round rider.
Allstate has an A+ rating from A.M. Best, an A+ rating from Standard & Poor's, and an A1 rating from Moody's, while Progressive has an A+, an AA, and an A2 rating, respectively.
The table below compares financial strength, customer satisfaction and complaint index for these companies, helping you make an informed decision.
| | | | |
| --- | --- | --- | --- |
| Providers | AM Best Rating | J.D. Power Index Ranking | NAIC Complaint Index |
| Nationwide | A+ | – | 1.27 |
| GEICO | A++ | 827 | 1.96 |
| Progressive | A+ | 818 | 1.40 |
| Allstate | A+ | 787 | 2.4 |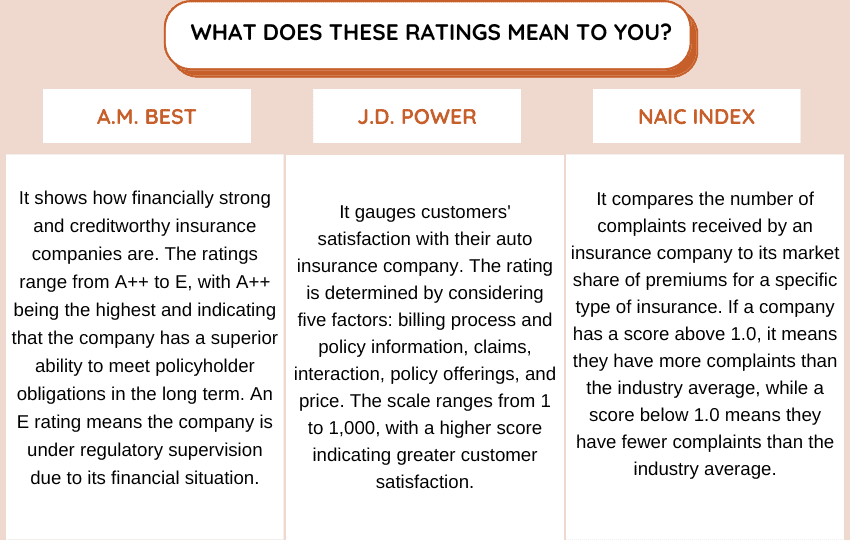 What Impacts My NH Motorcycle Insurance Rates?
The primary impact on a motorcyclist's insurance rates in New Hampshire is an SR-22 order. You can choose not to have one, which means you won't be legally permitted to operate your bike on public roads or private lands.
It is essential to note that an SR-22 is not insurance itself but a certificate proving you have insurance coverage that meets the state's minimum liability requirements.
Several additional factors can have positive or adverse outcomes on the motorcycle insurance quote you receive. Here's a closer look.
Younger and less experienced riders generally pay more due to the increased risk of accidents.
Sportbikes and high-performance motorcycles typically have higher insurance rates than cruisers or standard models.
The more you use your bike, the higher the insurance rates may be.
Deciding to go with a higher deductible can lower your overall costs, but it also means you will pay more if you are involved in an accident.
Motorcycle insurance rates are highly variable based on individualized factors. That means comparing rates by shopping around for quotes is important. Remember to ask about savings opportunities, such as safe rider discounts, that might lower your rates in New Hampshire.
FAQs
Since motorcycle insurance rules in New Hampshire can be confusing compared to other states, here are the common questions riders have when they look for an affordable policy.
Am I Required to Carry Other Insurance Options?
If you choose motorcycle insurance in NH, you must also carry guest passenger liability and UM/UIM.
Guest passenger liability insurance covers their medical bills if they have an injury due to an accident. The limits must equal the liability coverage you've selected for yourself.
UM/UIM protects you from uninsured and underinsured motorist incidents. About 12% of riders don't carry a policy or have sufficient coverage to pay for damages or medical treatments. This coverage makes it easier to manage those costs with an authorized claim.
How Is a Motorcycle Defined in New NH?
The state's laws define mopeds and scooters as vehicles with a 50cc engine or less that doesn't have more than 2 HP, reaches speeds of 30 miles per hour or less on a flat surface, and cannot shift.
Anything with two wheels exceeding those limits is considered a motorcycle. You can request an inspection if you're unsure.
Could My Registration Be Suspended After a Motorcycle Accident?
The state could suspend your registration and license if you don't carry motorcycle insurance or if your SR-22 policy is not current. Reinstatement requires proving that you have acquired the appropriate coverage for the bike and paying any reinstatement fees assigned to your profile.
Is New Hampshire an At-Fault State?
NH is an at-fault state when accidents or property damage incidents occur.
Suppose a rider doesn't have enough coverage or has opted out of carrying insurance. In that case, they can face fines, penalties, and possible jail time while being held financially responsible for any losses the other parties suffer.
Where to Get NH Motorcycle Insurance Quotes?
Easily find instant quotes with our free tool below. We match your zip code with affordable providers, allowing you to compare and get the best rate by shopping around.
Use This Tool for Free and Save on Quotes!