SR22 motorcycle insurance delivers coverage for high-risk riders who must verify that they carry appropriate minimums with their state.
This certificate is not a particular insurance type. It informs the state that the motorcycle rider has proven their financial responsibility.
Did You Try Out Our Quote Comparison Tool? Save BIG!
The reasons why an SR22 certificate could be necessary are numerous. Still, they typically involve driving without a license or insurance, DUI, or a violation that leads to suspended or revoked driving privileges.
When Do I Know If I Need Motorcycle Insurance with SR22?
In states where the SR22 certificate is necessary, the documentation must have registration or license reinstated after revocation or suspension.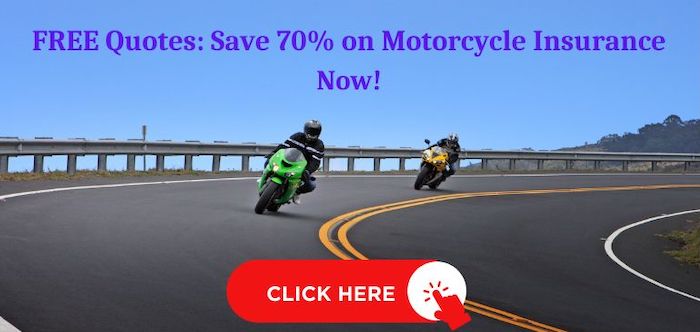 Insurance companies file this form on the rider's behalf. The policyholder is then required to keep the policy current until the requirement for an SR22 certificate expires.
The SR-22 form is required by a state's Department of Motor Vehicles or a judge in a traffic court. Riders receive notification that this certificate is necessary.
Depending on the state, the details about SR-22 requirements are mailed as a letter or provided by the judge overseeing a rider's case.
Most jurisdictions require the SR-22 certificate to be on file for three years to certify enough insurance is available.
If you're in Florida or Virginia, head here for more information regarding the FR44 certificate.
Does an SR22 Make Insurance Go Up?
Two types of costs occur when SR22 motorcycle insurance is necessary. There is the filing fee to pay for the certificate and the increase that happens for a rider's policy.
The filing fee varies by state. The cost is typically about $25 to have the insurance company file the SR22 certificate in California. Drivers must also pay any outstanding fees or fines to restore driving privileges, adding up to $300 or more.
What Is the Cheapest SR22 Insurance Available Today?
When riders need an SR22 for motorcycle coverage, they must review local and national insurance providers to find the best rate.
Receiving an insurance quote is typically a no-obligation process. It does not impact a rider's credit score.
During the information gathering process, you might see a box that asks if you need an SR22 certificate. Check this box or make the required mark to ensure your quote is accurate.
When comparing the cheapest SR22 insurance options available today, GEICO offers the best average price, at just $556 per year. Progressive charges $669 annually, while 21st Century is nearly $900.
These rates are based on multiple factors, including the motorcycle driven and the nature of the certificate requirement. Your overall driving history could be included as part of the process.
That's why it is crucial to request quotes instead of trying to budget for SR-22 insurance based on rough estimates.
Motorcycle Insurance with DUI Rates
There's no way to get around the fact that a DUI conviction will raise a rider's motorcycle insurance rates and require an SR22 certificate.
The quote you receive depends on whether you drive a motorcycle, moped, or scooter. If you insure another vehicle in addition to a motorized bike, you'll see less of an overall increase per vehicle than if you insure a motorcycle alone.
Some providers charge as little as $90 per year for sport cruiser bikes with a DUI. Others can see their policies double in cost.
What is SR22 Motorcycle Insurance in California?
Some insurance companies do not file SR-22 certificates. If you need this documentation, it helps to ask in advance during the quote process.
Riders with an insurance company that won't provide this service must switch to one that will offer it. After the violation, some providers might choose to cancel coverage or decide not to renew it.
California riders can turn to the California Automobile Assigned Risk Plan for assistance if no one provides insurance.
Higher premiums are common after an SR-22 certificate requirement. The average increase is about $123 per month, but some insurers might offer cheaper rates. That's why shopping around for insurance and comparing policies is essential.
California might require a reissue fee of $125 if you were convicted of a DUI.
What is SR22 Motorcycle Insurance in Florida?
Florida no longer permits SR-22 insurance for motorcycle policies. That means riders must obtain appropriate coverage as indicated by a court proceeding or official notification.
The average insurance policy to cover motorcyclists in this situation is about $3,500 per year in Florida in 2022.
Some riders might be asked to increase the minimums over the 10/20/10 requirements that the previous SR22 insurance required. This issue typically applies to those convicted of DUI, and the liability coverage must be at least 100/300/50.
Florida's motorcycle insurance requirement differs from other states; here is what you should know.
How to Get SR22 Insurance at a Cheap Rate?
When an SR22 order requires financial responsibility certification, the issue is something that all riders should take seriously. It is not usually legal to operate any vehicle on roads, streets, or highways until appropriate coverage is obtained.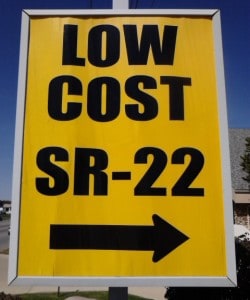 Some riders might receive a restricted license because of a conviction or violation. This issue typically applies to DUI incidents and allows you to drive to and from work, school, or classes.
Your location, age, and previous driving record play the most prominent roles in determining your eventual insurance rate. The average annual cost of SR22 insurance in Alaska is about $1,200 less than the median in California.
If price is a significant concern, especially for those who only insure a motorcycle, the best option might be to seek a non-owner policy.
Since you're not insuring an actual vehicle, the rate is typically less than what a standard policy charges.
How Long Does an SR22 Certificate Stay on My Record?
It depends on where you live and the penalty that led to the SR22 to determine how long the certificate stays on your record. Each state has different requirements, policies, and laws.
In California, the requirement typically lasts for three years.
The certificate must remain paid and up to date for three years for those who live in Florida. If the policy lapses, it will become invalid and potentially reset the clock.
The best way to avoid an SR22 requirement is to drive responsibly. Knowing how to find the best rate and stay compliant can help prevent long-term cost increases when you need this insurance.
This Tool is FREE to Use!