Some bikers might wonder how long a DUI stays on their record when shopping for motorcycle insurance.
Although the question is straightforward, the answer is complex. It varies based on where you live, the insurance company chosen, and other variables. Even your past driving record can play a role in the eventual quote you receive.
Didn't You Try Our Quote Comparison Tool Yet? Save BIG by Doing it!
Even though a DUI is a significant blemish on a person's driving record, it is possible to maintain your driving privileges and get the insurance you need.
What Is a DUI Offense?
DUI is an acronym that means "driving under the influence." It typically refers to being impaired by drugs or alcohol while operating a motor vehicle.
Some states, such as Oregon, have included the use of electronic devices while driving in their DUI criminal codes. Here's what is happening in the other states regarding installing IIDs.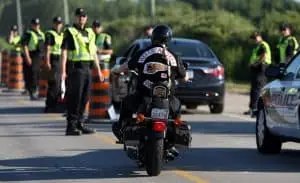 A DUI is considered a criminal offense because driving while drunk or under the influence of drugs creates a higher risk of accidents. Drunk drivers have hit trees, signs, pedestrians, buildings, other vehicles, livestock, and more.
Drivers convicted of a DUI offense face severe financial and legal consequences.
Some states call a DUI offense a "DWI," an "OUI," or an "OVI." There are even differences in DUI vs. DWI convictions if both statutes are on the books.
When Will a DUI Come Off My Record?
If you were convicted of a DUI offense, you might want to know when it will no longer be on your record. Since drivers typically need an SR-22 with this issue, the cost of insuring a motorcycle or any other vehicle rises significantly.
Having a DUI can also impact employment opportunities and other issues where having a clean criminal record is important.
The timeframe for a DUI removal is highly variable in the United States. In California, it stays on the driving record for ten years, and the driver's license is assessed two points that remain for 13 years.
In Texas, a DUI conviction causes it to remain on the driving record for life. It also requires you to pay a $1,000 surcharge payment for three years.
Florida riders and drivers with a DUI conviction see it stay on their driving record for 75 years. After a first-time offense, the state requires you to perform 50 hours of community service. There is also the possibility of a lengthy license suspension.
After five years, states like Alabama and Arkansas take a DUI off a driving record. Louisiana and Massachusetts are some of the states that let it stay there for ten years.
Most states have a mandatory three-month driver's license suspension or revocation. Depending on the offense, it could be a year or more.
Since each state changes its driving laws regularly, it is best to verify the current standards when looking at specific statutes. If you need SR-22 documentation because of a DUI, it helps to see if this option is available with your preferred carrier. You may not get your license back after a conviction unless you show proof of coverage.
Use This Tool for Free and Save on Quotes!