There are many ways that you can get your driver's license suspended. Your local Department of Motor Vehicles (DMV) is the usual source. Still, it can also be suspended by the Department of Revenue (DOR), Motor Vehicle Division (MVD), or the Secretary of State (SOS), depending on the circumstances.
Generally speaking, there are several ways to get your motorcycle driving license suspended, which include, but are not limited to, the following;
Did You Try Our Quote Comparison Tool? Save BIG by Doing it!
Too Many Speeding Tickets
Obtaining a DUI or DWI Charge and/or Conviction
According to statistics, teenage motorcycle riders, especially those who are 18 or 19 years old, are involved in a higher number of accidents and, thus, license suspension.
These are the most common ways to suspend your driver's license. However, there are indirect ways, including failing to appear in court, paying fees, and even paying child support. All of these actions may get your license suspended.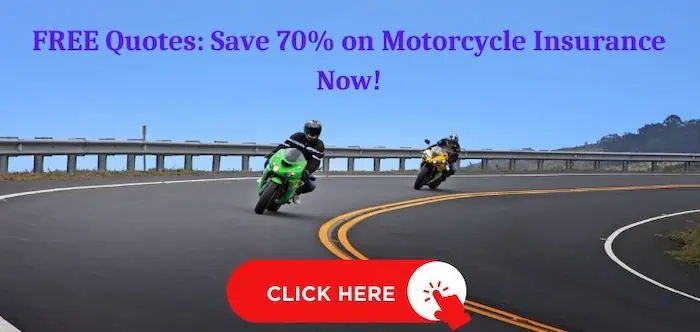 Since the consequences of being caught driving with a suspended license are severe, the effort should be directed at getting your license reinstated and finding other means of transportation.
You may be able to get a hardship license that allows you to use a bike to go to and from work or school. This will depend on the circumstances of your suspension, but a hardship license will at least let you travel to school to continue your studies or work.
How to Reinstate Your Suspended Driver's License?
The reinstatement process will depend in part on how your license was suspended in the first place. For most, each state has rules, regulations, and fees for reinstating suspended licenses. However, they all follow the same general guidelines.
No Driving While License is Suspended
Participate in Traffic School or Defensive Driving Course if Required
Obtain SR-22 Form from Insurance Company if Required
Pay all Court or Child Support Fees if Required
Pay Reinstatement Fee
If you drive while your license is suspended, you risk having the suspension extended. Enrolling and completing a defensive driving course will be mandatory for suspensions due to excessive traffic violations or speeding tickets. If the suspension was due to a DWI or DUI, then an SR-22 form will be needed. Suspensions due to failure to pay fees or fines must be taken care of before you can reinstate your driver's license.
License Reinstatement Fees
The reinstatement fee is a nominal one that ranges from $50 to $500 or more, depending on the circumstances. In Oklahoma, for example, it is $350 to reinstate your suspended driver's license if you have violated insurance laws. In Texas, it is a $125 fee for most types of reinstatement, while New York has a minimal $50 fee for suspended licenses under a definitive time frame.
Your state will have guidelines for you to follow to reinstate your driver's license. Be sure to check out what your state offers and follow the instructions so that you can get your driver's license back.
Use This Tool for Free and Save on Quotes!