Founded in 1984 by Frank and Louise Hagerty, their company started in a relatively niche way. The couple loved boats, but they needed help finding someone to provide an adequate policy for their wooden vessel.
Over the years, the company expanded its portfolio to include classic cars and, eventually, motorcycles, among other collectible vehicles. Their focus has always been on unique, classic, and collector items that don't fit into the traditional insurance model.
Didn't You Try Our Quote Comparison Tool Yet? Save BIG by Doing it!
You'll find several services available to use when seeking a policy, from insurance to valuation tools for your rare bike. That makes Hagerty a go-to name for custom, antique, and classic rides.
What Motorcycles Are Exclusively Covered by Hagerty?
Hagerty generally focuses on vintage and collector motorcycles instead of something you ride to work each day. If you've got an antique Harley or a classic British bike, you're more likely to get coverage from this insurer.
The world of classic bikes is like a treasure trove for motorcycle enthusiasts. Each has its own story and vibe, which is why a specialty insurer like Hagerty makes sense.

Here are some of the additional timeless classics that could be beneficial to insure through this provider.
Triumph Bonneville
Ducati 900SS
Indian Chief
BMW R-Series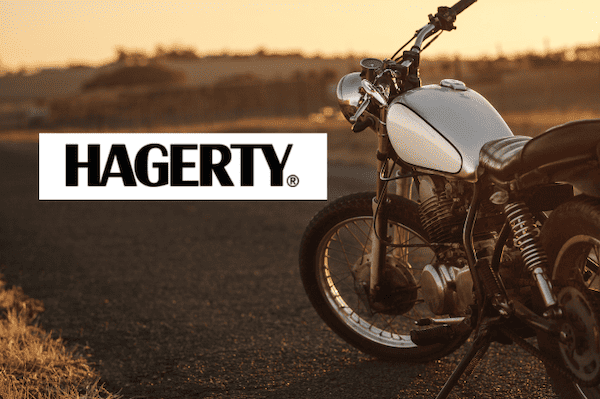 Pros and Cons of Hagerty Motorcycle Insurance
Finding specialized insurance for a unique motorcycle can be challenging. If you've invested in something collectible, it is essential to review the pros and cons of Hagerty before proceeding to the underwriting step.
| | |
| --- | --- |
| Benefits | Disadvantages |
| The Hagerty team includes specialists and enthusiasts who understand classic bikes. You'll be working with a knowledgeable crew. | Not all motorcycles qualify for Hagerty insurance policies. It needs to be a certain age or be within a specific classification. |
| Some policies offer extra coverage for spare parts, emergency service, and even auto show medical reimbursement. | Specialized insurance might come with a higher price tag compared to standard policies, although this can vary. |
| Many policies allow occasional leisure rides, not just from shows or exhibitions. That's nice for when you want to take that classic bike for a spin. | The coverage options are designed for limited daily use. Anyone wishing to ride their classic or antique as a commuter bike should look for better opportunities. |
| Most policies from this insurer offer agreed value coverage, meaning if your bike is totaled, you'll get the full insured amount without depreciation. | There are certain situations where coverage won't apply, such as racing or using the bike for commercial purposes. |
| The focus is on collectible, classic, and antique makes and models. In return, you work with an agency that understands the nuances of ownership in this category. | Hagerty operates in specific markets and regions, so some coverage choices could be unavailable in your area. |
Hagerty Motorcycle Insurance Ratings
Customer Service: 5/5. Hagerty is thorough when working through a problem with you or designing a policy.
Online Tools and Resources: 5/5. This insurer gives you complete access to everything you need from any device.
Claims Process: 4/5. It takes more time to complete a claim because of the verification steps included in the process. The steps you follow are similar to agencies like Progressive or GEICO but with added details required because of the nature of your customizations or OEM requirements.
Coverage Options: 5/5. With this specialty provider for qualifying motorcycles, you can design a policy to protect almost anything. It takes a little more time to develop the protection profile, but it is an effort worth making.
Financial Stability: 3.75/5. Hagerty is essentially a high-risk insurer. They have a lower A.M. Best rating than most (A-), but they've also worked hard to raise it in recent years.
Additional Features: 5/5. You can design a motorcycle insurance policy to provide almost any coverage option with a qualifying make and model.
Underwriting Process: 4/5. Completing this work takes longer since you're creating a unique policy. The upside of this time investment is that you can structure your protection to be precisely what you need.
Pricing: 3.5/5. Specialized motorcycle insurance is expensive because it is based on the agreed-upon value of what you own. There aren't other solutions to consider.
Reputation: 5/5. Hagerty is often considered the best insurer for specialty needs. Someone trying to insure a commuter bike might think differently, but this agency isn't designed to deliver that support. It's all about the personal perspective.
FAQs About Hagerty Motorcycle Insurance
If you have a unique motorcycle to insure, Hagerty can create the protection structures needed to provide more peace of mind. Here's a closer look at the questions that can arise.
Does Hagerty Offer Monthly Motorcycle Premiums?
You can access several payment plans when choosing this insurer for your coverage needs. The structure differs based on your policy, the specific bike, and other factors. Check directly with one of their representatives if you need clarification on what choices are available for you.
Does Hagerty Provide Motorcycle Insurance in Canada and the UK?
Hagerty offers specialized insurance for classic and collector motorcycles in Canada and the United Kingdom. The company has a presence in multiple countries and tailors its policies to suit each region's specific regulations and needs. You can find several options, including agreed value and spare parts protection.
Does Hagerty Have Roadside Assistance and Trailer Coverage?
Hagerty offers roadside assistance as part of their insurance packages for classic and collector vehicles, including motorcycles. It includes flatbed towing, emergency fuel delivery, and lockout service. Trailer coverage is another available add-on for those transporting bikes to different shows or events.
Does Hagerty Provide Motorcycle Insurance in All States Across the United States?
Yes, Hagerty offers motorcycle coverage in all 50 US states.
Is It Worth Working with Hagerty Motorcycle Insurance?
I found plenty of value when working with Hagerty because they emphasize protecting classics and collector bikes. Since you're agreeing to the value of everything during the underwriting process, the claims process tends to be simplified.
I recommend Hagerty to anyone with similar needs.
Specialty insurance can sometimes be more expensive than standard policies, so you'll want to compare prices and features. If you use your motorcycle for daily commuting, Hagerty might not be the best fit, as their policies often have usage restrictions.
The easiest way to see if the price and value are right for you is to request a free quote.
Use This Tool for Free and Save on Quotes!