I love New York because the state offers incredible scenic routes and destinations perfect for motorcycle road trips.
One of my favorite options is the Olympic Trail. When you follow Route 3, you'll receive stunning views of lakes, mountains, and forests as you meander through the Adirondacks. Some beautiful small towns are out there to explore.
Didn't You Try Our Quote Comparison Tool Yet? Save BIG by Doing it!
You can never go wrong with the Finger Lakes region. Route 14 is gorgeous, especially when you start getting views of Seneca Lake.
Route 104 offers a scenic ride from Rochester to Niagara Falls, while Route 9W is a fun trip that offers river views and passes through small towns along the St. Lawrence River.
Before you start a road trip in New York or take your motorcycle to New York City, you'll want to ensure your insurance policy covers your activities.

Is Motorcycle Insurance Mandatory in New York State?
Motorcycle insurance is mandatory in New York. The state requires all bikes to be covered by liability insurance, which provides financial protection in case of an accident or injury.
New York also requires personal injury protection (PIP) and uninsured motorist coverage for your motorcycle.
What Are New York's Motorcycle Insurance Requirements?
The state's regulations require all motorcyclists to carry a 25/50/10 liability policy. You'll need the following options to ensure your insurance meets New York's expectations.
$25,000 in bodily injury (BI) for a single person during an incident.
$50,000 in BI per accident with more than one person.
$10,000 to cover property damage.
These are the minimum coverage amounts mandated by the state, but it's worth considering higher coverage limits to provide complete protection.
Additionally, motorcycle owners may also choose to purchase additional types of coverage, such as comprehensive and collision coverage, to protect against theft, damage, and other non-accident-related incidents.
How Much Is Motorcycle Insurance in NY?
New Yorkers pay an average of $705.09 for their motorcycle insurance each year. That rate reflects higher costs in NYC and significantly lower costs in Plattsburgh and similar communities.
Teens typically pay the highest rate in the state, averaging over $1,700 annually. If you're under 20 and living in NYC, that cost could be more than $4,000 per year for some riders.
Most riders see their rates drop significantly after age 25, especially with a clean driving record and at least three years of riding experience.
GEICO delivered the cheapest rate during my research, offering a policy for only $488. Nationwide gave another reasonable quote at $530.
Progressive was the only other company that offered a policy for under $650, at $621 annually.
Best Motorcycle Insurance Companies in New York
You have some great options to consider for motorcycle insurance in New York. Here are my top picks based on my exclusive research.
| | |
| --- | --- |
| Motorcycle Insurance Provider | Annual Premium |
| GEICO | $488 |
| Nationwide | $530 |
| Progressive | $621 |
Best Overall Provider: Nationwide
I like Nationwide for most motorcyclists in New York. The rates are competitive, the customer service ratings are consistently high, and you have some excellent coverage choices to review.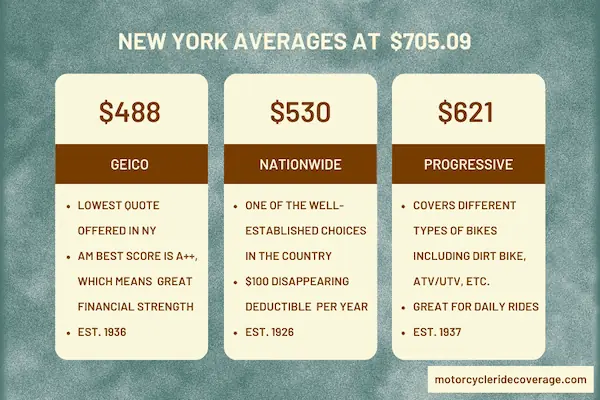 I'm a big fan of the disappearing deductible for collision and comprehensive policies. Each year you go without a claim, your deductible reduces by $100.
You'll have access to home, life, and auto policies for bundling discounts. They have an A+ rating from A.M. Best.
Best for Saving Money: GEICO
You must request a quote from GEICO if your goal is to save money. With the lowest rates in the state for me, I had access to several discounts that got me to a fantastic price. Although others might pay more, you have lots of flexibility to customize your policy.
The average motorcyclist pays about $750 less for NYC residents than the city average for insurance. That puts you around $1,200 per year.
Best for Daily Riding: Progressive
I like Progressive for those that use a motorcycle for daily commuting. You have automatic coverage for add-ons and accessories with an option to purchase up to $30k in coverage. Although the rates are slightly higher, the company's A.M. Best rating equals Nationwide.
Progressive also includes full replacement cost coverage for some motorcycles. You'll want to ask about this option when requesting a quote.
Let's examine the financial strength, customer satisfaction, and complaint index of these companies.
| | | | |
| --- | --- | --- | --- |
| Providers | AM Best Rating | J.D. Power Index Ranking | NAIC Complaint Index |
| Nationwide | A+ | – | 1.05 |
| GEICO | A++ | 829 | 1.97 |
| Progressive | A+ | 811 | 1.41 |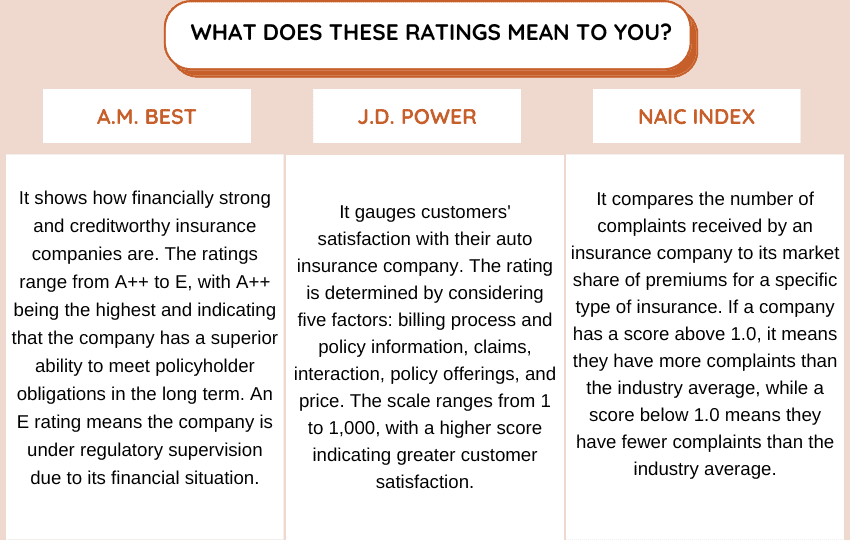 What Type of Motorcycle Insurance Should I Have in NY?
All motorcyclists must carry liability insurance to operate their bikes on public roads. This coverage includes bodily injury and property damage (PD).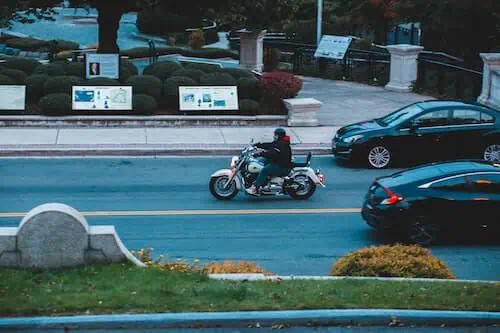 BI covers medical expenses, pain and suffering, and lost wages of the other party involved in an accident. With PD coverage, the policy takes care of damage to someone else's property, such as another vehicle or any public property.
New York requires PIP insurance. It is a no-fault state, although motorcycles are typically exempt from that classification. Carrying this policy helps you and your passengers pay for medical expenses, lost wages, and other related costs.
Uninsured and underinsured motorist coverage protects you if you're involved in an accident with a motorist who doesn't have insurance or doesn't have enough coverage to pay for damages and injuries. It's often built into your quote.
Optional insurance options for motorcycles in NY include collision and comprehensive coverage. They're typically required for operators who obtain financing to purchase their bikes.
Comprehensive coverage helps cover damage to your motorcycle caused by incidents other than collisions, such as theft, vandalism, fire, or severe weather. With a collision policy, you'll receive assistance for repairing or replacing your bike if it is damaged in an accident, regardless of who caused it.
City Comparisons for Motorcycle Insurance in New York State
New York City's five boroughs have the highest motorcycle insurance rates in the state. With a median cost of nearly $2,100 per year, it is also one of the most expensive urban areas in the United States to own a bike.
Plattsburgh is significantly cheaper than NYC. With an average quote of $527, you'll save about 25% over the state average while reducing costs by $1,500 or more per year compared to NYC residents.
You'll also find great rates in Utica, Watertown, Rome, Oneida, Norwich, Mayville, Amsterdam, and Cooperstown.
The average motorcycle insurance cost is $661 annually in the Albany, Schenectady, and Troy regions. That's still under the state average but higher than Plattsburgh.
Buffalo and Rochester residents pay over $750 yearly, while those in Syracuse receive quotes comparable to those issued in the Albany metro area.
How to Save Money on Motorcycle Insurance in NY?
If you live in New York City, you know how high your motorcycle insurance rates are yearly. You're paying more than the average American for a standard vehicle!
That's why knowing how to save money on your motorcycle insurance in the state is essential. These tips can help you significantly reduce those monthly or annual premiums.
Shop Around
Obtain quotes from multiple providers to find the best rates. Insurance premiums can vary significantly, so take the time to compare policies and coverage options.
Have a Good Driving Record
A clean driving record demonstrates responsible and safe riding habits. Avoid accidents, traffic violations, and claims to maintain lower insurance rates. Incidents that happen in a car or truck will impact your motorcycle coverage pricing.
Take a Safety Course
Completing a recognized motorcycle safety course often qualifies you for insurance discounts. These classes enhance your riding skills and show insurers that you are a safer rider.
Bundle Your Policies
Consider bundling your motorcycle insurance with other policies, such as auto or homeowner's, from the same provider. Insurers often offer multi-policy discounts, which can lead to significant savings.
Most people save between 7% to 25% on their overall insurance needs when taking this approach to managing their policies.
Ask About Discounts
Talk to each insurer when requesting quotes about discount availability specific to motorcycles. Some companies offer savings opportunities for anti-theft devices, being a member of particular associations, or having more than three years of riding experience.
Consider Your Bike
Insurance premiums can vary depending on the type of motorcycle you ride. Generally, sport and high-performance bikes tend to have higher insurance rates due to their increased risk factors. Opting for a less expensive or less powerful model may help reduce your premiums.
Evaluate Your Coverage
Regularly review your coverage needs and adjust your policy accordingly. If you have an older motorcycle, you may choose to drop collision or comprehensive coverage to save on premiums.
FAQ for Motorcycle Insurance in New York
If you're pursuing a quote for motorcycle insurance in New York State, you might encounter a few questions during the request process. Here are the answers to help you proceed and receive an accurate estimate.
Can I Get Motorcycle Insurance Without a License in NY?
From a technical stance, you aren't required to have a motorcycle license to purchase coverage for your bike. However, most insurance companies require a valid license before approving your application to receive a policy quote.
Some specialty insurers might offer a policy if you have an insurable interest in a motorcycle. You might be restricted from operating the bike in that circumstance.
Who Has the Lowest Motorcycle Insurance Rates in NY?
When I requested quotes from motorcycle insurers in New York State, I received the lowest rate from GEICO at $488. Nationwide gave me a competitive policy offer at $530.
If you're a young rider or still in your teens, your rates could be three times higher than that. Since quotes are highly individualized, it helps to request multiple rates from different companies to ensure you're getting the best price.
Are Motorcycle Accidents No-Fault in NY?
The no-fault system in New York typically refers to how car accidents are handled, where each party involved in an accident turns to their own insurance company for coverage of medical expenses and other losses, regardless of who is at fault.
However, motorcycles are generally exempt from New York's no-fault law under Section 5102. If the fault is determined, the individual responsible must pay for injuries and damages caused.
How Much Is Liability Insurance on a Motorcycle in NYC?
The average rider can expect to pay three times as much for their motorcycle insurance in New York City compared with the rest of the state. Motorcyclists spend an average of $2,096 in the five boroughs, compared to the $705.09 average rate when all communities are considered.
Cities like Ithaca ($503) or Corning ($527) provide substantial savings compared to the motorcycle insurance rates found in NYC.
Which Company Is the Best Motorcycle Insurance Provider in New York?
For most riders, GEICO is an excellent choice. You'll have rates about 35% under the state average for adult riders with a clean driving record.
Several insurance products are available with bundling discounts and other savings opportunities.
Note that the best insurance company for your needs can be highly variable. I recommend requesting quotes from at least three providers to ensure you receive a competitive rate with the necessary coverages.
Can I Keep My Motorcycle Plates After Canceling My Insurance in NY?
In New York, keeping motorcycle plates is generally not allowed if you permanently cancel your insurance. The state requires all registered vehicles, including motorcycles, to maintain continuous liability insurance coverage.
Should you cancel your insurance without obtaining alternative coverage, you are expected to surrender your plates to the Department of Motor Vehicles.
Failure to surrender your plates after canceling your insurance can lead to penalties and potential legal consequences. You might be fined, have your registration suspended, or have other actions taken.
You don't have to give up the plate if you take a planned pause with your insurance. Those with seasonal coverage often fall into this category.
How to Obtain Motorcycle Insurance Quotes in New York?
Whether you reside in the city or the suburbs, our services are available to you. Receive numerous free quotes from us today. Compare them and select the most affordable option at your convenience.
Use This Tool for Free and Save on Quotes!