I had the privilege of living in Iowa for a few years when I was younger. After working a few odd jobs here and there, I saved enough to get a little house on a dead-end street that made it easy to ride my bike out of town on some adventures.
For one summer, I made it my mission to visit as many state parks as possible. I found myself at a lake one day, parked under a giant willow tree, enjoying a sandwich in absolute quiet. It was one of the most peaceful moments of my life.
Didn't You Try Our Quote Comparison Tool Yet? Save BIG by Doing it!
Several other trips are worth making with your motorcycle if you're in Iowa. The Driftless Area is a personal favorite, taking you through charming river towns like Decorah, Lansing, and McGregor, where you can visit parks, nature reserves, and the Effigy Mounds National Monument. You can head north into Minnesota and visit Amish country with a half-hour investment.
You can also take the state's historic Highway 20 to visit the Amana Colonies, Dyersville, and Waterloo.
Iowa is known for its picturesque, covered bridges. Explore the countryside and visit various covered bridges, such as the Roseman Covered Bridge near Winterset and the Cedar Covered Bridge in Madison County.

During those travels, it is essential to have affordable motorcycle insurance available to cover your activities.
Is Motorcycle Insurance Required in Iowa?
Iowa requires all motorcyclists to have a liability policy if they plan to operate their bikes on public roads. This coverage satisfies the state's requirement to show proof of financial responsibility after an accident.
The proof of responsibility doesn't have to be a standard motorcycle insurance policy. You can choose to file a surety bond with the state or select other options.
Recovery is based on provable negligence since Iowa is an at-fault state. If you're found to be responsible for an accident or collision, you or your insurance company are responsible for paying damages to the others involved.
Motorcycle insurance is the most affordable way to satisfy these requirements.
What Are the Liability Minimums in Iowa?
Iowa currently requires all motorcyclists (and all drivers) to carry these minimum liability amounts through insurance or by securing it through other means.
$20,000 for bodily injury to one person in an accident.
$40,000 for injuries or fatalities to multiple people in a single incident.
$15,000 for property damage that occurs.
When speaking with a motorcycle insurance company in IA, these terms are often expressed as 20/40/15. If you want the minimum amount, request those figures during the quote.
How Much is Motorcycle Insurance in Iowa?
Iowa offers one of the cheapest annual rates for motorcycle insurance in the United States. The average rider pays only $410.72 annually for the protection they need.
The rates are remarkably consistent when looking at the different age groups in the state. Young riders and teens pay less than $700 annually, while those in their 30s and 40s pay about half that rate.
Where to Find the Cheapest Rates in Iowa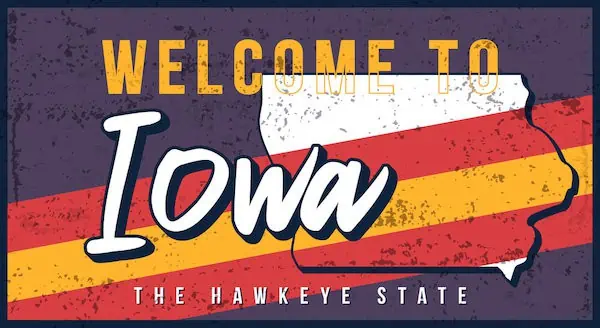 When you live in Iowa's biggest metropolitan centers, including Des Moines, Cedar Rapids, Iowa City, and Waterloo, you can expect to receive motorcycle insurance quotes approximately 20% higher than the rest of the state.
Even when living in the bedroom communities around these areas, you'll pay about 10% more in places like Ames.
The smaller cities, such as Bettendorf, Dubuque, and Davenport, also see higher rates at that level.
If you want to save money, consider living in one of Iowa's charming rural towns. You can save nearly 20% living in Carrol, Oskaloosa, or Pella.
Great rates are also available in Storm Lake and Spencer.
What Companies Provide the Best Rates in Iowa?
Progressive offered me the best rate in Iowa when requesting a quote, delivering an annual policy with all the protection needed at just $311. Nationwide provided similar coverage for just a little more, at $322.
GEICO was slightly more expensive at $358 but still below the median cost.
| | |
| --- | --- |
| Motorcycle Insurance Provider | Annual Premium |
| Progressive | $311 |
| Nationwide | $322 |
| GEICO | $358 |
Best Overall Provider in Iowa: Progressive
I have to go with Progressive as Iowa's best motorcycle insurance option. Not only are they less expensive than anyone else, but you also have several opportunities to save with their various discounts.
Several coverage options are available, including custom parts and accessories. If you love to take trips with your bike, consider extra interruption coverage to protect your investment. Here is a comprehensive review of Progressive.
Best Option for Daily Riders: Allstate
If you ride your motorcycle daily, I recommend working with Allstate in Iowa. You have access to local agents familiar with your community and its unique challenges, ensuring a fair quote is offered.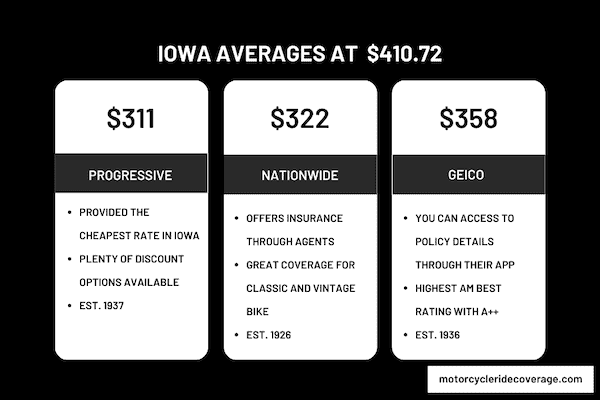 This agency has a tradition of excellent customer service in the state while offering rental options if something happens to your motorcycle. The savings can be significant if you have opportunities to bundle home or auto insurance with your bike.
Best Choice for Rural Owners: GEICO
I like GEICO for those living in rural communities. This company is the only one of the foremost providers earning an A++ A.M. Best rating, which means their financial strength for paying a claim is excellent.
With GEICO, you can easily access your policy through an online dashboard. You can also file claims by speaking to a representative over the phone or through your mobile device.
Let's dig deep and find out the financial strength, customer satisfaction, and complaint index rating of the companies listed above for Iowa.
| | | | |
| --- | --- | --- | --- |
| Providers | AM Best Rating | J.D. Power Index Ranking | NAIC Complaint Index |
| Progressive | A+ | 820 | 1.41 |
| Allstate | A+ | 816 | 2.42 |
| GEICO | A+ | 847 | 1.21 |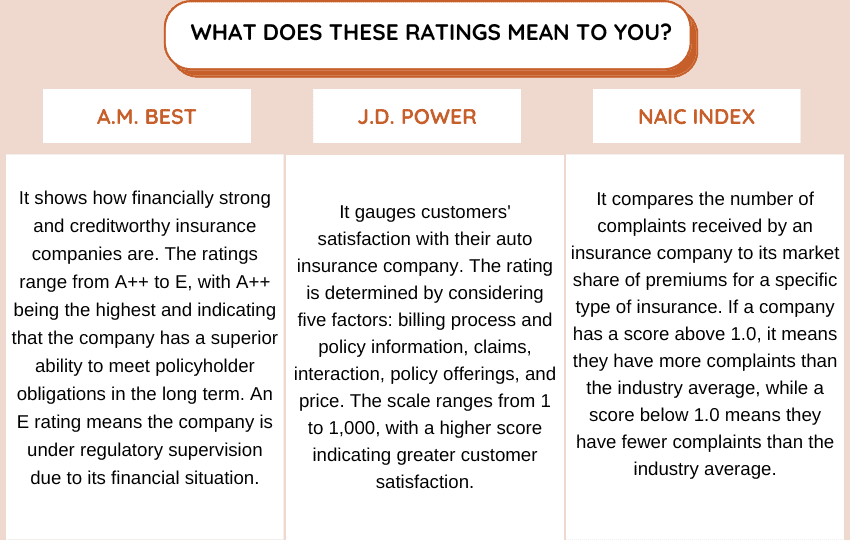 How to Manage Your Motorcycle Insurance Costs in Iowa?
Managing your motorcycle insurance costs in Iowa requires understanding the factors that affect premiums. These tips can help you manage this expense wisely while getting the coverage needed for your riding activities.
Use Discounts to Your Advantage. Ask about the availability of discounts with your insurance provider. Common discounts may include multi-policy discounts (bundling your motorcycle insurance with other policies), multi-vehicle discounts, safety course discounts, and good student discounts (if applicable).
Have a Good Driving Record. Having no accidents or traffic violations on your record demonstrates responsible behavior on the road. Insurance companies often reward good drivers with lower premiums, so they practice safe riding habits and obey traffic laws.
Get the Right Coverage. Liability insurance might be mandatory, but do you need collision and comprehensive coverage for your motorcycle? Would it be helpful to have uninsured/underinsured motorist protection? It helps to evaluate your needs before starting the quote process to ensure you're not overpaying for items you don't need.
It also helps to review your motorcycle insurance policy regularly. You can have adequate protection by ensuring it aligns with your circumstances and needs.
You may find opportunities to adjust coverage levels or take advantage of new discounts as you accumulate more riding experience or change to a different bike.
FAQ About Iowa Motorcycle Insurance
Are you interested in obtaining a motorcycle insurance policy while living or riding through Iowa? If so, these frequently asked questions often arise during the quote process. Here's a closer look at the answers you may need to get the protection you want.
Is It Illegal to Drive Without Insurance in Iowa?
It is against the law to drive without having liability insurance in Iowa. The state requires all motor vehicle owners to have liability insurance coverage for their vehicles, including cars, trucks, and motorcycles.
Suppose you are caught driving without insurance or fail to provide proof of insurance when requested by law enforcement. In that case, you may face penalties, including fines, license suspension, and other potential legal consequences.
Do You Need Moped Insurance in IA?
The state requires owners to have insurance for a moped. Iowa classifies mopeds as motor vehicles, which means the liability coverage minimums apply.
Does Iowa Have a Motorcycle Helmet Law?
In Iowa, motorcycle riders and passengers 18 years or older are not required to wear helmets if they meet certain conditions, including holding a license or endorsement for at least one year and completing a safety course approved by the state's Department of Transportation.
If you aren't wearing a helmet and are in an accident, part of the liability could be assigned to you for not having this safety equipment.
How to Get Motorcycle Insurance Quotes in Iowa and Save Money?
To save money, it's best to get multiple quotes and compare them. You only know which provider offers the most affordable rate once you shop around, so make sure to use your credentials to get accurate quotes.
Use This Tool for Free and Save on Quotes!