Do you own more than one motorcycle? If so, most insurance companies allow you to have them all on one policy with multi-bike coverage.
By insuring all your motorcycles on one policy instead of separate ones, the logistics of bike ownership become easier to manage. You'll have one renewal, one number to contact for claims, and one agency to help protect your resources if unforeseen or unthinkable circumstances occur.
Did You Try Our Quote Comparison Tool? Save BIG by Doing it!
When you insure all your bikes on one policy, you can save money compared to insuring each one individually.
How Does Multi-Motorcycle Insurance Work?
Each insurance provider has different internal rules or expectations to follow, but many allow multiple bikes to be added to a single motorcycle policy. The goal is to simplify the research, quote generation, and renewal processes.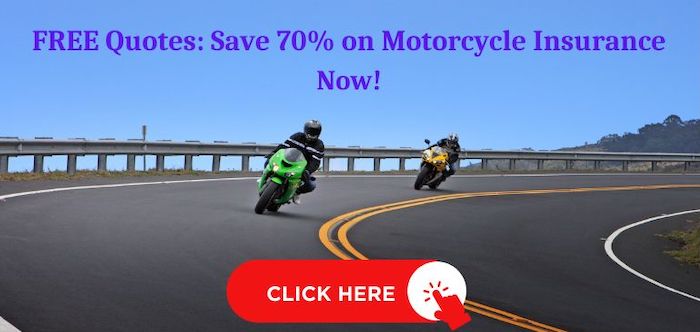 The insurance process is the same whether you want to insure a single motorcycle or need a multi-bike policy.
Fill out the online request form with the requested information, including the motorcycle VIN(s), current policy information, driver's license numbers, and estimated mileage.
Be honest about your driving history. Include citations or violations from the past three years or whatever time is requested.
Review the quote details, then print the estimates or keep them on a secure tab in your browser.
Request motorcycle insurance quotes from at least three providers to ensure you receive the best deal possible.
After you decide on the motorcycle company you prefer, refining the quote more to meet specific needs is possible. You can review the various discounts and perks that maximize your savings and coverage.
Can You Add More Motorcycles to the Same Policy?
Adding a motorcycle to an existing policy is considered a bundling discount. Although you'll have two separate coverage options, everything exists under one account with the insurance provider.
That means you'll receive one combined bill for two or more motorcycles that require insurance.
When you request a motorcycle insurance quote, you'll be asked how many vehicles you need to insure. List all the bikes that need to be on the policy at that time to receive an accurate estimate of your annual, quarterly, or monthly premiums.
How Many Motorcycles Can Be Bundled with Multi-Bike Insurance?
Most insurance companies allow you to bundle four motorcycles into a single multi-bike policy. Some providers might allow more. Your quote will be based on the most expensive model that requires coverage.
Once the bikes get added to the policy, they'll receive the same coverage levels for property damage, bodily injury, and medical payments. If you purchase uninsured/underinsured motorist coverage, it gets included in this grouping.
Some bike-specific coverages can be added for individual motorcycles, including comprehensive and collision options.
Can I Add Multiple Riders to My Multi-Motorcycle Insurance?
Motorcycle insurance policies are different from automotive coverage. You don't need to have every household member of driving age added to your account.
With motorcycles, you only need to add the regular operators of the bikes to your policy. It's a good idea in specific situations, but you'll typically pay more because of the added risk factors that each extra person provides.
You'll also receive a convenient renewal process where all your riders and bikes get forwarded to the next policy. It simplifies the paperwork dramatically.
How to Get the Cheapest Motorcycle Insurance Rates?
Some insurance companies market themselves by showing how much money they can save people. Refrain from assuming that one specific agency provides the cheapest coverage options in all circumstances. Take the time to shop around.
Here are some other tips to follow to start saving with multi-motorcycle insurance.
1. Work with Smaller Carriers
The big carriers, including GEICO, Progressive, and Allstate, are responsible for underwriting about half of the motorcycle policies in the United States. Smaller or more regional providers might not compete with individual coverage options, but multi-bike coverage could save you some.
2. Ask About Discounts
Be specific about the discounts you want when requesting quotes for multi-motorcycle insurance. If you have a clean driving record, pre-pay the policy, or are a member of a professional organization, you can save up to 30% with some providers.
3. Pay on Time
Unless you live in California, Massachusetts, or Hawaii, your credit score is a factor in determining your insurance premium. If your quotes are too high, start working on getting debt repaid or bills paid on time to raise your rating and lower the perceived risks in working with you.
4. Skip Unnecessary Items
If you have an older bike with no vintage or classic value, consider skipping collision and comprehensive coverage with your multi-motorcycle policy.
5. Increase the Deductible
Most motorcyclists can save some money each year by increasing their deductibles. The most significant savings occur when moving from $500 to $1,000 for your collision and comprehensive coverage options. If you raise it to $1,500, you'll save even more but potentially take on more risks than you find comfortable.
I suggest you read more about how a deductible works here to understand better.
Saving with multi-motorcycle insurance can help you cover all your bikes with a single policy. Remember to compare the cost of insuring them individually next to this bundled option to get the best possible price when requesting quotes.
FAQ About Multi-Motorcycle Insurance
Can I Buy Multi-Bike Insurance from Anyone?
Most motorcycle insurance providers offer the chance to bundle multiple bikes onto a single policy. You'll need to ask if this option is available when requesting a quote since every insurer sets its own rules and rates.
Is Adding a Motorcycle to an Existing Policy Possible?
Some insurers allow you to modify an insurance policy to add new bikes. If you have individual coverage for a single motorcycle, you might be asked to end that one to start a new multi-bike policy.
Should I Cover All My Bikes with One Insurer?
The benefit of working with a single insurance company is that you have one contact point to manage. When your motorcycles have policies at different agencies, the administrative work for claims and renewal needs can be extensive.
What About Trikes, Mopeds, Scooters, and Autocycles?
Motorcycle insurance typically covers every two- and three-wheel application, although autocycles can be an exception. You'll receive a quote based on the most expensive coverage needs, then get to review the individual policy coverages.
Use This Tool for Free and Save on Quotes!