Discovering the most affordable motorcycle insurance options in Minnesota requires quote requests, understanding what you need, and knowing the issues that cause your rates to be higher or lower.
This process begins when you start researching the motorcycle insurers that offer policies in the state. Compare quotes from at least three providers, review the terms and conditions, and select the one that provides the best rate.
Didn't You Try Our Quote Comparison Tool Yet? Save BIG by Doing it!
Don't forget to compare deductibles, coverage caps, and any miscellaneous items you need to protect, such as your safety equipment.
Do You Need Motorcycle Insurance in Minnesota?
Motorcycle insurance is required in Minnesota. State laws require all owners to carry liability insurance minimums to provide coverage if they're responsible for an accident that causes injuries to others or property damage.
What Are the Minimum Motorcycle Insurance Requirements in Minnesota?
The minimum liability coverage motorcyclists need in Minnesota to legally operate a bike on public roads are as follows.

$30,000 for bodily injury to a single individual.
$60,000 for bodily injury to two or more people.
$10,000 for property damage.
Although the state doesn't require it, a lender might stipulate a motorcyclist purchase full coverage. This requirement includes liability, comprehensive, and collision.
You can also add uninsured/underinsured motorist coverage.
These coverages can help protect you and your motorcycle in various situations, like when you're in an accident with an uninsured driver or if a storm or another event damages your bike.
It's essential to note that if you are caught riding without insurance in Minnesota, you could face fines, license suspension, and other penalties.
How Much is Motorcycle Insurance in Minnesota?
According to our exclusive analysis of motorcycle insurance rates in Minnesota, the average rider pays $530.21 annually for the coverage they need. Once you reach age 23, the rates are within a few dollars of each other, including for motorcyclists over 60.
Young riders pay an average of $819.89 in the state.
Geographic location significantly influences what to expect from a motorcycle insurance quote.
Minneapolis and St. Paul metro area raiders typically pay the most, averaging more than 35% over the state median.
If you live in New Ulm or Worthington, you pay almost 12% less than the state average for motorcycle insurance.
Motorcycle Insurers with the Cheapest Rate in Minnesota
GEICO offers the cheapest rate for motorcycle insurance in Minnesota, offering a quote just south of $400 per year. Progressive provided us with a $420 estimate.
Nationwide offered a quote of $510 annually for similar coverage.
| | |
| --- | --- |
| Motorcycle Insurance Provider | Annual Premium |
| GEICO | $400 |
| Progressive | $420 |
| Nationwide | $540 |
Here's a closer look at the best insurance companies for motorcyclists in three crucial categories.
Best Overall: GEICO
Not only will you get a fantastic rate when choosing this provider, but you'll also get one of the highest-rated customer service teams in the state. Most issues, including claims, are settled with a single call.
Best for Young Riders: Progressive
Although the insurance cost for someone under-17 is over $800, the rate for a young rider at age 23 was only $530.17. That is right on the state average for that demographic and the state's average.
Best for Commuters: Dairyland
Although Nationwide quoted me a cheaper rate of $30 per year, Dairyland stands out because of its roadside assistance and rental reimbursement coverage. Those are essential add-ons for commuters because you'll get help quickly if your bike stops working and get a substitute while repairs occur.
To make an informed decision, let's compare the financial strength rating, customer satisfaction, and complaint index of these top-rated companies in Minnesota.
| | | | |
| --- | --- | --- | --- |
| Providers | AM Best Rating | J.D. Power Index Ranking | NAIC Complaint Index |
| GEICO | A++ | 847 | 1.96 |
| Progressive | A+ | 820 | 1.45 |
| Dairyland | A+ | – | 3.41 |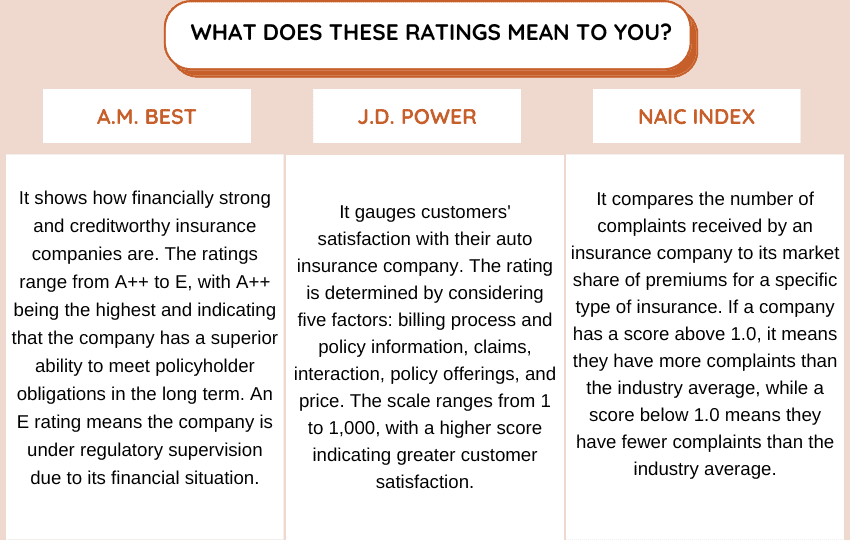 What Factors Impact Motorcycle Insurance Rates in Minnesota?
Riding history, coverage levels, and the motorcycle's make and model are the primary factors impacting most riders' insurance rates. Additional issues, including how much coverage is desired, your credit score, and age, play a role.
Minnesota is one of the states where insurance companies can use your credit score to determine your quote. Having a FICO® credit score of 720 or higher can help you achieve a lower rate.
List of Discounts for Motorcycle Insurance in Minnesota
Many insurance companies in Minnesota offer various discounts for motorcycle insurance policies. These savings opportunities are designed to help riders save money on their premiums while still maintaining adequate coverage.
Here is a closer look at the most common discounts riders qualify for when insuring their motorcycles in the state.
Safe Driver Discount. This option is available to riders with a clean driving record, without any accidents or traffic violations.
Safety Course Discount. Many Minnesota motorcycle insurance companies offer discounts to riders who complete a motorcycle safety course or training program.
Motorcycle Association Discount. Some insurers provide a discount when riders belong to a specific club or association.
You'll need to check with your insurer during the quote process to see what discounts are available and if you qualify. In return, you'll save some cash on your annual premiums while getting your desired coverage.
FAQs
Here is a closer look at some of the common questions that Minnesota motorcyclists ask when looking for today's best insurance options.
How Do I File a Motorcycle Insurance Claim in Minnesota?
Contact your insurer immediately if you need to file a motorcycle insurance claim in Minnesota. Report the incident and initiate the claims process according to their procedures. You'll likely need photos of the damage and provide details about injuries, witnesses, and weather conditions.
How Long Do Motorcycle Insurance Claims Take in MN?
Often processed within a few weeks for simple claims with minimal damage and no injuries in Minnesota. It can take several months or more to resolve when there is more complexity to the incident or significant injuries.
What Can I Do to Have a Claim Processed Quickly?
The best way to have a fast claim is to promptly provide your insurance company with all the necessary information and documentation and to communicate regularly with them throughout the process.
Does My Deductible Eventually Disappear in Minnesota?
Some insurers in MN offer a disappearing deductible as a feature. If you don't have a qualifying claim for a year or another specific period, a percentage of your deductible is no longer required. This process might continue until you are no longer responsible for paying one.
How to Get a Minnesota Motorcycle Insurance Quote?
Looking for the cheapest motorcycle insurance quotes? Look no further than our online tool below. With just a few clicks, you can easily compare the best options in your area. Don't settle for just one quote – request multiple quotes to ensure you're getting the best deal possible.
Use This Tool for Free and Save on Quotes!