Imagine purchasing a brand-new motorcycle, taking it for a spin, and watching it burst into flames.
This can be a harrowing reality for people and has happened to motorcycle owners in the past. Do you want to be one of them? Do you want to be the one who is holding his/her head in their hands while seeing their purchase go to waste?
No!
This is where insurance is promoted as an option but you are going to have one question and that is "Should I get full coverage on my motorcycle?" this read will give you an answer.
What Is Full Coverage Motorcycle Insurance?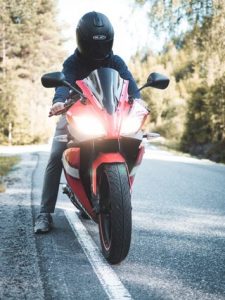 Let's begin by defining this type of coverage for those who are hoping to learn more about it.
Did You Try Out Our Quote Comparison Tool? Save BIG!
Full coverage is a combination of insurance features that are packed into one agreement. This is wholly different from a regular insurance agreement where a particular set of features are included (i.e. liability/collision/total loss).
It takes key features from each variation and includes them in one package for complete coverage.
What Does It Cover and The Benefits:
1) Full Protection From Damages
2) Better Long-Term Value
3) Peace of Mind
4) Best Rates
5) Customizable Features
The benefits are going to vary from agency to agency but full coverage is the way to go for peace of mind. It is packed with quality advantages to ensure the asset is as safe as possible. It is going to be comprehensively protected.
This is important with a purchase of this nature due to how much it costs and how likely it can be for damage to occur. Instead of having the bare minimum, full coverage offers appropriate control.
In order to obtain the cheapest full coverage, you need to request motorcycle insurance quotes from multiple sources and compare them.

How Much is Full Coverage Motorcycle Insurance?
Let's move on to the costs of full coverage for the years 2017-2018.
In general, It is going to vary depending on the patient's age, gender, type of motorcycle, area, and more. These variables are just like any other insurance package and will be taken into consideration before a firm quote is offered.
Here are the averages across the country by age:
18-24 Years Old: $1000-3000/Year
25-60 Years Old: $400-800/Year
Additional research has shown riders from the states of Iowa, Oklahoma, and North Dakota tend to have the lowest average prices across all age groups.
Cons:
Let's move on to the cons of full coverage motorcycle insurance for those still looking to learn about this option and what it offers. Just like anything else, this does have cons and it is best to be aware of them in advance before weighing the pros and cons.
Can Be Expensive For Younger Age Bracket
Can Start To Creep Over "Replacement Value" For Cheaper Motorcycles
Takes Longer To Lower Premiums
These details have to be weighed before making a choice. Full coverage insurance is ideal if the right agency is found because an affordable package such as this is empowering.
Comparison Vs. Other Types of Insurance
What about some of the other types you're going to find on the open market while speaking to an insurance agent? What other options do you have available to you?
Liability insurance includes protection for property damage and bodily injury. For example, if someone were to get injured, the insurance agency would foot the hospital bills instead of you. It is possible to control the amount you are protected for while signing the agreement.
Full Coverage offers this benefit and more which is why it gets the name "full" in the first place.
The next option you are going to be presented with would be comprehensive insurance which is different from liability insurance. With comprehensive insurance, you are going to receive protection for damage to the other person's vehicle/motorcycle, your motorcycle, and any damage related to gear (i.e. helmets/pads).
It will also include compensation for stolen motorcycles and non-collision incidents (i.e. pole falling on your motorcycle randomly).
With full coverage, you are going to get a customizable set of features making it easier to choose a perfect agreement. It takes the best of each one and gives you a wider net of protection instead of a barebones one offered by the two mentioned above.