Before operating a motorcycle on the road, you'll need to obtain insurance in 49 out of 50 states. Florida is the only exception, and even then, you must provide proof of financial responsibility if you decide not to carry a policy.
It makes sense to save some cash when you can. Buying a motorcycle insurance policy won't change your goals in this area, especially if you have the documents needed to get free quotes online.
Did You Try Our Quote Comparison Tool? Save BIG by Doing it!
Shopping for motorcycle insurance is similar to looking for a policy that covers a car, house, or business. Each insurer offers different rates and coverage options for you to consider. When you find the right combination of value and protection, you can choose to accept the quoted rate.
What Is the Required Information for Motorcycle Insurance Quotes?
If you're interested in obtaining a free motorcycle insurance quote online, you'll need to be prepared to offer the following information to the insurer.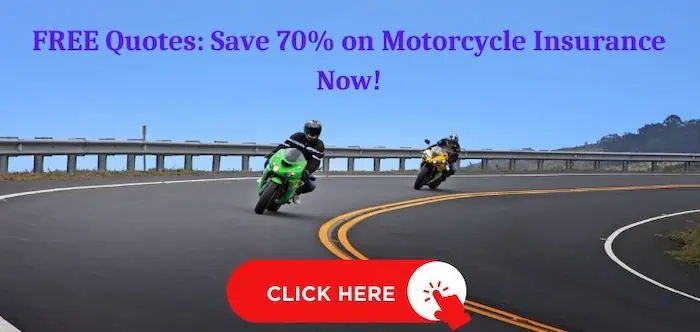 The motorcycle VIN, which is found in your sales paperwork, on your registration, or on the bike itself. If you cannot locate this number, the insurance company might accept a detailed description of the motorcycle's make and model – including any aftermarket or custom upgrades you've installed.
What year was the motorcycle registered in your name? This information is necessary because it tells the insurance company that you're buying it now or switching from a different provider.
An overview of your driving or riding history, including any violations or criminal convictions in the past five to ten years. If you plan on adding other family members to your policy, their histories are also necessary.
The birthday of every rider you plan to insure through this policy.
Information about any claims you've made about driving or riding activities in the past three to five years (and sometimes longer).
How Much Motorcycle Insurance Do I Need?
Once the required information is presented to the insurer for a free online quote, you'll be asked how much coverage you want for the policy.
Motorcycle policies are presented in a series of three numbers that often look like 25/50/10. Each one reflects a different coverage option that protects you while riding.
The first number represents the bodily injury coverage per person if you're found to be responsible for an accident. With the second number, you receive a total accident cap. That means it is the maximum the insurer will pay for an at-fault claim.
The final number is the property damage liability cap for an accident for which you are found to be responsible.
Higher coverage limits and low deductibles increase your quote, while a higher deductible and a lower limit will make them more affordable. Each state has minimum standards that must be met.
You can shop for unlimited free quotes online without impacting your credit. This process takes a few minutes to complete if you have the necessary information.
Use This Tool for Free and Save on Quotes!